Buses in Mexico are an excellent alternative to expensive rental cars, and are one of the best bargains around. You will see the country, and get an opportunity to chat with some nice people. Mexican buses are generally frequent, efficient, and inexpensive. They go almost everywhere. Contrary to what some people may think, you don't need to ride with the chickens. When you can combine the excellent bus system with cheap local taxis for short hops, why would you spend 50 or 75 dollars a day for a rental car?
The Mexican bus system is far superior to the US bus system. Since fewer people in Mexico have cars, the buses are much more heavily used. This means that many buses are available to most destinations, from third class to luxury.
Bus Lines and Classes of Service
There are several classes of buses in Mexico and many bus lines. Remember that not all bus lines are equal, and first class on one line may not be identical to first class on a different line. A quick look at the buses should help you figure out which line has the newer, better luxury buses, which buses look like Greyhound, and which line is running old school buses. Some bus lines offer more than one class of service. After careful study, I have concluded that the company's own ratings may not match my definitions, so ask for local advice or look at the vehicles with your own eyes. Another way to choose buses is by cost, as you do generally get what you pay for. If one bus line has a higher ticket price, it probably has better buses and better service.
First and higher class buses stop infrequently, usually less than once per hour. They connect cities, and do not generally stop in villages. In some cases, the higher class bus may use the expensive and faster toll road, while lower classes may use the slower free road.
The price is generally very reasonable, usually around $5 US per hour. The price difference between classes is typically less than the cost of a beer, so I look for comfort and convenience. I use both First and Plus class buses, and avoid second class buses except for short distances or if there is no other alternative.
ADO, Omnibuses de Mexico, and Primera Plus are some of the major first class bus lines. In most cases, more than one line operates on the same route, so if you don't like the schedule, try another line. Most buses in Mexico are run by large companies, rather than by individuals or by the government.
Local Buses
Local buses are similar to city buses in the USA. These may be a "Colectivo" (VW microbus), a "minibus", an old school bus, or a conventional city bus. You generally pay when you get on, usually a few pesos. Ask a local which bus goes to your destination – most buses have the route and major stops on the front windshield. To stop a passing bus, wave your hand up and down, with palm down. To get off, tell the driver "La esquina, por favor". (The corner, please), or "Aqui, por favor," (here please). This article is primarily about intercity buses, not local buses.
Second and Third Class Buses: "Segunda Clase"
These vary from school buses to old over-the-road buses. They tend to stop in each village or when flagged down. I do not recommend them for long distances, but they work fine for short hops. In many cases, these buses are the only service available to smaller towns.
First Class Buses: "Primera Clase"
Example of Primera Clase (First) Bus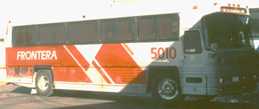 These are equivalent to Greyhound, probably a bit nicer, with reserved seats and baggage check available. They may have toilets and television.
Plus Class Buses: "Plus Clase"
Example of Plus Class Bus
These usually have TVs and toilets, and the seats are reserved. The movies on Mexican buses are usually action flicks dubbed in Spanish. Baggage check is available. They may provide a drink and a sandwich when you board.
Luxury buses: "Clase Executivo"
The fanciest buses may be called – "Clase Lujo" or "Clase Executivo."
I have ridden ETN luxury buses, they are excellent. These have only three seats across, instead of the usual four seats, so they are very comfortable and spacious. They often will provide a drink and a sandwich when you board.
Tickets
Remember that your first class bus ticket is generally for a particular seat on a particular bus, leaving at a specified time. They may put your name on the ticket. Buses usually leave on time. Most ticket agents probably do not speak English, so look up the correct phrase or write it down before you get to the window. I usually buy my ticket at the station, but sometimes it is more convenient to buy a ticket from a travel agent. However, a travel agent will only represent a few of the first or higher class lines. The choices will be wider at the bus station. Some bus lines will allow you to buy tickets over the phone with a credit card, but be sure to get a confirmation number. You cannot pick up your ticket without it.
I generally buy my tickets for First or higher class buses a day or two before, and request seats near the front, preferably the first row on the right hand side, which are the best seats for sightseeing. Most Mexicans do not buy tickets in advance; advance ticket purchases are not generally necessary, but are a good idea during holidays, on less frequently traveled routes or if you want a particular seat. Unless the ticket system is computerized at the bus station you are using, the only tickets available will be for buses leaving from that station. If the bus station is in the middle of the bus route, specific seats will probably not be available.
Holidays: Remember that Mexicans travel during the holidays, like Americans. All buses leaving Mexico City will be full at the start of the holiday, and all buses returning to Mexico City will be full at the end of the holiday. Similarly, many Mexicans in the USA come home to Mexico for the holidays. During the Easter and Christmas holidays, it feels like the whole country is on the move. The busy period could last for several days, so don't assume that you can get the bus you want at holiday time. This applies primarily to long-distance buses.
Bus Stations
Larger cities generally have centralized bus stations used by many bus lines, sort of like an airport terminal. In some smaller cities, each bus line has a storefront, usually in the same area. Mexico City has four bus terminals, North, South, East, and West, depending on the destination.
The larger bus terminals generally have an official taxi service. You buy a ticket for a taxi ride at a booth, and then take the ticket to the taxi stand. If you have a lot of luggage you may pay the taxi driver extra. This is generally the best and safest alternative, especially in Mexico City.
The second class buses generally use a different bus station than the first class buses. If you do not see a bus to a nearby town at the first class station, ask. You may need to go to the second class station or to a nearby bus stop.
Schedules
Many people want detailed bus schedules before they arrive in Mexico. However, it is often difficult to get current bus information except at the bus station. Some schedules are available on the web, but most are not. The schedule and destinations are posted on the wall of the bus station. Walking around the bus station is the best way to get a complete and current picture of the schedule and options. If you want to know how often buses run on any particular route, the guidebooks will give you some idea, although schedules are subject to change.
The Lonely Planet guidebook for Mexico is my favorite guidebook, and always has bus info. The book Bus Across Mexico by Robert Berryhill attempts to provide comprehensive bus information, including cost and schedule.However, it may not reflect the latest schedule, it may not include every available bus, and does not offer schedules on all routes.
My suggestion is that you don't sweat the schedule weeks in advance, be a little bit flexible, and it will all work out. If you want to plan a little in advance, check the bus schedule to your next destination as soon as you arrive in town.
If you are at the bus station and do not see a bus to your final destination, do not panic. If possible, ask how to get to your final destination. Look at a map and identify a large city on the way or near your final destination, and buy a ticket to the large city. From there you should be able to get a bus to your final destination, or simply take a taxi the rest of the way. This same approach is the best strategy if the next bus to your final destination does not leave for several hours. Service between large cities is frequent, as is service between a large city and the surrounding towns.
I remember only one trip when I could not find the bus I wanted at the time I wanted. We were in Guanajuato, and we needed to go to San Luis Potosi, but the only direct bus left at midnight! After thinking a little, I figured out that for $15 we could take a taxi to the main bus terminal in Leon, a nearby large city, and from there catch a first class bus to San Luis Potosi. By paying a few bucks for a half hour taxi ride, we avoided changing buses, and then had a comfortable Primera Plus bus ride from Leon to San Luis Potosi. If you cannot get to your destination directly by bus, take a bus to a large city near your destination, and then take a local bus the rest of the way. Or take a bus or taxi to a nearby large city, where the selection will be broader.
Generally, buses run almost everywhere, and more often than you think. If two cities are relatively close (one to three hours), you can count on a bus every hour or two. The more obscure routes will have fewer buses per day, as will the longer routes. In and out of Mexico City, buses are more frequent.
Web Sites
It is a common misconception that almost all the world's information is available on the internet, if you look hard enough. In the case of Mexican buses, some lines have web sites, some do not. Sometimes the web site includes schedules and fares, but not always. Just because you cannot find a bus on the internet does not mean that it does not exist. Sometimes bus web sites mysteriously appear and disappear. Looking for bus information on the internet can be frustrating. The web sites below were checked in February 2006.
Ticketbus represents ADO, UNO, and other bus lines, mostly serving the area south and east of Mexico City, including the Yucatan.
https://www.miescape.mx/miescape
ETN is a true luxury bus line, serving central Mexico.
https://www.etn.com.mx
Flecha Amarilla includes Primera Plus, a very good first class bus line, primarily serving central Mexico.
https://www.flecha-amarilla.com/
Estrella de Oro serves central Mexico, including Acapulco.
https://www.estrelladeoro.com.mx/
Grupo Senda serves northern Mexico, Zacatecas to Texas.
https://www.gruposenda.com
Miscellaneous Tips
If you have luggage, take a taxi to the station. Of course, remember to agree on the fare before getting into the taxi. The baggage check service, if available, is usually at the bus itself, so you need to haul your gear through the terminal, unless you hire a porter. I remember how hard it was to haul a hundred pounds of climbing gear through the huge TAPO bus station in Mexico City, so I suggest that you pack light.
Take your own bottled water and snacks on the bus. The carry-on bag space on the bus will be smaller than on an airplane, so put your valuables in a small bag to carry on while your other luggage goes below.
If you are going to smaller places, you may take a colectivo (VW bus) or minibus rather than a full-size bus.
I recommend travel during the day; you can see the scenery, and it is safer. However, long distance travel often requires traveling at night.
If you are taking a long trip, it will be worth your while to try to find out which buses take the fast route, and which may take a slower route with more stops. Sometimes the same line will go to a destination by more than one route, with different numbers of stops, etc. The estimated travel times are sometimes optimistic. A few questions that you can try are:
How many hours to _____? "Cuantas horas a ______?"
How many stops? "Cuantas paradas?
Of course, buses are not the perfect solution for all trips. Long bus rides on twisty mountain roads can be uncomfortable. I prefer to fly rather than spend all day in a bus. For long trips, plane tickets often do not cost much more than bus tickets. Rental cars are very convenient if you are visiting obscure villages or ruins off the main roads.
People with more time than money may want to check out the availability of buses from their city in the US to the Mexican border. Many cities have a large emigrant population, which support frequent bus service to the border. Ask at a local Mexican business, not all bus lines are in the phone book. Greyhound is another option. From the US side of the border, you can often get a shuttle bus to the Mexican bus station, or you can cross the border on foot and take an official taxi to the Mexican bus station. Remember to get your tourist visa (FMT) at the border. I have talked with people who have done it, and it works fine, but you may be the only gringo on the bus! It's a good opportunity to practice your Spanish.
Disfrute su Viaje!
Enjoy your next trip to Mexico. If you want to get your feet wet using the Mexican bus system, try a bus trip from one city to a nearby city. First class buses are perfect for two hour trips – you get off before you get tired of riding the bus, and the alternatives are generally much more costly and less comfortable.
Try it, you'll like it!
Published or Updated on: December 7, 2007