If Walls Could Talk: Chapala's historic buildings and their former occupants
Tony Burton. Sombrero Books, 2020.
Available from Amazon Books: Paperback
MexConnect is reader-supported. Purchases made via links on our site may, at no cost to you, earn us an affiliate commission.
Learn more.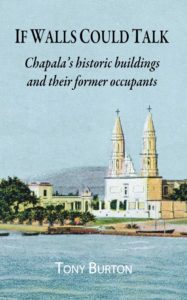 Tony Burton's thoroughly researched and utterly fascinating book If Walls Could Talk, published by Sombrero Books, takes us through the surprising and richly textured history of Chapala's past from the mid-eighteen hundreds onwards. I had no idea that this laid back, seemingly staid resort town on the shores of Jalisco's Lake Chapala could have had such an illustrious past. Had the book been published in 1995, when I first passed through Chapala, I would have lingered longer to fully appreciate its multicultural past. Should, as I hope, I return one day, If Walls Could Talk would be a treasured possession to have on me. How much richer my time spent there would be the next time around.
Twenty-five years ago, in the middle of a Quebec winter with snow heaped to our knees, a friend and I were in Guadalajara, a little over an hour by bus from the lake country. I'd vaguely heard about Ajijic, and suggested we visit. The bus stopped in Chapala, but we didn't get off. (Had I known then what I know now, I'd have made a different decision.) We continued on the short distance to Ajijic. The ride between villages took us on a narrow tarmac road bordered by jacaranda trees, their branches forming a canopy above our heads.
"I'm going to live here," I told my traveling companion. She scoffed at my intent. A few blocks from our bus stop was an open field surrounded by a wall where several houses were being built. While we were talking to a workman about the price of the houses, the architect Luz María Briseño approached me. "I own one of the plots here," she said. "I'll build you a house for a better price." I made out a check, and told her I'd be back during my spring break to see the progress. It was New Year's Eve. I had a week's vacation remaining. My companion and I left the next day to continue our journey. What moved me to make such an impulsive move? The way light shimmered through the petals of flowers, the shifting color on the surrounding mountains, and a lake that appeared the size of an ocean nestled high in the Sierra Madres. When I later returned, the color of the jacaranda blossoms with the light passing through mesmerized me.
When I read in Burton's book about the number of artists, authors and poets who came to Chapala for a visit, but never left, I understood. Not only the intelligentsia, but industrialists, diplomats and politicians were enthralled by this unique enclave of beauty. They rode hours by stagecoach and then by boat to arrive, whether from Mexico City or Guadalajara for a vacation, or from Europe on official business, or as dreamers from the United States.
Poet Witter Bynner wrote that "The mind clears in Chapala. Questions answer themselves. Tasks become easy." In his book, Indian Earth, much of the poetry relates to Chapala. Later in life he bought a home in the village. At one point he lent it to Tennessee Williams, who penned the first draft of A Streetcar Named Desire there. D.H. Lawrence's first draft of The Plumed Serpent was written during his visit there in 1923. He'd read about Chapala in Terry's Guide to Mexico, decided to explore the lakeside village, and wrote his wife it was paradise. He urged her and others to come. In his novel he placed the protagonist Kate in the house and grounds he had rented in the village. Charles Embree, another American author, wrote his first novel, A Dream of a Throne, The Story of a Mexican Revolt in Chapala. It was the first novel in any language to be set entirely at Lake Chapala.
From early on, Chapala was a resort town par excellence with thermal baths equal to those in Europe. An American journalist visiting Chapala in 1902 wrote "The baths are of iron and sulphur water and just warm enough to be pleasant." President Díaz took daily baths in the pools when he came to visit, and artist David Holbrook Kennedy painted murals to adorn the walls. An earthquake causing the waters to be diverted destroyed the baths, but one can still enjoy therapeutic baths at the Balneario San Juan Cosalá and Villa Montecarlo. I'm ashamed to say I lived many years in the area and paid no attention to these thermal waters. Knowing the history of the first baths would have motivated me to test the waters. It's one aspect of how Burton's book enriches the area. When we know the history of a place, it speaks to us in new ways.
The house Bynner bought had been owned by the Barragán family. In 1931, Luis Barragán, a family member, along with another architect, Juan Palomar y Arias, renovated the house. Between 1931 and 1936 Barragán renovated or built several homes and gardens in Chapala before moving to Mexico City. He became known around the world for his extraordinary architectural gardens. In 1976 he had a one man showing of his work at MOMA (Museum of Modern Art) in New York City. The museum wrote "His magnificent gardens …are deeply rooted in his country's cultural and religious traditions." Barragán was awarded the Pritzker prize, the highest honor an architect can hope to achieve. Jardín del Mago, a landscaped early work he had designed for his sister and brother-in-law, is still in good shape, and I hope open to the public. (Editor: Sadly not, because it is a private residence.) Because of its importance to Chapala's heritage, Burton feels it deserves stronger protection from the government. It shames me that, although I had written an article on Barragán while living in Ajijic, I had not, until reading Burton's book, realized his deep connection to Chapala.
Many known architects, not only from the region but also from Europe and the United States, built homes in Chapala. These foreign architects were commissioned by people who came to the area for work or on holiday, fell under the spell of the village, and put down roots. There was a great deal of collaboration among the architects, and Burton tells many stories associated with the architects and the people who lived in their houses. It explains why there are so many homes in Chapala that wouldn't ordinarily be found in a small Mexican village. One example is Casa Braniff. I'd passed it often, mildly curious, and walked on.
The house was originally built by Luis Pérez Verdía, an influential Guadalajara lawyer and historian. Pérez Verdía commissioned British architect George Edward King, who had already built at least one other home in Chapala. The house, completed in 1905, was later bought by Alberto Braniff, a wealthy Mexico City businessman who wanted the house for his mother. His father, Thomas Braniff, was an Irish-American who had left New York for Mexico in 1863. The house remained in the family until 1952, passing through several hands before its present owners converted it into a restaurant, still with many of its early features. The people who occupied this home lived interesting lives, as did many others in the village. Burton tells us the stories of these wealthy and powerful families that shaped and reshaped the lakeside. The stories give breadth to Chapala due to the distinct background of the people who came and stayed, and in the way they fit into Mexico's history throughout the years of its greatest change since the coming of Cortés.
Some of the houses remain. Some are gone. All have stories that have given Chapala its distinctive character. There has always been a mix of creativity, business and politics in Chapala's stories, right down to learning that the ill-fated railroad station has been turned into a cultural center displaying the sculpture of Miguel Miramontes and paintings of Georg Rauch. I knew Georg Rauch, thought he was a fine person and excellent artist, and it pleased me to see he has been honored in this way. It again emphasizes the multicultural diversity of the lakeside region, so clearly brought out in Burton's telling of its stories.
If Walls Could Talk is laid out in a user-friendly format. There are maps to illustrate where the homes he writes about are located, and he sections his book into a walking tour to match the maps. Small inserts give background on the more illustrious figures, with easy access to each of these inserts from the table of contents. The index is extensive, as is the amount of documented research that Burton has done for this book. I can't wait to return to Chapala to visit the village with the book in hand. And I hope the Chapala municipality offers to translate this book into Spanish for the enjoyment of its local population because it's a wonderful historical gift to the people of the village.
***
If Walls Could Talk: Chapala's historic buildings and their former occupants is available at Villas QQ in Chapala, at La Nueva Posada and Mi México in Ajijic, and via Amazon (both print and Kindle editions).
Published or Updated on: December 1, 2020