Photo Gallery: Georg Rauch paintings: Figure
Photo Gallery: Georg Rauch paintings
Born in Austria, Rauch survived the horrors of WWII and began painting seriously in Vienna in 1949. Strongly influenced by his fellow Viennese painters Egon Schiele, Gustav Klimt and Oskar Kokoschka, he held his first one-man show in 1952 in Vienna and became a member of the prestigious "Wiener Secession." Since then he has had countless shows in Europe and on the American continent; Paris, London, Duesseldorf, Munich, New York, Toronto, Los Angeles and Mexico City among others. His work is in museums and private and corporate collections.
"Growing up in Europe gave me the pain, the discipline and know how..Living in the U.S., the feeling for freedom and space, and the 23 years in Mexico (gave me) the appreciation for beauty, sensuality and the subconscious."
"In many of my paintings a small portion of the horizon is visible. For me, this dividing line between land or water and the sky has always symbolized distance as well as the yearning to discover what lies beyond.
From where I live, in the mountains of central Mexico above Lake Chapala, I can see just such a piece of the horizon. It frames and defines my life as do the sun and moon, the clean air, my wife, two cats, three dogs and the fact that here, in a perfect climate, with pure light and strong colors, I can paint in peace every day of the year."
—Georg Rauch
In Innsbruck, Austria, various early works may be seen by contacting Michael Schreiner.
Phyllis Rauch also welcomes visitors to the artist's studio above Lake Chapala in Jocotepec, Jalisco, Mexico. There you can get a feeling for the entire trajectory of Rauch's career by viewing over 50 years of selected oil paintings, as well as silkscreen prints, drawings, watercolors, museum quality giclée reproductions on canvas, greeting cards and posters.
In addition to touring the studio, Phyllis loves to share stories of Georg's life, his work, and his techniques.
Copies of Rauch's wartime memoir, The Jew with the Iron Cross, A Record of Survival in WWII Russia, are also available for sale in Jocotepec and elsewhere at Lakeside and in Guadalajara. Kirkus Reviews has this to say about the book: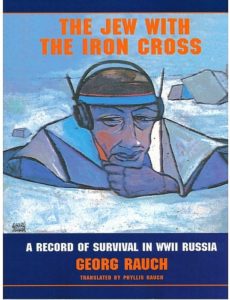 THE JEW WITH THE IRONCROSS:
A Record of Survival in WWII Russia
Trans. by Phyllis Rauch
iUniverse Publisher's Choice
(252 pp.)
$20.95 paperback
"A Viennese-quarter Jew recounts his experiences fighting for the German army in World War II. Because the author's maternal grandmother was Jewish, he was precluded from participating in the Hitler Youth, and so was marked for life as something less than a full and proper member of the Third Reich. Despite his heritage, however, he was drafted into the army and sent to Russia, where his mechanical skills made him a successful wireless operator, relaying messages back and forth from the front. While his mother was back in Vienna hiding Jews in the attic to save them from persecution, Rauch was struggling to survive gunfire, bombs, harsh weather and starvation. During his time on the front, he wrote a steady stream of letters home, many of which were saved by his family and are reprinted here.
"At the age of 19, Rauch had already learned the fine art of dissembling, feigning optimism and shrugging off danger in his missives in an attempt to protect his parents from truly understanding the severity of his situation. As so often happens during war, concerns about motivation—particularly apropos for a partial Jew fighting for the Nazis—must be supplanted in favor of basic survival mechanisms. Fortunately, the author's technical skills, innate charisma and a fair share of luck helped him survive injuries, illness and the hopelessness of not knowing if or when he would return home. While these events were undoubtedly highlighted in part to further enliven an already interesting narrative, there's little doubt that his experience was as amazing as it is valuable to those seeking to understand a soldier's experience. A compelling and unique perspective on World War II."
Rauch, Georg
To Order: 1-800-AUTHORS Also available online via Amazon, Barnes and Noble, Powell etc.
To Contact Phyllis Rauch:
Studio and home/B and B – 1 mile east of Jocotepec, on Lake Chapala.
Mailing address: Apartado Postal #33, Jocotepec, Jalisco Mexico 45800
TEL./FAX 01-387-763-0657
E-mail Phyllis Rauch
Published or Updated on: May 11, 2007