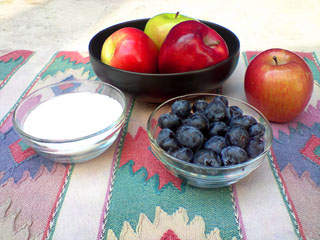 This is a classic apple and blueberry marmalade recipe from the Sierra Norte, adapted from Patricia Quintana's Cocina de los Angeles. Blueberries are nearly as abundant as apples in the Sierra of Puebla, and the two make a wonderful combination.
Ingredients
3 pounds blueberries
2 pounds apples, peeled and grated
Sugar as necessary
2 2-inch pieces of cinnamon stick
fresh lime juice to taste (or use lemon if available)
Measure the fruit cup by cup, pressing down on it to get packed measures. Place the fruit in a non-reactive pan, and add ¾ cup of sugar for every cup of fruit. Add the cinnamon. Allow the fruit to sit for 12 hours.
Cook the fruit and sugar mixture over low heat, adding lime or lemon juice to taste. Skim foam and stir frequently.
Continue cooking until a small spoonful of the marmalade keeps its shape on a plate and does not run. Remove it from the heat and allow it to cool.
Follow manufacturer's directions if using canning jars, or use sterilized jars and seal with paraffin. Makes 2 jars.
Link to Source Articles
Preserving Mexico's summer fruit: Sweet and spicy jams and jellies
September in the Mexican sierra: an abundance of apples
Mexico's berries: a spring awakening of flavor
Published or Updated on: September 19, 2009