Puerto Vallarta is steeped in enchantment. Its charismatic history reaches back some 600 years before Christ. At that time this vast untamed area was called Xalisco and was ruled by King Nayarita, known as the god of battle. He fought to keep his lands and his precious cove – now called Mismaloya – in his dominion, as it was thought to be the most splendid spot of the kingdom of Xalisco. Further history includes the mystical peoples of the Colhoa tribe from Aztlan, the Toltec as well as the Mexica, who all migrated to the lush lands of ancient Puerto Vallarta and who also created the historic trail to the Aztec Empire in the valley of Mexico that is now Mexico City.
The naming of the sparkling azure waters the frame Puerto Vallarta is also imbued in mysticism. In 1524, Francisco Cortés de San Buenaventura and a small band of conquistadores found themselves on the brink of battle with a horde of Indians. The Spaniards were outnumbered and turned to prayer to assist in their fight to extend their conquests. Among them was an old monk who carried a flag with religious inscriptions and a medallion depicting the Immaculate Conception. Just as Cortés was about to give the order, a miracle occurred. The banner of the Holy Cross was illuminated by a brilliant ray of light which formed a halo pointing to the Holy Virgin. Both the Indians and the Spanish were awestruck. Realizing they had been "touched by a divine grace," they withdrew from battle. To commemorate this event, Captain Don Francisco Cortés de San Buenaventura named the site "Valle de Banderas," and today the bay is known as "Bahía de Banderas" – the Bay of Flags.
For the next three centuries the Spaniards settled and named the areas around the bay. They would anchor off shore and fill their galleons with a treasure in gold and silver before making their way toward home. However, pirates were a hazard and many never made it back to Spain, dying instead in battle. The fallen conquistadors were buried on the sandy beaches, thus Playa de Los Muertos or "Beach of the Dead" was aptly named.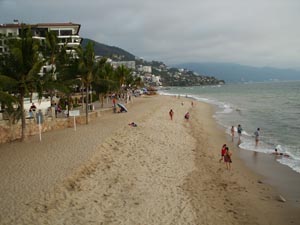 In 1918, the city on the Bay of Banderas was officially renamed Puerto Vallarta in honor of the Governor of Jalisco, Don Ignacio L. Vallarta. Nearly 50 years later a renowned Hollywood director, John Huston, came to Puerto Vallarta to film his classic movie, The Night of the Iguana. He brought with him a notorious cast: Richard Burton, Ava Gardner, Deborah Kerr and Sue Lyon. Burton brought with him his paramour, the married Elizabeth Taylor. Their very public love affair in the remote Mexican village not only plunged Puerto Vallarta onto the world stage, but also ignited the flame of romance and intrigue that still smolders in the sunsets along the The Bay of Banderas. Today, Puerto Vallarta is a world class vacation and residential location, complete with a modern infrastructure that accommodates a vast degree of lifestyles and dreams.
Just what is it about Puerto Vallarta that captivates so many visitors that they feel compelled to buy property and live here? What exactly is it about the Bay of Banderas that draws people to it's shores? Is it the land and the sea or is it some kind of magical mystery? These are the questions we put to some new homeowners that purchased property this year along Costa Vallarta.
Liz Miller, a former publisher from Los Angeles, has been visiting Vallarta since the mid 1970s, dreaming of the day when she could make her escape to PV.
"I am extraordinarily happy with my decision to live here year round. Puerto Vallarta has retained the elements that I first fell in love with – the jungle, ocean, mountains, and the sweetness of the people here. However, with the new infrastructure of restaurants, gourmet foods, shops, cable TV, computer access… these make all the elements of the good life without the smog and traffic," Miller says.
Miller bought a three-bedroom, three-bath, hacienda style condominium in Alta Vista with sweeping views of the city and bay, which she appropriately named Casa Orquidea Blanca for the exotic pure white orchids that bloom just outside her living room windows.
"I fell in love with the building, the lush tropical plants, the funicular, the view. I knew what I wanted was what I found to exist in Vallarta 30 years ago. This building encompasses that feeling. Yet, I also wanted a streamlined house, so I gutted the interior to make my own space and create my own signature style," she explains.
Her now finished unit has an open, breezy, patio living concept. She feels the condos new openness works well for her growing collection of paintings and sculpture from local artists.
"I believe baby-boomers have been traveling to Mexico for 30 years, so it's not a difficult decision for them to choose Puerto Vallarta for a future home. I have noticed an uptick in prices, however real estate here is still an amazing value when compared to the U.S., especially when you factor in lifestyle. I don't see living here as running away from something so much as running toward something: a life of art, culture, community and friends. Being here is about as close to paradise as I can imagine being," Miller says.
For Richard and Susan Schmidt of Portland Oregon it was a "climatic escape" from the rainy weather of the Pacific Northwest. After a five-day visit, they decided to purchase a condo in a building where they have other family members as neighbors. Perched above Playa Conchas Chinas is their turnkey, fully furnished, two-bedroom, two-bath, Villas Banderas condominium with uninterrupted views of the bay and shoreline.
"We were just so taken with the whole atmosphere of Puerto Vallarta, the city itself, the tremendously nice people, the ambience. It is a real city, not a created destination – a functioning city. We like this area of town because it reminds us of Italy and it's not a huge development that could be anywhere in the States. We like it here because we know here we live in Mexico," Susan says.
An innovative purchase agreement has the Schmidts and two other partners possessing full ownership in their own "timeshare"-like arrangement. Each owner has the unit every other month. For the Schmidt's this is a perfect fit as they own a geosynthetic construction product company and are still working full time. While they are here, they use computers, faxes, land and cell phones to keep in contact with their business. They believe this part time ownership will eventually lead them to full time ownership of another property, but this gives them the opportunity to own a home while commuting back and forth.
"It's a very easy flight from Portland and since, we pick up a couple of hours when we go back, we can arrive at a reasonable time for work the next day. Puerto Vallarta is much more convenient than Hawaii or the Caribbean for that reason; it is easier to get here. We have a car here and are still road-connected and could drive home if we wanted or needed to," Richard adds.
"We also enjoy the ability to drive up and down the coast to all the small beach towns for the day as well as traveling to the colonial towns in the interior of Mexico and to Guadalajara," Susan confides.
Being a business owner, Richard Schmidt was not concerned with his investment, feeling even more secure with the change in land use clauses and trust ownerships.
While the Schmidts don't think anything of a six-hour flight, the Rabago family makes their way to their PV home via a six-hour drive from Guadalajara. Lic. Miguel and Gabriela Uriarte Rabago purchased a three-bedroom, three-bath Bay View Grand ocean front penthouse this year. When asked why they chose Puerto Vallarta over other areas in Mexico, their reply was that they enjoyed the local people, the lush vegetation, the variety of restaurants and – because they own a sail boat – the marina.
The Rabagos have visited Puerto Vallarta all their lives and plan to own a home here forever. They enjoy the strong sense of community as well as all the activities. They believe the versatility of the city and its many facets draw diversity. These are just some of the reasons they decided to make Puerto Vallarta the place for their second home. The couple also confesses strong confidence in their investment value here.
"We appreciate the large variety of options and the huge sense of security you feel in the city. Compared to other cities with similar characteristics, Puerto Vallarta is an excellent option, besides having the access to an easily rentable property," Miguel adds.
Lic. Miguel Rabago has a business as a public notary whose associates handle many real estate transactions and practice family contract law in Guadalajara and Puerto Vallarta.
"We were contacted about the project by a friend and came to see it. I felt it was an excellent opportunity, we picked the unit that worked the best for us and purchased it. We feel that we have indeed escaped to Puerto Vallarta. We treasure the time we get to spend here in our new home and we are both are happy with our decision," Miguel explains.
One of the most important factors for all of the people interviewed was the wide variety of real estate options from one end of the bay to the other. From villas to mega-resort communities, high-rise oceanfront homes to marina locations, in the jungle, along the water or the more arid areas north of downtown, buyers found that Vallarta offers a wealth of residential lifestyles.
When Michael Carlson, Robert Dry and their daughter Stephanie Marie first decided to purchase a "piece of paradise" for themselves, they set out on several "shopping trips" to become familiar with the unique neighborhoods and the amenities that each area had to offer.
"Our search took us to Punta Mita and Mismaloya, which, while beautiful were [not] what we wanted. It took us to Nuevo and Marina Vallarta. However, when we found Conchas Chinas, we knew that we had to search no longer and when we walked into Casa de Los Angeles for the first time, we knew that we were home," says Dry.
Casa de Los Angeles is a private villa with panoramic views of the bay and jungle. The villa has three ensuite bedrooms with private balconies, a rooftop terrace with palapa, a pool and a 4-story entry and all of the amenities one would expect.
"We are owners of Prudential California Realty in Marin County, California, so we are not strangers to the purchase of real estate. The real estate market in Vallarta appears good and shows superb appreciation. The added security of our owning the property in trust with the bank only strengthens our feeling of security in owning property outside the U.S.," Carlson says. Carlson and Dry also manage several properties for vacation rental in the U.S. They see their P.V. Villa as an extension of that management business. As they become more and more comfortable with life in Mexico, they both can see themselves living here full time.
"The opportunity for business seems strong with an economy that can only improve. In Puerto Vallarta opportunities abound without the structured environment of the U.S. We also find P.V. to be alive with cultural diversity representing a variety of lifestyles and tastes," said Dry.
"For us it's a convenient location is a short flight from San Francisco and we have the luxury of last minute departures. Vallarta is a town that we are proud to say is our second home," said Carlson.
Apparently then, it's not one magical thing but rather a host of impressive choices that keep people sufficiently intrigued with Puerto Vallarta to purchase their dream vacation or year round home here on the shores of the Bay of Banderas.
Published or Updated on: January 12, 2006