My favorite travel writer, Jan Morris, who has probably written about more cities than anyone else on the planet says about Oaxaca:
"It is unmistakably Mexico, but Mexico idealized perhaps, a Mexico almost without tears. For travellers of my own sensibility, often tempted to stay at home rather than face the hassle of this endemically delayed, cancelled, closed-down-owing-to-national-holiday, mariachi-deafened, taco-corpulent republic – for fainthearts like me, Oaxaca offers a salutary lesson. Even here nearly everything seems to go wrong, but when it does it all happens so gently, so elegantly, that you are instantly mollified. It is like a half-hour acclimatization session – half an hour in Oaxaca and you are indoctrinated into the frame of mind by which aficionados insulate themselves against Mexico's hazards, and live through them all with affectionate detachment."
One gets a clear impression that, although Oaxaca has large numbers of tourists all year round (more than 460,000 of them in 1996), it's a place that would still have a clear life of its own without all those visitors. Tourist dollars are the largest single source of income for the state, surpassing coffee as the leading industry. On my travels, I picked up a 48 page Cultural Guide which listed literally hundreds of movies, concerts, plays, recitals, expositions, dances, lectures, workshops, poetry readings and so on, all in the month of February, events that I'm sure the vast majority of tourists weren't aware of.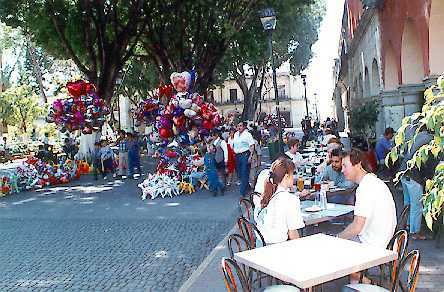 Actually, the zócalo, or main plaza, is such a show in itself that a visitor can be excused for believing it's the only show in town. First of all, it's big — big enough, in fact, that one evening there were three bands were playing and they didn't interfere with each other. The zócalo is one of the best in all of Mexico. Under its huge shade trees you can have your shoes shined and read the newspaper or watch a political demonstration. Cafes with bright checkered table cloths line the square on three sides. On Sunday afternoons the State Band plays there. All sixty musicians set up on the sidewalk and play to a large crowd — everything from Rimsky-Korsakov's "Caprichio Español" to Burt Bacharach's "Gotas de lluvia sobre mi cabeza" (Raindrops keep falling on my head). It's a very pleasant, mellow-sounding band, due, I think, to the unusual number of clarinet players in its ranks — sixteen of them, in fact.
The State Marimba Band also plays for dancers in the zócalo three evenings a week. It was while we were dancing to the marimbas one night that I learned that Mexicans don't yell "More!" They yell, "Otra! Otra!" And on Saturday evenings a great show is staged with singers and bands and dancers from other parts of Mexico, all of outstanding quality.
Even taking down the national flag every evening is a bit of a flourish. Sometimes it's done with a handful of State Police with a bugler. On February 24, Dia de la Bandera (Flag Day), a large squad of smart looking soldiers handled the ceremony, with a full military band. There were at least a hundred of them, with a huge crowd to match. It's a rare night when there isn't something happening, in addition to the permanent on-going hoopla of beggars and vendadores and guitarists and accordion players and kids wanting to serenade you at your table with "Cielito Lindo."
Half a million tourists a year
Oaxaca takes its tourism very very seriously. We were sitting in the zócalo one night when a young man from the Secretariat for Tourism Development came to us with an extremely detailed two-page questionnaire, asking where we were from, where we were going next, what cities we had visited, how long we were staying, why we were there, and so on. Later that week I had a chat with Ivonne Galvan from the Secretariat and it became obvious that all that information is analyzed carefully. The State of Oaxaca caters to a variety of tourists who come for all sorts of reasons.
Many are there to lounge at beach resorts like Huatulco, or to surf at Puerto Escondido. Others come to see the rich variety of cultural attractions such as Monte Alban and Mitla, or to buy handicrafts at the many markets and boutiques throughout the area. Still others come for academic purposes to visit centers like The Welte Institute for Oaxacan Studies or to learn Spanish at several schools in the area, as we did. Everything is done to attract more of them and to make sure they have a good time while they're there. Señora Galvan is a regular visitor to the major travel conventions in Europe and North America, representing her state, and is quite used to dealing with camera crews from the BBC and reporters from the leading European newspapers in order to tell the story. The Secretariat's projection for 2005, by the way, is for more than 700,000 visitors.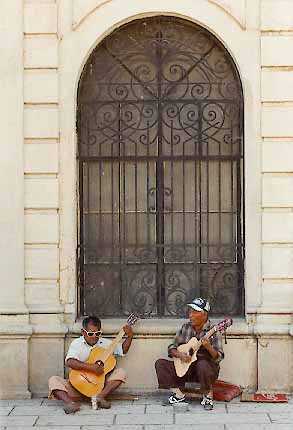 It was surprising to me to find that, although the city appeared to be full in February when we were there, February isn't a peak tourist time at all. The real peak months are July and December. July is the time of the Fiesta Guelaguetza when performers from all over the state converge for a huge display of costumes and dancing. December is a whole month of festivities and spectacles, starting with the Festival of the Virgen of Guadalupe and culminating in the Night of the Radishes and, on the next night, Christmas Eve, when there's an enormous procession to which each church in Oaxaca contributes a float.
Fiesta Guelaguetza is so big that a 15,000 seat stadium was built in 1974 especially for the event, high on a hill overlooking the city. For the other 50 weeks of the year the stadium is empty. People from all over Mexico go to Oaxaca at those times. Indeed, 70 per cent of the tourists in Oaxaca are Mexican. All those thousands of Americans, Canadians, Germans, Frenchmen, Brits and Spaniards you see in the zócalo make up only 30 per cent of the tourist compliment.
Other times of the year, such as the Day of the Dead and New Year's also have their celebrations which attract tens of thousands of people. Believe me, this is a town that knows how to throw a party. And it's a town that knows how to cater to visitors, with its wide flat streets, several of them closed to traffic, and an attraction of one sort or another on every block.
Everyone has his or her own favorite place to go and they're all amply described in the tourist guides. If historic churches are your thing there are 27 of them. We found the collection of pre-Hispanic art at the Rufino Tamayo Museum really interesting and elegantly presented. The Alvarez Bravo Photography Center is worth a visit. Manuel Alvarez Bravo, one of Mexico's master photographers, has a permanent exhibit there. He presently has a show in New York City that has been highly praised by the critics.
The Regional Museum of Oaxaca and the Santo Domingo Church are right next door to each other and are not to be missed. And Monte Alban is a genuine wonder. But consult your guide books or the plentiful literature you'll find around town in several languages and you won't go wrong.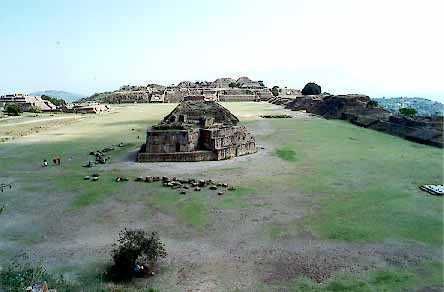 A great place to dine
You'll find a great deal in the guidebooks, too, about Oaxaca's great gastronomic tradition. It originates from the merging of many cultures — Indian, Mexican, Spanish and European — as well as the abundance of good fresh produce. Food is treated everywhere with the greatest respect. We ate out every day for a month and never had a single unsatisfactory meal. Prices are attractive.
These were a few of our favorites, all within a five or ten minute walk of the zócalo.
Doña Elpidia, which serves a set menu consisting of empanadas, soup, beef or pork with rice and a different mole every day, all served by a waiter who doesn't ask you what you want — he just keeps bringing it to you. Doña Elpidia has been in business for 55 years. That should tell you something.
Anyone who wants to sample a range of Oaxacan specialities all at once should try Las Quince Letras where the menu is quite extensive and the service gracious. If you look like a tourist, the waiter will suggest the Oaxaquenan platter for two, which features quesadilla, chicharrón, memalita con aciento, guacamole, rabanitos, cebolla asada, salchilla oaxaquena, chili relleno, cecina enchilada, tasajo, quesillo, tacos dorados and chorizo. A lot of locals go there, which I take to be a good omen.
If the budget is tight and vegetarian fare suits you by all means try Manantial Vegetariano where the salads are wonderful and the soups and main courses completely nourishing. You'll be more than satisfied and you'll never know you didn't eat meat.
Mariscos la Red serves simply wonderful seafood. It costs a little more but you won't complain. My wife still raves about her seafood brochette.
There's also a neat little health food bar called Cien Por Ciento (100 percent) which our teacher told us about. The owner is English-speaking and very eager to please. He'll conjure up almost anything you want if the large menu doesn't entice you. The fruit juices are simply wonderful, full of nutty, nibbly little things, and his sandwiches and salads make a completely satisfying lunch.
Restaurante del Vitral, is more upscale and elegant and well worth a visit. It's not really expensive, in North American terms.
We had a marvellous breakfast at Restaurant/Bar Catedral on our last day. I just wish we'd found it earlier. The coffee and the surroundings were beautiful and the fresh fruit and sweet rolls perfecto. You get great pozole and tortilla soup at El Meson. Mr. Coffee Bean is a good stop for an ice cold capuccino. And Cafe Nostrano is good for pizza….
What the heck! What are you waiting for…?
The most Indian town.
How nice it would be to say that everything is terrific in Oaxaca. But the stark truth is that Oaxaca is one of the poorest states in Mexico, despite the dollars those half million tourists bring in every year. Running the daily guantlet of vendadores, all of them flogging masks, baskets, hammocks, rings, watches, place mats, letter openers and assorted baubles, bangles and beads can be a bit of a trial. And those wonderful well-policed pedestrians-only streets are the ones where the selling and the begging is most intense. One has to say: "No, gracias," about fifty times a day.
The zócalo is truly wonderful. At least three sides of it are, with all the outdoor tables and the food and drink and music. The fourth side where the Governor's Palace is located presents another side of the city late at night where hundreds of people, entire families in fact, mostly Indian, cook over open flames and sleep on sheets of cardboard, especially on Friday nights before the big Saturday markets.
On two occasions I was enjoying a sandwich at one of the outdoor cafes and ended up giving away half my meal to someone who came and looked hungry enough to make me feel guilty. And no matter how indifferent you might be to the obvious poverty, there are some individuals who never fail to make you dig into your pockets for change. And yet, you wonder….are they all deserving cases? An American lady, Nancy, at our language school took a fancy to a young Indian boy who came around and played the accordion at the tables in the zócalo. She always gave him money. One night, however, after giving him a few pesos she was passing a video arcade and saw him playing the machines there. The "adoption" came to an abrupt end.
The little incident gave rise to one of those moral conversations about whether or not we should give something to all of them or just the really needy cases. I'm sure only gringos have those conversations in Mexico. At least we ended up agreeing that no one has the right to tell anyone else how to spend their money.
Still, there's no escaping the fact that the majority of the people in need are Indian, like those people sleeping outside the Governor's Palace. Indeed, Oaxaca is well-known as the most Indian of states and cities. That doesn't just mean there are a lot of Indians in Oaxaca. It means that to a great extent it's the Indians who supply Oaxaca with its uniqueness. They give the town a special character. They may not be the leading citizens but they put a huge stamp on its culture. If the city has an independent look, the look that says it would survive quite nicely, thank you, even if the tourists didn't come — though perhaps not as prosperously — I'm sure it's because of the huge Indian presence.
Perhaps they didn't build the zócalo, but they are the craftspeople who create the carved animals and the needlework and the pottery and the rugs with the unique designs. You know that the designs and the animals and the masks mean something, but you don't know what. But they understand. They even have their own languages. Mixtec and Zapotec, are still widely spoken. They've been doing their thing for thousands of years. Just look at Monte Alban and Mitla. Mexicans, Americans and Europeans have come here at a later date and showed them how to market their works and how to cater to the tourist trade. But the impetus to produce and create comes from them and the stamp of their age-old culture is what gives their work its uniqueness.
They may be poor but they have something — creativity….a feeling for quality….a sense of the role of art in everyday life. Maybe that's what has contributed so much to the Oaxacan approach to gastronomy. Despite the poverty they never give the impression that they want to be like you. They seem a genuine race apart. They may be poor but perhaps that's not as important to them as it is to us. However, despite all that philosophizing, these are changing times. After all, where did the young boy spend his pesos? In the video arcade.
Well, that's Oaxaca for you… leaving you with more questions than answers. Believe me, it's not quite like any other town you've ever been to. Even in Mexico.
Published or Updated on: May 1, 1997