Photo Gallery: Mexico's lucha libre: Dreams of professional wrestling (photos by Annick Donkers)
It's surely one of the coolest jobs in the world — donning a glittery mask and playing superhero or villain every night, flying around a packed arena. These are the men and women who aim to make their living as luchadores — athletes-cum-performers in the unique and very Mexican sport (or whatever you want to call it) of Lucha Libre.
It's basically pro wrestling but, unlike the US variant — widely seen as redneck theater — or its British cousin — old-fashioned carnival nonsense — Lucha Libre is a national institution and Mexico's second most popular "sport" after soccer. Today, the image of the masked luchador is as prized a symbol of Mexican culture as tequila, mariachis and Day of the Dead, and used in everything from tourism ads to Independence Day parades.
Unlike in Anglo-American wrestling, the most celebrated luchadors are usually slight of build and rely on spectacular acrobatics as opposed to sheer brawn. The more gifted performers tend to be técnicos, or good guys, for their ability to wow audiences with silky, high-flying moves. The larger-built ones are usually baddies, or rudos, and utilize a combination of muscle and dirty tricks to get ahead.
The Star Gym in the neighbourhood of Janitzio in the north of Mexico City is a breeding ground for such unlikely talent. El Apache, a luchador with 33 years' experience in Mexico and Japan, has also been training up-and-coming performers for the past twenty. "We're real fighters because we're constantly up against the pain barrier," he explains, detailing the impressive number of injuries he has bounced back from over the years. "You think this looks tough? This is actually a pretty light workout we're doing today."
His gym is on the sixth floor of a dilapidated building in a working-class barrio, a long way from the TV lights, outrageous outfits and adoring crowds of the Arena México — the city's Lucha Libre mecca. The twenty or so students at the class today are realistic about the discipline and craft it takes to become a world-class luchador, where the very best often begin training before they hit puberty.
Some of these young hopefuls are just getting started; others already work shows around the country for the Asistencia, Asesoría & Administración (AAA) promotion, one of Mexico's two biggest Lucha companies. Apache leads the class by sparring with Josefina, a waif-like, seventeen-year old blonde who has just taken up Lucha. Despite it being "fake", and a training session at that, you still cringe just watching as flesh eats mat and limbs take on physiologically-improbable contortions.
One of Josefina's parents accompanies her to every training session, although both are present today. Asked if they worry about her getting hurt, her mother replies: "Not really because the students take really good care of each other. We have no problem with her doing it, you know, because it's a healthy activity compared to what some kids are up to these days."
The origins of Lucha Libre are somewhat disputed but the accepted version goes that Mexican entrepreneur Salvador Lutteroth González fell in love with pro wrestling while attending shows in El Paso, Texas. He founded the Mexican Lucha Libre Company — now known as the Worldwide Lucha Libre Council (CMLL) — in 1933 and it remains the country's biggest wrestling organization, putting on shows twice a week in Mexico City for TV giant Televisa.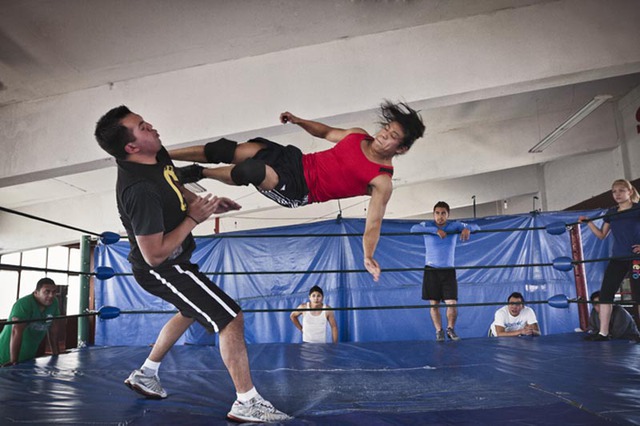 Students at the Star Gym hope to someday make the big time in Mexico's lucha libre world of professional wrestling
© Annick Donkers, 2012
" width="640″ height="426″> Students at the Star Gym hope to someday make the big time in Mexico's lucha libre world of professional wrestling © Annick Donkers, 2012
Despite the US influence, Lucha Libre soon found its own identity, shunning the thuggishness of the American version to become a unique and distinctly Mexican art form. A proud nation living in the shadow of the world's superpower, Mexico has a long history of taking US cultural imports — from hamburgers to hip-hop — and adding its unique national characteristics to creating something new.
Lucha became big-time in the 1950s thanks to the rise of television and the man who would become king of the luchadors, El Santo. With his distinctive silver mask — which he never removed publicly until just before his death — "The Saint" became a national icon, crossing over into comic books and a popular string of movies that are still widely viewed today.
It's often said that a large part of the appeal of Lucha Libre — which goes out on national television every Saturday afternoon — is its element of Good versus Evil drawn along very black and white lines. These theatrical morality tales particularly hit home in a country notorious for dodgy
The famous brightly-coloured masks, on sale all over Mexico, are the key to a luchador's mystique. As performers never remove their masks in public, a common way to end a storyline rivalry is a lucha de apuesta where the loser gets his mask torn off by the victor — in Lucha Libre, the ultimate humiliation.
During the session, the Star Gym trainees pair off based on weight, size and experience, and for nearly three hours execute leapfrogs, drop kicks, arm drags, and highly creative submission moves of varying difficulty and risk. El Apache occasionally interrupts to explain how to properly and safely execute a move, pretty much none of which you'd want to "try at home."
A huge element of pro wrestling that is usually neglected by the casual observer is trust. You try leapfrogging a five-foot-nine human being or catching an opponent as he comes soaring down at you from the top rope. However well-choreographed, this kind of stuff generally hurts, and all on little more than a high school gym mat. Injuries are a common occurrence.
"The most important thing is having good chemistry with your opponent," says David, a part-time professional with two years' experience under his belt. "You're not trying to hurt each other. You're trying to make each other look good. That way you have a great match, the crowd is happy, and the promoter invites you back for the next show."
The very best luchadores — the ones who can make a staged fight look like ballet — start almost as soon as they can walk. Místico, considered the best luchador of his generation and now a star in the US-based WWE as Sin Cara, turned professional at the age of 15. In fact, many of the most successful luchadores are second-generation performers with the sport in their veins — such is the dedication required to reach the pinnacle of the industry. The trainees at Apache's gym are mostly in their late teens or early twenties, and aiming for the stars.
Since luchadors are as much performers as they are athletes, posing, strutting, taunting and "selling" (making a move look as if it hurts like hell) are also a crucial part of the show. "I'm bigger than the other guys so I generally work as a rudo," says Marcelo, a short, stocky part-timer. "It's just more fun. The idea is to get people booing you and so you do whatever it takes. If they're booing me, I'm doing my job."
Twenty-five year old Ricardo, whose day job is as a professional stripper, says he trains in Lucha three or four times a week and works in strip clubs on the weekends. A part-time professional luchador, he wrestles two or three shows a month depending on when he gets the call; sometimes the two professions clash.
Asked which of the two professions is more lucrative, he replies, "Stripping, of course." But for guys and girls like Ricardo, that's not really the point. "Lucha is an incredible experience. It takes real dedication but the buzz is huge. I mean, who wouldn't want to do this for a living?"
Photos by Annick Donkers
Published or Updated on: July 24, 2012