Photo Gallery: Mexico, a Higher Vision: An Aerial Journey from Past to Present
This is the first coffee-table book I ever reviewed and I have to say right off the bat that it's a winner. It is made up of some 200 photographs from all parts of Mexico – all of them taken from a high elevation, either an aircraft or mountaintop or, occasionally, a tall building. At first it sounds like a rather limited concept but in execution the "godlike" perspective works beautifully to highlight the uniqueness of this country.
What this handsome volume delivers is a treasure trove of striking views of deserts, cities, villages, volcanoes, mountain ranges, desolate beaches, crowded beaches, jungles, individual buildings and other striking images. We look down on huge elaborate temple ruins in the midst of lush jungle or on abandoned haciendas in arid desert country, as well as on vast populated modern cities and luxury resorts.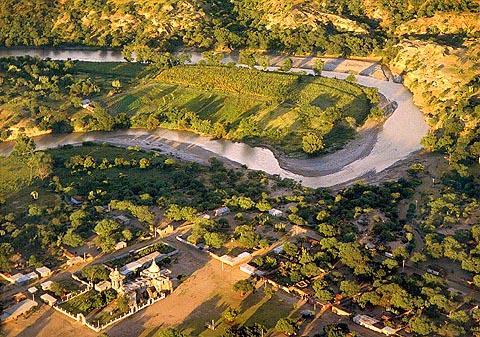 I should also emphasize that the photographs are uniformly excellent examples of the photographic art. And what they reveal is not just a truly ancient and beautiful land but an endlessly interesting history, both geological and human.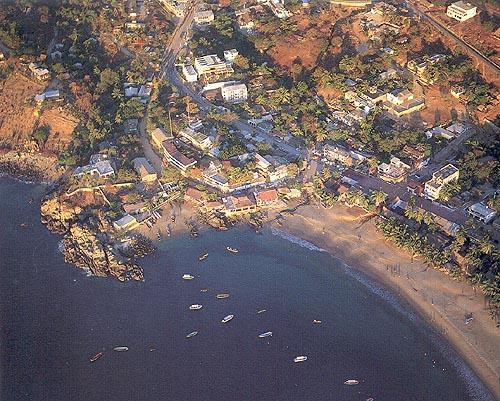 As Carlos Fuentes points out in his prologue: "To see Mexico from the air is to look on the face of creation." And, indeed, much of Mexico seen this way reminds the observer that this is a land with an incredible history reaching into the deepest recesses of time itself.
To quote the prologue again: "Geometry, Einstein said, is not inherent in nature. Our mind imposes it on reality." And you see this in many of these wonderful images….like the Acropolis at Monte Alban and the oddly cubelike remains of Casas Grandes in the Chihuahua desert. We get orderly, familiar cities as seen in the shots of Puebla, Oaxaca and Morelia and parts of Mexico City. We also see sprawling, confusing communities like Taxco, Zacatecas and Guanahuato where, as Fuentes points out, "…the cities scramble up mountainsides like gold-seekers themselves, tumbling down the slopes and sniffing out their precious metals."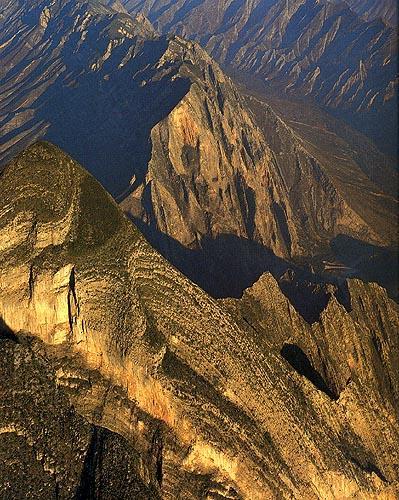 Some of the photos look as though they could have been taken a million years ago, the land is obviously that ancient. The Copper Gorge in Chihuahua is a perfect example. And yet there are all those Mexican contrasts – Cancun's crowded beaches, Las Hadas luxury resort in Manzanillo and the Palace of Chapultepec in Mexico City.
Not all the images are of noted places. There are many lovely straightforward photographs that Michael Calderwood has taken along the way. Favorites, for this observer, are a country church in Puebla, vast golden fields of marigolds destined for Day of the Dead altars, colorful fishing boats in Puerto Peñasco, Sonora, and a straight white line of pelicans on the Abelardo Rodriguez Reservoir in Hermasillo.
After browsing through these images several times I simply have to say….what an astounding country; what an amazing range of vistas it has to offer. I doubt that either the U.S. or Canada could provide anything like this variety of scenery. Nor do they have the history that surely goes back to the appearance some of the first sophisticated human settlements and civilizations on the planet. And, as Calderwood has discovered, aerial photography is an excellent tool for showing the indelible stamp that mankind has put on this primeval landscape. In the recent past it shows in the remains of ruined temples and monuments. Today, we have grand sprawling cities and spectacular coastal resorts.
The 425 flying hours that Michael Calderwood invested in these lovely photographs were well spent.
In my humble O: This is a book to keep and treasure for images that you can look at and enjoy again and aga
MEXICO: A HIGHER VISION An aerial journey from past to present
Photography by Michael Calderwood; Introduction by Carlos Fuentes
Alti Publishing, 1996
Excerpts and photographs Reproduced with permission of the Publisher
Available from Amazon Books:
Published or Updated on: February 15, 2000