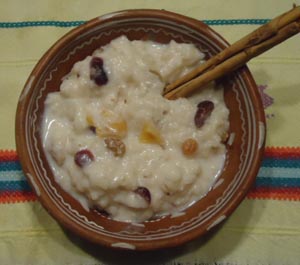 Of all the many mercados I have visited in Mexico, one of my favorites is the municipal market in Cholula, Puebla, where I have shopped for the better part of the last quarter century. Filled with an enticing array of the best that this culinary region has to offer, this place is to Mexican food lovers what Disneyland is to media-soaked five- year-olds: Paradise. And my favorite puesto, or stall, is Las Cazuelas, belonging to the woman my husband refers to as my "Mexican food guru," Doña Lucia.
Beautiful Talavera ceramic tureens hold the homemade mole, pipián and adobo pastes for which Doña Lucia is justifiably famous. Every possible ingredient that goes into these gastronomic marvels is sold here as well, including a variety of spices, nuts, chiles, seeds and dried fruit.
Large, crystal clear jars hold a colorful assortment of the fruit, which will be used in all manner of dishes, from the iconic mole poblano to desserts and snacks. There isn't much in the way of dried fruit that cannot be found here, and years ago Doña Lucia was one of the first to jump on the dried cranberry wagon, well before the large supermarket chains in Mexico started carrying them.
Dried fruits have been used throughout the world for centuries and, in Mexican cooking, their use dates at least as far back as the Conquest, when Spaniards brought with them the cuisine that had been so heavily influenced by the Moors. The Arabic style of cooking was sophisticated, with layers of flavor enhanced by dried fruit, such as apricots, raisins and dates, along with nuts and spices.
Eating dried fruit dates back to ancient times, beginning with hunter-gatherers who ate wild grapes that had been dried into raisins by the sun. By 3000 BC, the Egyptians were cultivating fruit, and baskets of dried fruit have been found in their tombs. Greeks, Romans, and people throughout the Middle East used dried fruit in cooking, a culinary tradition that the Crusaders returning to Europe brought with them.
The Spanish explorers and missionaries introduced orchard fruit and grape vines to Mexico, the latter thriving well in the missions of Baja California and what is now the US state of California. Dried fruit was produced in abundance and eventually this region overtook the Valencia region of eastern Spain in raisin production. Today Mexico produces all manner of dried fruit, both orchard fruit introduced by the Spaniards — such as apples, pears and apricots — and tropical fruit, including pineapple and mango.
In savory recipes, dried fruit, especially raisins and prunes, have been used in a great number of traditional Mexican dishes, many introduced by the convent cooks as far back as the 16th century. These include several moles, stuffing for turkey, and picadillo. In the realm of sweet dishes, arroz con leche, a creamy rice pudding, nearly always contains raisins, as do sweet tamales and the bread pudding called capirotada. Oaxacan estofado, Aguacalientes style chicken and Puebla's chiles en nogada are just a few of the regional dishes made with dried fruit.
Traditionally dried fruits are minimally processed, meaning simply that the water content has evaporated. When buying dried fruit in a store, read the label and look for non-GMO products. Avoid added sugars and preservatives such as sulfites. The only word appearing under "Ingredients" should be the name of the fruit. Although preservatives do extend the shelf life of dried fruit, this can be accomplished by storing them in tightly sealed containers in the freezer for up to a year.
Dried fruit is a good source of fiber and potassium, and have the vitamin content of the individual type of fruit. Dried fruits count toward recommended daily servings of fruit. Just remember that a serving of dried fruit weighs considerably less than its fresh counterpart, so do not compare nutritional properties or sugar content by weight. A piece of dried fruit has the same nutritional properties as a piece of the same fruit eaten fresh, but will weigh considerably less. For example, three dried apricots have the same fiber, vitamin and mineral content as three fresh apricots, but weigh only 40 grams instead of 180 grams.
Be creative with the many varieties of dried fruit available. Try adding cut-up dried apricots to guacamole, and think outside the box when it comes to rice pudding. Instead of raisins, try dried apricots, apples, pears or peaches, or a combination. (In Mexico, dried peaches are whimsically called orejones de durazno, "peach ears" because of their resemblance to human ears.)
In Mexico, the upcoming holidays often call for roast turkey or pork, stuffed with various combinations of olives, nuts and dried fruit. Here are some festive recipes from earlier columns, as well as a few new ones.
Published or Updated on: November 7, 2013