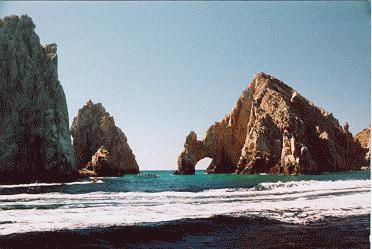 The wedding was an exciting reason to do Cabo San Lucas. Glamorous "Glee" star Naya Rivera and actor Ryan Dorsey were to take their vows.
An area acquaintance, part-time bookie and fishing guide, said come on down, that my fame as a writer and his international influence could get us an invitation to the party and a senior discount at a five-and-a-half star resort.
Wrong!
Couldn't or didn't. Good thing, too.
Las Ventanas al Paraiso thought $1,240 U.S. plus $220 in taxes was a reasonable nightly rate. Management was not familiar with the word "discount."
The desk clerk at One and Only Palmilla had much better command of English until he realized I am not and have never been Ernest Hemingway. The whiskers and Greek fisherman's cap confused him for a few seconds.
We are told that Naya in a Monique Lhuillier gown and Ryan in a Dolce and Gabbana suit were married without us. Alas and alas, they came and went. Soon and very soon, Mexico was back to normal.
I need to say right here that Cabo San Lucas, at the south end of Baja California Sur, can stand alone. It would be a sparkling seaside gem even if there was never another celebrity event.
The convergence of the Sea of Cortez and the Pacific makes it special. The thought that pirates once used it as a haven adds drama. Yachts anchored in the bay say "this is the place," a thousand miles from U.S. border strife.
There is a full-grown marina, a shopping center, high-rise hotels, fancy boutiques, expensive restaurants and clubs where music may welcome the dawn. I say "may" because I've never been up that late.
Among the bars is The Giggling Marlin with a pulley that dangles volunteer patrons upside down, as if they were a fish hanging by the tail, to be weighed and measured.
I've never tried that, either.
Glass-bottom boats are major attractions for genuine tourists. Out in the water are fresh fish and the Cabo landmark, the stone arch.
OK, the town is not totally perfect. It seems sprawling. I'm not sure where downtown is. There are some sand (dirt) streets and a few too many souvenir shops. But there is glamour and intrigue.
The way I see it, Cabo has been a golf mecca since the 1990s. Jack Nicklaus has designed six courses, including beautiful Palmilla, the Ocean Course and Quivira. The latter has seven seaside holes.
Arnold Palmer, Tom Weiskopf, Greg Norman, Ben Crenshaw and Gary Player have left their fingerprints on the area.
Tiger Woods is architect of the El Cardonal course that crisscrosses 1500 acres of desert arroyos overlooking the Pacific. It is to open this fall. A Davis Love III course, Diamante Dunes, is internationally ranked.
Those two are part of a luxury development that will supposedly include more multimillion-dollar homes, condos and eventually a hotel. If the ocean provides inadequate wetness, there is a 10-acre swimming pool that looks like a lake.
This place goes back a long ways. Archaeological excavations have supposedly shown proof of people from at least 10,000 years ago. One historian claims there were two houses and 20 inhabitants in 1842.
It was just another working village in 1917 when a U.S. company built a floating dock for snagging tuna.
In the 1930s, Cabo caught on as a hideout for the rich and famous, especially Hollywood types. On the next wave, John Wayne and Bing Crosby gave it a boost. A world-class fishing tournament added fuel. Spas came later.
Whales are a winter attraction. They migrate thousands of miles from Alaska and Siberia to give birth in the warm waters.
Beaches are a year-round attraction. The Mexican government built the roads that encouraged growth.
Critics say there were no controls, that nobody gave a thought to the unique and perhaps fragile environment, that development roared along unchecked. That has changed somewhat.
We think the Cabo region is a treat, a different look, an exciting change of pace from our life on Lake Chapala. We do not visit often. It is a long road trip. And there just aren't as many invitations as there used to be.
Published or Updated on: August 24, 2014