Before moving to Mexico 26 years ago, I had only seen dried shrimp in small cellophane packets in Latin and Asian grocery stores. I was totally unprepared for the sight of mountains of them, pink and with an intense, briny aroma, in markets from Juchitan, in Oaxaca's Isthmus region, to Mazatlan, on the country's western Pacific coast.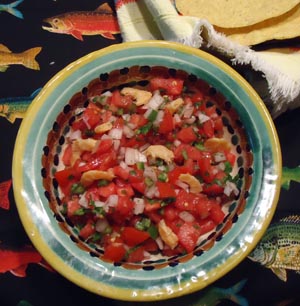 In Mazatlan, these salty tidbits are most often eaten as a crunchy snack to accompany ice cold beer, although during Lent, many are used in tortitas de camarón, egg and dried shrimp patties served with mole and romeritos, a pungent Mexican herb that resembles rosemary. Served all over the country, this dish probably fits into the category of "acquired taste," especially for foreigners. But if this has been your only experience with dried shrimp, read further to see how they can be used to create flavorful dishes that include appetizers, beans, soups and more. In much of Mexican regional cooking, dried shrimp is most successfully used as a flavor enhancer rather than the bulk of the recipe.
Caldo de camarón seco, or dried shrimp soup, is a favorite in Mexico City's cantinas, where a different complimentary small course is served with each round of drinks. This classic is always welcome, giving patrons the sustenance and strength to face the next cuba libre, tequila or cerveza. The guajillo chile and tomato base, a typical enough starting point for countless Mexican dishes, gets a distinctive pop of flavor from the dried shrimp.
It also works this way with the thick Oaxacan white bean soup that is more like a brothy stew. Here the taste of the beans, which are well known for being influenced by their companions in the cook pot, is lifted from wimpy to wow. Dried shrimp is one of those ingredients that retains its flavor after lengthy simmering.
Even the ubiquitous pico de gallo fresh salsa is taken beyond the ordinary with the addition of dried shrimp that have been thoroughly soaked, peeled and chopped. Served with totopos or tostadas, this makes a great appetizer or cocktail snack.
Dried shrimp are also used in several versions of croquettes and patties, from shrimp and potato cakes to gueta bi'ngui, the spicy regional shrimp croquettes from the Isthmus of Tehuantepec, as well as countless types of tamales and rice dishes.
In Mexico, dried shrimp come in a range of sizes, from the tiny quarter-inch river shrimp to larger ones from the ocean. The tiny ones are ground into a powder, used for adding flavor and body to soups, stews and sauces, and the larger ones are usually soaked and peeled. Both dried shrimp and the powdered version can be found in most markets, supermarkets and tiendas. North of the border, you'll find them in Latin and Asian markets and in the ethnic section of larger supermarkets. They are also widely available for sale online.
Mexican dried shrimp are blanched and brined before being dried, which gives them a somewhat softer texture than their Asian counterparts, and are not as shelf stable as other dried foods such as spices. Look for shrimp that are pale pink rather than gray or brownish, and that are unbroken. Once packages of dried shrimp are opened, they need to be stored, tightly closed, in the refrigerator, where they will last from four to six weeks.
Unless eating them straight from the package as little salt bombs to go with beer, dried shrimp should be rinsed, soaked for 15 to 20 minutes in water — using about two cups to a half pound of shrimp — drained and rinsed again. Some recipes call for peeling and some don't, although this is often at the discretion of the cook. The heads and tails, once removed, are used to flavor broth, especially in bean dishes and soups. Don't add salt until after tasting the finished dish.
So forget your first taste of tortitas with romeritos, and give dried shrimp a try. Remember that they are valuable flavor boosters, don't forget the soaking, and start small. A nice baby step to begin your dried shrimp experience is a dish of dried shrimp and onions with scrambled eggs.
Published or Updated on: May 19, 2013