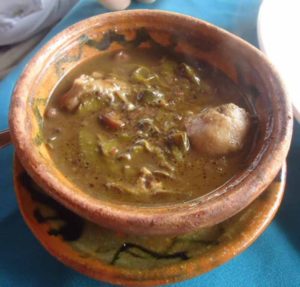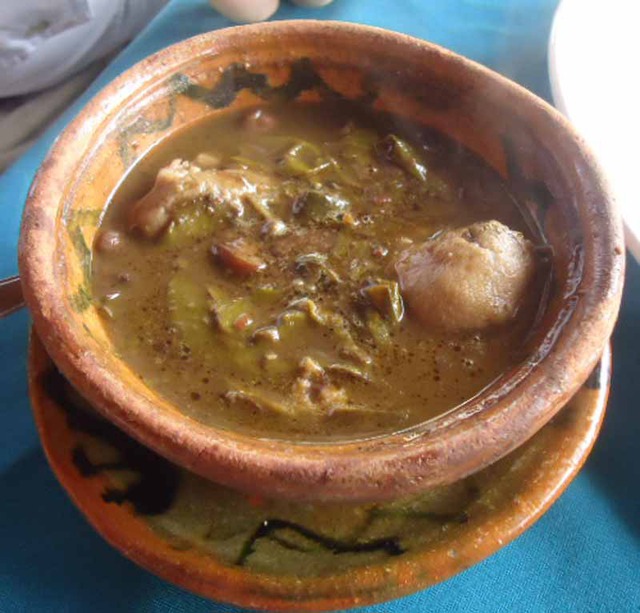 Mexican black bean soup with masa balls could easily be a whole meal, accompanied by a salad. A nopales salad or a watercress and spinach salad would both be good choices.
Ingredients
For the soup:
2 tablespoons lard or oil
½ medium onion
1 roma tomato, peeled, seeded and chopped
2 cups cooked black beans
2 cups bean broth from cooking the beans
2 large sprigs epazote
Salt to taste
For the bolitas:
½ pound prepared masa (masa made with masa harina is fine)
3 ounces lard
3 ounces queso añejo
½ teaspoon baking powder
Salt to taste
Vegetable oil for frying
In a large saucepan, heat the oil, add the onion and tomato, and sauté until soft. Add the cooked beans, bean broth, epazote and salt to taste.
Bring soup to a boil, lower heat and simmer for 20 minutes. Place about 1/3 of the soup in a blender and puree. Return the puree to the soup. This will thicken it somewhat, while retaining the soup's texture. Add the bolitas to the soup and simmer gently for a few minutes.
Ladle the soup into bowls, adding a couple of the bolitas to each.
To make the bolitas: Mix the masa, lard, cheese, baking powder and salt. Form into small balls. (The ones in Xico were about the size of ping-pong balls.)
Fry the bolitas over low heat, turning gently, until they take on a slightly golden color. This will seal them and prevent falling apart in the soup. Simmer for a few minutes in the soup. They will fluff up in the liquid.
Link to source article
Going locavore in the mountains of Veracruz
Published or Updated on: July 8, 2014