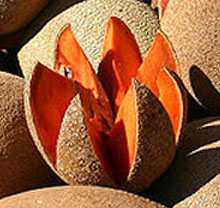 Mamey has a sweet, peach-like taste when ripe. Puree the peeled fruit in a blender and strain it to remove any fibers before using it to make mousse. A light coating of vegetable oil spray, such as Pam, works well to coat gelatin molds.
Ingredients
2 cups mamey puree
1 cup boiling water
2 envelopes unflavored gelatin
½ cup sugar
1 cup heavy cream, whipped
Strain the mamey puree to remove any fiber.
Pour boiling water into a shallow bowl and add the gelatin. Break up any clumps of gelatin and add sugar, stirring to dissolve.
In a large bowl, combine the mamey puree and gelatin mixture. Fold in the whipped cream. Pour mixture into a lightly greased 6-cup gelatin mold or 6 individual molds. Refrigerate until set.
Unmold and serve immediately. Serves 6.
Link to source articles
Exotic summer refreshment: a guide to Mexico's tropical fruit
Mamey fruit: Mexico's sweet winter treat
Published or Updated on: July 1, 2007