Photo Gallery: The Zuno house in Guadalajara, Mexico is doubly 'historic'
The venerable old Zuno residence is a historic house in its own right but was designed to teach Mexican history. So it's doubly "historic."
The person who said modern artists try to hide their meanings was wrong. This house was designed by four distinguished modern Mexican artists — aided by two architects — and yet its important statements can be read from the sidewalk. It stands at Avenida Union and J. Guadalupe Zuno and was built in the early 1920s.
The house was designed for and by artist-politician Jose Guadalupe Zuno, whose paintings are still hung in museums. He was assisted with designs and suggestions from three old pals, all prominent artists, David Siqueiros, muralist, Gerardo Murillo ("Dr. Atl"), said by many to be the father of modern Mexican art, and Amado de la Cueva.
"Dr. Atl" was also a vulcanologist and explorer. Zuno became governor of Jalisco and afterwards taught law, literature, and art in the University. As was said of Will Rogers, Zuno "never met a man he didn't like."
With two dozen other artists of the period, including J. Clemente Orozco, they had formed Guadalajara's "Bohemian Center" during the early days of the Mexican Revolution. But Conservatives forced Zuno to flee to Mexico City where he launched his political career.
Zuno returned to Guadalajara in triumph after the revolution. He then became, successively, national deputy, Mayor of Guadalajara, and at age 32, Governor of Jalisco. This was when he announced plans to build a mansion at the corner of Avenida Union and Avenida del Bosque (now named J. Guadalupe Zuno in his honor) at what was then the extreme western limit of Guadalajara. "Dr. Atl", Siquieros, and other old pals of the Bohemian Center flocked to his aid with advice and sketches.
In the wave of patriotism that followed the revolution this ad hoc committee of geniuses formulated a philosophy of design that would make the mansion a showplace of Mexican architectural history. They selected heavy, dark brown tezontle stone quarried in Tequila to represent Mexico's Indian past, and contrasted it with smooth gray limestone from nearby Atequiza to represent the colonial period. The style they chose is a combination of neoclassical and colonial.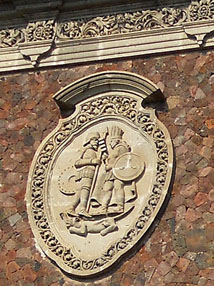 The large medallion facing Avenida Union represents an Indian warrior meeting a Spanish warrior — but on equal terms. Some of the finials, or roof ornaments, are in the shape of small Mayan pyramids. The artists remembered the original Spanish settlers with a faithful copy of their last architectural vestige, a doorway faced with stone carvings, the original of which is now in the regional museum.
The door columns that surround the principal entrance on J. Guadalupe Zuno are of elaborately carved stone, obviously designed to remind the viewer of the facade of Guadalajara's glorious Santa Monica church. But they are not a copy; they are of a simpler design but appear equally baroque.
The corner niche of the house, up near the roof, was Zuno's personal statement: instead of a Virgin, it depicts Bacchus, the god of wine and revelry.
Zuno, listed as one of the founders of the University of Guadalajara, finished his life teaching there. At age 81 he deeded the property to the University where it now houses University archives. Before his death at age 89, he would sometimes forget about his new house in the Jardines del Bosque area and would show up at his old mansion where he had raised his twelve children and where his "Bohemian" pals had joined forces to plan a mansion that would be a more creative memorial to him than his statue in the Rotunda of Famous Men.
No tours are available, but on university holidays the gates are left open and there seems to be no objection when a few people wander around the property.
But you will learn just as much viewing it from the sidewalk.
Published or Updated on: October 9, 2008