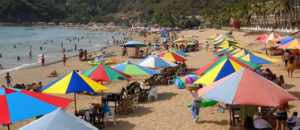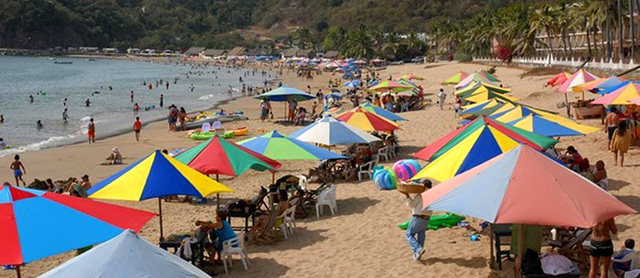 San Patricio/Melaque, on the Pacific Coast of Jalisco draws its name from Saint Patrick. Legend goes that Saint Patrick brought Christianity to Ireland and drove out all the snakes to boot. Locals say Saint Patrick became the area's patron saint when an Irish company logged the area during the last century. But what do I know except… kiss me, I'm Irish! (descent)
Nestled upon the Costa Alegre (Happy Coast) 120 miles south of Puerto Vallarta, San Patricio/Melaque (pop. 10,000) is a small Mexican resort. Our family has visited there four times over the past seven years. Our daughter, Rose feels like she's partially grown up there, calling it her home in Mexico. Take a virtual trip to Melaque today at Tom Pennick's web-site: https://www.eden.com/~tomzap/bar-cmt1.html
The abundant photos and descriptions detail beaches, hotels, restaurants, transportation, fishing and miscellaneous subjects. Recent visitors' comments mix in factual information with a wee bit of malarkey.
For example, last year someone wrote a scare-mongering comment about the new military presence. Knowing that the army barracks under construction would house around two thousand troops, I returned in early 2000, curious to witness the impact on the community. Barely a soldier to be seen…oops…wait…over our month I noticed: Two guys in the shops buying toys for children and two more waved at me as I walked past the barracks on the way to Bahía de Cuastecomate. Periodically on payday, a jeep loaded with khaki-colored soldiers drives up to the only Banamex in town for the payroll. People say that they feel secure with this low-key military presence in their area. They feel that it deters undesirable drug trade and will provide emergency help in the case of natural disasters like earthquakes or tropical storms.
Pluck some Irish luck and enjoy San Patricio/Melaque if you…
1) Like Mexicans.
Melaque frequently swells on weekends and vacations with holidaymakers from Guadalajara and other inland Mexican cities. This winter Canadians tended to heavily outnumber Americans for whatever reasons.
2) Enjoy beautiful sandy beaches.
In Mexico it's called la playa. The Mexican penchant for passionate fun is everywhere as entire families play soccer on the sand, volleyball in the water, swimming, inner-tubing, sand-castling, sunbathing, eating, drinking in a friendly atmosphere. The bay often teems with fish and wild bird-life.
3) Like roosters.
Not talking here about one handsome dude crowing his heart out picturesquely on a picket fence.
But the species.
Crowing in the morning, at noon…any time of the day or night. Dueling for the countless hens that peck with their chicks by well-groomed casita or dumpy lot blocks away from the beach.
4) Enjoy music.
Any kind.
Although Melaque is mellow and peaceful in general, you can always expect someone to play music loud enough so that you can enjoy it too.
Three-piece bands patrol the beach, playing songs for cash. Families sit on the sidewalk outside their tienditas and proudly crank their sound systems full volume. Cars cruise casually by along the newly interlocking brick roads with stereo-systems blaring. Impromptu concerts erupt at will and guitarists croon in quiet café corners. Some visitors bring their musical instruments, knowing that music is everywhere in Mexico. It ebbs and flows and where it stops, nobody knows.
Stretching from west to east along the sweeping Bahia de Navidad, the town consists of three separate ejidos. (rural land cooperatives) These divide into Melaque at the far-west end, San Patricio in the commercial center and more residential Villa Obregon to the east, bordering upon the Laguna Tule. Some people credit the area's development or lack thereof, to the continuing existence of old land claim jurisdictions. Slowly changing its economic base from agriculture to tourism, the place retains its small town flavor.
Melaque's church by the plaza remains the social and spiritual hub. After evening mass, people spill out of the doors to promenade on the plaza. On Sundays, you can join the whole town, to strut your stuff at the paseo and feast on abundant tasty street food.
A host of hotels offer moderately priced rooms fronting la playa. An abundance of bungalows (small suites) are interspersed among all three neighborhoods. More budget-minded accommodations abound a block from the beach. Families eagerly rent out rooms or bungalows especially at peak holiday periods. Sometimes homes are vacated in hopes of gaining a short-term cash bonus.
Melaque has three trailer parks. The central Trailer Park Playa has full hook-ups but fills up fast. An informal trailer park occupies the west end. Another campground with cabanas recently opened along the beach in Villa Obregon.
Mom and pop stores everywhere stock the essentials. A tiny covered mercado market hums day and evening, bustling with people perched at the fondas. The streets erupt with taco stalls in the early evening. Hearty Mexican fare is abundant and inexpensive in the town's scattered restaurants. Several palapa style restaurants on la playa dish up excellent seafood brought in that day by local fishermen.
Entertainment is small scale and local. The Disco Tanga rocks the west end, and the Caxcan above the central Super Farmacia offers ambience and pool tables with occasional live music. Any restaurant can feature musicians or dancing when the mood hits the owners. Men play at their own pool hall and kids play foosball, video games and pool in the Cavern on the south side of the plaza. More small clubs and late night restaurants rock to the wee hours at Melaque's sister town of Barra de Navidad, a few miles away.
Sports-minded? Opportunities exist for scuba diving, snorkeling, kayaking, boogie boarding, surfing, horseback riding, hiking and cycling. Local operators offer fishing and day trips by boat or vehicle to other beautiful beaches like Tenacatita. Golf is only available at the lovely and expensive Isla de Navidad course. Tennis courts may be rented at Hotel Cabo Blanco or Hotel Costa Sur. Also clay courts are available along with local soccer games at the area's municipal center of Cihuatlan, a twenty-minute trip by bus or car.
Be warned however that some locals hold the gringo passion for exercise with suspicion. I tried jogging one morning and a car slowed with its owner commenting that I was breaking the Melaque speed limit. Those who must jog, go early in the morning before the town fully awakes.
Since Saint Patrick is the town's patron saint, every March 17, a fiesta erupts in his honour. Given the town's rural roots, fiestas de toros keep bullrings busy all year. Charreadas with rodeo events frequently perform in outlying villages. Bandas come to town every month to rock off socks. Late Sunday afternoons, anyone can dance at a palapa-style restaurant at Melaque's west-end.
On Valentine's Day, La Paloma Oceanfront Retreat hosts an annual dance as it celebrates the arts in Melaque. If you wish to explore your creative side, attend a Mexican art workshop on drawing, painting, photography etc. The day that I visited, I got "down-and-dirty" fashioning clay creatures and admiring fresh masks created that morning.
Being an informal kind of place, the best way to discover what is happening is to ask at least three local people for the same information. If you can get the same information from two people, you may be on to something.
Alternately read the colorful big posters that periodically plaster telephone poles or store walls announcing dances, rodeos, fiestas, bullfights, carnivals and circuses.
Given the Mexican muralist tradition, it is very common for entire walls to be repainted with white paint and current announcements sprawled in bold letters across the entire surface.
Small battered cars with huge loud-speakers blast community messages while slowly touring the streets.
Sometimes social groups sing and dance their announcements to loud energetic walking bands around the plaza.
Call in at the ciber@net Computer Center on the main beach street of Gómez Farias or the Bananarama morning coffee shop near the bank for current news about Melaque. Enjoy the two new bank machines that speed up service or grab a number for helpful service inside. Ask about the Amigos de Melaque for information about community projects and infrastructure. They meet Tuesday mornings twice a month for a breakfast meeting at Gonzalo's restaurant across from the old municipal market in Villa Obregon.
There are three common routes for visiting San Patricio/Melaque.
The easiest is to fly to Manzanillo Airport, located about thirty miles or thirty minutes from Melaque. Regulated taxi service is available for $25 for regular cabs and $40 for a larger suburban cab. Long distance buses run along the Hwy 200, five miles away but they don't service the airport.
Puerto Vallarta and Guadalajara have direct flights from more than 30 different American and Canadian cities. By flying into either one of these cities, you can rent a car from the airport to Melaque. From Vallarta, it is 125 miles (3-½ hours) on the scenic coastal road, and from Guadalajara airport, it's about a 5-hour drive over Hwy. 180. Car rental for a week costs about $350U.S. The highways are safe and well traveled, although it is recommended that you don't drive at night, due to the numerous animals that could be on the road.
If you choose to rent a car, make your reservations in the U.S. or Canada, bring along your confirmation number, and pick up your car at the airport. It can save you quite a bit of money. If you choose not to drive yourself, there are two direct buses leaving Puerto Vallarta each day (but this might involve an overnight in Vallarta, depending on the time your flight arrives). The trip takes about four hours and costs around $13 U.S. In Guadalajara, your odds are better, because there are three bus lines, La Linea Plus, ETN, and Primera Plus, with a direct bus leaving from one of these companies about every half hour.
(Hint: make sure your bus is a "directo" one, or you'll be stopping at about 20 little pueblos along the route – another adventure by itself!)
Once arriving in San Patricio/Melaque, prepare to kick back and enjoy. If you're looking for small town Mexico–a quiet, safe hideaway where the people are friendly, and the prices are right, plan to visit Melaque. It's a place where you can know the butcher…the baker…and like the pub on 'Cheers', everyone knows your name.
But what do I know except…kiss them, they're Mexican!
Published or Updated on: March 1, 2000