Photo Gallery: Shrimp sandwiches in chipotle cream sauce: Tortas ahogadas de camaron
March is ending in Mexico, spring is here and the long awaited holidays of Semana Santa and Semana de Pascua are on their way. This is a huge vacation time down here. School is out for these two weeks, and many working people get the whole week off. We flock to the beaches en masse; lake destinations and vacation homes beckon as well. Mexico City and Guadalajara are virtually empty because the resorts are packed with young men looking to pick up a beautiful señorita and families who enjoy some time in the sun with their loved ones.
But several weeks beforehand we focus our menus on seafood. Mexico is overwhelmingly Catholic and almost all the families I know give up red meat during Lent. Thirty years ago in Guadalajara, it was almost impossible to find a restaurant serving steaks on Friday during Lent. Although this is no longer required by the Church, these customs are still a part of everyday life.
To some, giving up red meat may mean a great sacrifice. But Mexico boasts two long seacoasts teeming with a vast variety of fresh seafood. We have some of the best culinary traditions and recipes to show off the ingredients and techniques that evolved from the years of fusion between European and native cultures.
Fish markets all over the country are brimming with fish, mollusks and shellfish of all colors, shapes and sizes. Along the coast, these two weeks are excellent ones for the fishermen as people await the boats to purchase the freshest fish they can. Our seasonal recipes for feeding our loved ones are just amazing!
I'd like to share a family favorite that is an adaption of one of Guadalajara's most traditional dishes — the torta ahogada or "drowned sandwich." And that is exactly the way you eat it. In its classic form, it's a sandwich of pork carnitas drenched in a mild but savory tomato sauce and served in a bowl. You add as much fire as you want with a chile de arbol sauce that is served separately. This version is the Lenten version, which replaces the pork with shrimp; the sauce is a thick chipotle cream.
Ingredients
For the sauce:
1 cups (1 kilo) thick cream or sour cream
1 scant cup (133 grams) tomato pure
1/4 small onion, minced
1 medium clove of garlic. minced
1 stick (100 grams) butter
1/4 cup (75 ml) of shimp stock
1 chipotles in adobo (1 1/2 chiles if you like spice)
For the tortas:
4 birotes or French style baguettes
1/3 lb pound (166 grams) thick cream or sour cream
2 lb (1 scant kilo) medium-size shrimp
Salt and pepper to taste
1/3 stick (16 grams) butter
1/2 stick of celery
Garnish:
red onion in julienne
juice of 1 key lime
1 avocado
Boil the shrimp in water with celery and pepper. When cooked, drain and set aside, reserving the stock. Sautee the shrimp in butter with a dash of shrimp stock.
In a small bowl, cover the onion in julienne with the lemon juice. Reserve for garnish.
In the blender, add cream, chipotles, and tomato paste and blend well. Heat the butter in a sauce pan and add the minced onion and garlic. When the onion is transparent, add the blended cream and chipotles and cook, stirring, until thick.
Open a bollilo or baguette and spread the inner surface with cream. Sack some of the cooked shrimp inside it and drench in the sauce. Garnish with onion and avocado. Makes 4 sandwiches.
Published or Updated on: March 27, 2010 by Daniel Wheeler © 2010
Step by Step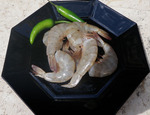 © Daniel Wheeler, 2010