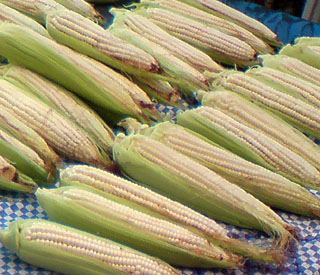 In the northern and central parts of the state, southern Puebla is called " tierra caliente" — hot land — although it can get chilly in winter, especially in the mountains. Most pozole is made with hominy-like corn kernels that have been dried then soaked, but this one is made with fresh corn, called elote, thus giving rise to the name elopozole. Like many pozoles, it is more stew than soup and is definitely a meal in itself.
Ingredients:
10 ears of fresh corn
2 quarts water
6 chicken thighs
1 pound pork butt, cut into cubes
salt to taste
1 pound small, round zucchini squash, sliced
4 guajillo chiles, seeded and soaked in hot water until soft
2 sprigs epazote
lime wedges for garnish
Cut the kernels from the ears of corn and place them in a stockpot with 2 quarts water, the chicken, the pork, and salt to taste. Bring to a boil, lower heat to medium, cover and cook until the meat is nearly tender.
Puree the chiles with the epazote and just enough chile soaking water to move the blender blades. Add the puree and the zucchini squash to the stockpot and cook until the squash is tender. Squash cooks quickly, so watch that it does not become soggy.
Taste and add more salt if desired. Serve in deep bowls, accompanied by lime wedges for squeezing into the pozole, and tostadas or crisp fried corn tortillas.
Serves 6.
Links to Source Articles
Culinary travel in the Mixteca Poblana: The avocado route

A Yearly Culinary Ritual: La Matanza
Published or Updated on: October 1, 2005