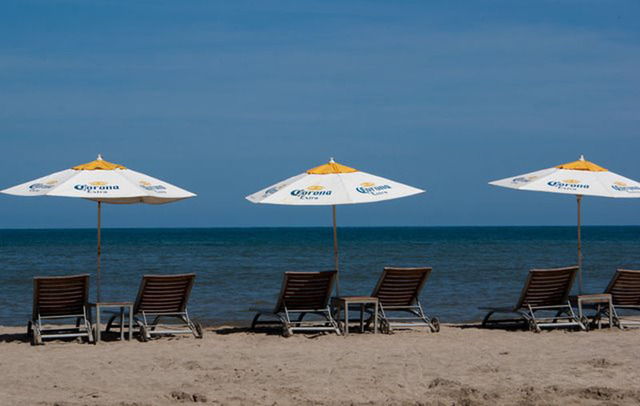 What's struck me recently about Mexico — apart from the usual beauty of its beaches, mysticism of its colonial cities, delectability of its culinary arts, and friendliness of its people — is how different the reality is from the perception.
In the United States, we've grown inured to hearing that you just can't travel to Mexico, that it's really too dicey these days. That message is enough to bring guffaws from the Americans I journey with south of the border. We laugh heartily, as we toast our hosts with another round of icy Coronas, while gazing out on an azure ocean from beneath the fronds of a palapa on a picture-postcard beach.
I was thinking these thoughts on a recent Friday afternoon, as I reclined and sipped a cool beverage at a sidewalk café in the artsy town of Tlaquepaque, just outside Guadalajara, Mexico. Sheltered from a brilliant sun by towering orange, lemon, palm, and eucalyptus trees, I watched as children frolicked in a public fountain, their voices rising in joy.
Not far away, young couples cuddled in the grass of a public square, and older men kibitzed on park benches. Tourists and locals alike window-browsed along a street lined with colorful pottery stores.
In short, the scene couldn't have been any less threatening or scary if it had been lifted from a fairytale penned for preschoolers.
This wasn't my first trip to Mexico, not by a long shot. I frequently have traveled there on business, to places like Ixtapa-Zihuatanejo, Cabo San Lucas, Acapulco, Mazatlan, Morelia, Taxco, Cuernavaca, Mexico City, and even less touristed spots like Patzcuaro, Saltillo, Poza Rica, and Tequesquitengo.
But this isn't a travel story. It's about personal finance. I hope to show why shrewd investors savvy enough to discard naysayers' messages should put their vacation money into an undervalued investment in personal enjoyment.
The bases of a sound investment philosophy are well established. Good investors seek quality equities that are undervalued, but offer strong upsides. In so doing, they often disregard conventional wisdom, boldly going where others fear to tread. At payoff time, they're glad they followed the road less traveled.
The lure of a bargain
Smart investors seek stocks that have been "beaten down," or punished by bad news, but whose potential is not accurately reflected in that news. The stock price has fallen, and now offers a "buy low" bargain, and an opportunity for gains. That's precisely what Mexico presents to those seeking affordable vacations.
Whether it's an exclusive, modern hotel on a beach, a boutique hostelry built into a 17th century hacienda, or a simple bed-and-breakfast in a beguiling resort town, you're likely to find prices and packages more affordable these days. Mexico is always less costly for Americans, given its proximity to the U.S., but fits budgets even better today, given the recent publicity it has unfairly endured.
What's true of hotels is also likely to be true of airfare, restaurant meals, tour plans and all-inclusive deals. For a holiday that's truly easy on the wallet, there may never have been a better time to consider Mexico than right now.
Investing in quality
I recently had the chance to chat with Alfonso Sumano, New York City-based regional director for the Americas for the Mexico Tourism Board. He told me something I didn't know. "We have 14 AAA-rated, Five-Diamond resorts in Mexico, more than many other countries," he reported.
"In fact, that's more than Hawaii, Canada, and the Caribbean combined. That tells you a lot about the quality of service you can expect in Mexico." You don't, however, have to stay at a top-dollar hotel to enjoy quality in Mexico. And when you blend this quality with the affordability cited above, you get value, which is exactly what wise investors seek when picking investments.
Seeing opportunity where others perceive risk
Many Americans, accepting the word of the media with the same child-like obedience they do all media messages, express fear about traveling to Mexico.
Aware of that, on a recent trip to Mazatlan, the Western port city justifiably dubbed the "Pearl of the Pacific," I asked an official of the city's convention and visitors bureau whether thought had been given to comparing rates of violent crime in top U.S. cities with those in comparably-sized Mexican cities. I was betting, I said, Mexico would be shown safer in such comparisons.
It turned out that officials of Mexico's travel industry were way ahead of me. Right about that time, such comparisons began being publicized, showing, for instance, crime rates in Mexico City are half those of Washington, D.C. While traveling to a well-populated resort in Mexico, it seems, you're cocooned in greater safety and security than on jaunts to many major American cities.
Remember, too, that safety concerns are limited to a few border states representing a geographically tiny fraction of the huge country of Mexico. If you were a non-American, would you avoid the U.S. if skirmishes were confined to Michigan's Upper Peninsula and far northern Minnesota and North Dakota?
Most American media worshippers aren't aware of these facts, but you can leverage this wisdom as you plan your investment in your next vacation.
The takeaway is this… Many people put their money into an investment, then begin to worry that the value of that investment will head south.
I'm urging you to simply head south.
Published or Updated on: January 25, 2013