Photo Gallery: Tepoztlan, Morelos Has It All - Part One
A Street Market, Food Market, the Zócalo and a 16th Century Church
Tepoztlan also has a feeling of extra magic. It is home to a mountaintop pyramid, UFO sightings, one of Mexico's best midwives, and clairvoyants.
Spanish speakers or not, experienced travelers or newbies, adventurous or shy, shoppers, history buffs, outdoor enthusiasts-Tepoztlan, Morelos welcomes them all and still manages to stay Mexican. There's something for everyone in Tepoztlan so feel free to bring the whole family. From the first winding descent into the tiny valley nestling Tepoztlan the visitor feels intrigued. The town is a picturesque gridwork of sloping, narrow streets, paved with native volcanic stones. While the atmosphere is busy around the zócalo and market, the sounds are those of people, not traffic. Tepoztlan carefully routes its traffic away from the main pedestrian areas so that visitors can comfortably enjoy the sights, shops and atmosphere.
Everywhere the visitor looks there are interesting views of quiet streets, local people, happy tourists, occasional horses or mules, all against a backdrop of dramatic columnar basalt mountains. Visitors who take a camera find themselves inspired to snap photo after photo. The town is lush with trees filling the yards of adobe houses and flowers blooming out of rock walls.
The best way to see Tepoztlan is by strolling its streets. There are plenty of welcoming little shops and restaurants to stop in along the way and, unlike in many places in Mexico, you don't get lost easily because the streets are laid out on a grid.
The people of Tepoztlan are an eclectic collection of native indigenous people, Morelos locals, long time expats from around the world, and short-term residents studying Spanish, as well as day visitors from nearby Cuernavaca and Mexico City – and they all love Tepoztlan for its very Mexican-ness. This combination of backgrounds gives Tepoztlan an easy appeal that is hard to summarize. Basically it amounts to a greater feeling of ease and comfort than in most places in Mexico.
Tepoztlan also has a feeling of extra magic. During Holy Week and the week surrounding the Day of the Dead (November 2), there are wild parties with dancing, music, food, decorations, and religious ceremonies.
The pyramid at the top of the hill overlooking the Tepoztlan valley adds a feeling of importance to the area. Many people climb to the top of the mountain and touch the remaining stones of the pyramid to receive energy from the universe. Tepoztlan is also home to UFO sightings, one of Mexico's best midwives, and clairvoyants.
What to See in Tepoztlan
Craft Market
Every Saturday and Sunday, Tepoztlan hosts an upscale craft market. Traffic is closed through the stone-paved street along the side of the market. Stands line either side of the gently sloped road, leaving an ample walkway in the middle that soon fills with relaxed shoppers.
The slope adds to the ambience because as you look up and down the street you see the colorful crowd and beyond it, the mountains that surround Tepoztlan. In the stands, people sell all kinds of wonderful hand crafts including embroidered shirts, embroidered wall hangings, wooden kitchen tools, wooden lamps and home décor, clay miniatures, jewelry, ice cream, knitted hats, natural materials for dried flower arrangements, skirts, blouses, and much more.
Sunday Food Market
After working up an appetite shopping and seeing Tepoztlan every visitor should eat lunch. There are many wonderful restaurants in Tepoztlan serving both Mexican and other food types. You can sit and enjoy one of the local treats, micheladas (beer with lemon, chili, and salt) in a cool, quiet environment.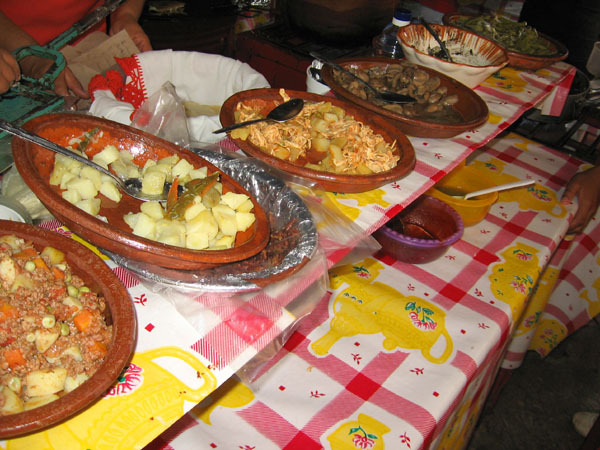 Fillings for Tlacoyos
*Habas – mashed fava beans
Frijoles – refried beans
Requesón – a cheese similar to ricotta
Fillings for Quesadillas
Tinga – shredded chicken  in tomato sauce  (sometimes spicy)
*Flor de calabaza – squash blossoms
*Huitlacoche – Mexican corn truffle
Chales – pork rinds in salsa
Pollo – shredded chicken
Picadillo – ground beef with light tomato sauce and finely chopped veggies
Queso Oaxaca – similar to mozzarella
Champiñones – mushrooms
Papas con longaniza – potato chunks with spicy sausage*Recommended by the author
Note:
These descriptions are general. Each chef has her own recipes.
For those who want an authentic experience, the food market is a great place to eat. The market is a dark, cramped collection of tables, comals, small refrigerators, and gas burners under a thick patchwork of multicolored tarps.
At first, the market may seem too cramped to enjoy. Walk around slowly, surveying the stands, looking for one with seats available and food that looks appetizing. The author and her family arrived at the market with a tired and hungry toddler in a baby backpack. After stopping at one place with no room for the baby, we went to another with a whole bench available.
The author's son was looking longingly across the isle at some handmade tortillas that a young lady was making. She quietly caught my husband's eye and held out a fresh rolled tortilla, "for the baby," she said. She touched our hearts with her thoughtful gesture and more importantly saved us from a few minutes of crying while we waited for our food.
There's a section where they sell tacos. You can get steamed sheep meat with salsa in a tortilla and a pop on the side. The cooked sheep heads are right there on the countertop and I always wonder how they keep the hair from getting into the tacos.
The author recommends the section where they sell quesadillas, gorditas and the local tlacoyos and itacates. These are a Tepoztlan specialty and Cuernavacans sometimes go to Tepoztlan on their day off just to eat them for lunch. To see which fillings are available for your tlacoyos and quesadillas, look at the menu hanging above the stand and at the bowls of prepared fillings lined up along the edge of the table. Use the filling guide at left to help you interpret the menu. You can also get pozole and handmade blue or white corn tortillas.
The Zócalo
The zócalo of Tepoztlan is a pleasant area with a bandstand in the middle and plenty of benches next to small, fenced gardens. Some days the zócalo is a quiet place to rest and reflect; other days it's packed with dancers and partiers.
The day we went to take the photos for this article, there was a group of young people performing African drumming for a captivated crowd of native locals, expatriates, and tourists. Our son was first mesmerized by the drumming, then inspired to run and dance. We spent at least an hour just being together in the zócalo enjoying the music and other people. That's what being in the zócalo is all about.
The Church
The 16th century church in Tepoztlan is dedicated to Nuestra Senora de la Natividad (Our Lady of the Nativity) and, together with the monastery (described below), is part of the UNESCO World Heritage Sites of Morelos and Puebla . The church yard is partially shaded, grassy, and gridded with low rock walls perfect for sitting on. There are always a few people relaxing there, some letting their children run or eat snacks out of the way of the nearby busy market.
Seeded Archway
Arching over the entrance to the churchyard is an amazing piece of artwork. The archway is a detailed pictorial message uniting aspects of the pre-Hispanic, Christian, ancient, and modern culture of Tepoztlan's people.
Since 1993, the archways have been made of seeds, which are long-lasting but – more importantly – part of the heritage given to the people by their ancestors. The archway requires second and third looks to take it in. Standing back, the viewer gets an overview of the elements included. Then, moving close, the viewer can see the variety of seeds used to create the artwork.Are you all excited about going to Tepoztlan but still need to know how to get there? In Part 2 of this article you can read about the museum, restored monastery, pyramid hike, regionally famous ice cream store, how to find all of these places easily, and, of course, how to get to Tepoztlan, Morelos.
Published or Updated on: January 1, 2008