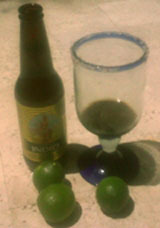 The michelada is a beer cocktail whose name is condensed from mi chela helada, "my iced beer." Every region, and even everyone who makes it, seems to have a different version of this popular cooler, but two ingredients that are included everywhere are lime and salt. I've been served micheladas both with and without ice, but even without ice, the idea is to start with ice cold beer.
Worcestershire sauce and hot sauce are the most common seasonings, and Maggi (the bottled sauce, not the bouillon cubes) and soy sauce are also sometimes used. Some people add tomato juice, making the drink more like a beer Bloody Mary, and the university students here in Cholula have taken to adding Clamato, but both these additions would make purists shudder.
Micheladas are most often served with a light beer, like Sol, Tecate or Corona, but some prefer Negro Modelo or other dark beer.
Ingredients
1 lime, halved
coarse salt
1 12-ounce Mexican beer
dash Worcestershire, or to taste
dash hot sauce (such as Tabasco or Cholula) or to taste
Rub the rim of a tall glass with one of the lime halves, and press the glass into a tray or plate of salt.
Fill the glass with ice (or not, according to preference) and pour in the cold beer. Add the remaining juice from the lime half used on the glass rim, plus the juice from the other half lime, the Worcestershire and the hot sauce. Stir with a long spoon and serve. Makes one michelada.
Link to source articles
Published or Updated on: July 16, 2010