Photo Gallery: Rolfe Schell at the gates of Tulum
I collect old books. There's no more fun for me than to forage through secondhand bookstores, digging up the weird and wonderful, '50s crime pulp and science fiction, 19th century poetry tomes, books on travel and adventure.
In some of those cities where I've lived or spent time – Amsterdam, London, Melbourne, Stockholm, Tel Aviv – I've notched up a few victories: an 1880 Ballantyne Press edition of James Thomson's City of Dreadful Night; Trelawny's Recollections of the Last Days of Shelley and Byron; Arkady Fiedler's River of Singing Fish; and James Lee's Underworld of the East. Since living in Mexico City, I've found rare '50s Jim Thompson crime paperbacks; Sir Algernon Aspinall's Pocket Guide to the West Indies; Sven Gillsater's We Ended in Bali; I could go on.
To the list I would add the fortuitous purchase of Rolfe F. Schell's Yank in Yucatan (Adventures and Guide through Eastern Mexico). One difference, it was not cheap. I paid 40 dollars for this 1963 Island Press first edition at the Howard Karno rare books stall, set up at the Palacio de Mineria in Mexico City for the duration of a week-long book fair some years back.
Schell was a U.S. travel writer and photographer, evidently of no enduring note. He wrote several travel books: Desota Didn't Land at Tampa, One Thousand Years on Mound Key – few if any are still in print. Yet the words of another obscure scribe, H.M. Tomlinson (who penned the masterpiece of travel prose, The Sea and The Jungle) ring resoundingly true, when the enigmatic Brit ascribed the appeal of a small text called South Atlantic Sailing Directions: "I do not think this noble volume is included in the best hundred books, but I know it can release the mind from the body."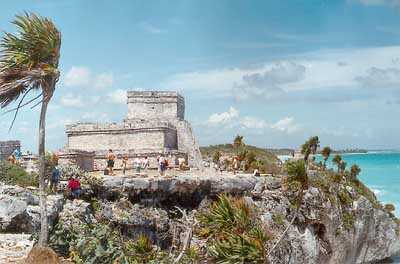 There's something similarly rare about the way Scell narrates his tales, sponsored in part by Pan American Airlines during its wing-and-a-prayer heyday. He arrived in eastern Mexico in 1958 – "Pan American's DC-6 settled uncertainly over the parched fields of bluish grey-green agave that surrounded the airport" – and promptly went about experiencing all kinds of fantastic adventures, of which any one would suffice a lifetime of boasting for us mere mortals.
Scell encountered Cuban rebels of Dr. Fidel Castro Ruz's famous "26th" unit training for the armed overthrow of President Fulgencio Batista in the vast shrub lands of Yucatan; curiously enough, they were being trained by American ex-GIs. Schell uncovered weird, miniature stone dwellings said to be the ancient habitations of the mythical Alux people – Mexico's version of leprechauns. A dwarf led him to the mysterious site, and this little guy – Cebero – towers over temple doorways in the photographs Schell took with his Exakta.
Schell toured a virtually uninhabited Isla Mujeres and located a pirate/slaver's grave, one Fermin Mundaca de Marechaja, whose inscription reads: "As you are, I was. As I am, you will be." Schell shot 16mm movies in the Maya pottery-filled caves of Calcohtok; traveled by horse-drawn tranvias to the ruins of Mayapan; went jaguar-hunting on the Candelaria River while seeking the legend of Kan Balam, rumored to have alchemized as a Bengal tiger (which had escaped from a circus); he rode giant green turtles, drove jeeps along jungle roads under the canopies of 60 foot-tall trees, collected spray orchids "growing like weeds," and ate braised armadillo for breakfast.
To this list of fabulous activities I must add in an appropriate tone of envy that Rolfe F. Schell sailed to the ruins of Tulum on Quintana Roo's cliffed coast. From the sea, by boat – that was the cool way, actually the only way, one visited Tulum back then. In 1958. A mere 40 years ago… And there's the crux of the matter. A lot of the stuff Schell got up to, the rest of us simply can't do anymore.
In days gone by, much of this domain could only be admired from the deck of a boat. Cancun was a harsh, windswept sand spit – home to nary a soul; while Tulum's ancient Maya city – 130 kilometers south – was only occasionally marveled at by the intrepid likes of Schell, coasting the turquoise waters of the Caribbean Sea.
What a sight those ruins must have presented: deserted, baking under a fierce sun and deep blue sky. Nonetheless, Schell keenly observed: "Unless I miss my bet, this place will be overrun by tourists in 10 years."
He was not at all wrong. Cancun now glitters like a tropical Las Vegas, shimmering with U.S. dollar-driven opulence. As for Tulum, it's easily visited by paved road – and by hundreds of tourists at that, arriving by coach tours daily, by the hour. Government authorities couldn't be happier: the region today constitutes the jewel in Mexican tourism's crown.
While one can't help but marvel over Rolf's unparalleled exploits, travels through the Yucatan – of which Tulum still rates as a highlight – can offer the essence of magic to anyone willing to apply his/her imagination. The strength of Tulum's appeal is precisely embodied by such ambience as the individual visitor injects into the antiquated architecture, by a sheer exercise of will: imaging the life and activity the city once breathed, while sea breezes sift through the surrounding palms and scrub – and yes – while iguanas make love.
Once referred to as Zama and meaning "City of the Dawn" in Maya, Tulum was built around 546 A.D. and "first" sighted by a party of Spanish seafarers in May, 1518. The expedition of four ships and 200 men, headed by Juan de Grijalva and Francisco de Montejo, spotted the city after coasting south from Cozumel. Witness Juan Diaz wrote: "Seville would not have seemed more considerable, nor better."
Tulum was still inhabited after contact with the Spanish, since a mural found here depicts the rain god Chac riding a four-legged animal, namely a horse (which the Spaniards introduced, to the great terror of the natives.). In fact, Tulum is reputed to have been the oldest continuously occupied city in the Western Hemisphere.
Exploring the city, one appreciates the grandeur that was once Tulum. Prominent constructions include the edifice of El Castillo, flanked by the Temple of the Descending God and Temple of the Initial Series, that directly face the Caribbean on the edge of a jutting precipice; while the Great Palace, House of the Columns, Temple of the Frescos and House of the Cenote complete the city – lined at either side by fortified walls, gates, ramparts and two watchtower temples. The coastal metropolis served a strategic function as a fortress.
In 1847, U.S. diplomat, explorer and budding archeologist John L. Stephens and British artist Frederick Catherwood visited Tulum by boat. The two men made the first substantial illustrations and notes of the city, and their work aroused much interest in the outside world. When Schell made the same excursion 110 years later, he noted that "many of (Tulum's) crypts have not yet been opened and the ancient city is, as yet, unrestored. Anteaters and iguanas roam within the broken walls of the city."
Today, of course, Tulum has been very well-preserved, and if not the most spectacular Maya city ever built, serves as an evocative window into the past. Yet a quixotic faculty is required for this trip back through time, since apparently most everybody around you has another agenda: to come, see, conquer with a camcorder, and get the heck out in time for lunch.
Mexican critic Cuauhtemoc Medina has aptly observed that "tourism, far from being a search for extraordinary experiences, is largely the result of… familiarity. In many cases one travels merely to verify that which has already been seen." Judging by what the concept of traveling has now become, it's hard to knock Medina's logic.
But you are a romantic. So, naturally, when making your photographs, you will try to capture images of Tulum's ruins (or anything else) in an "original" state – offering the proverbial solitary impression of stumbling upon such wonders much as Stephens, Catherwood, and Schell once did. I mean you must fake your shots, and this often amounts to timing them between the arrivals of large tour groups.
Medina observed that it is during these moments we compose "nostalgic images, not the kind felt for a lost civilization, but instead for a time when these ruins were not burdened by the weight of other eyes." In other words, the inventive visitor must consciously doctor the present in order to recreate the past.
I've noted with dubious mirth that a trolley service now transports tourists the mere kilometer from the Tulum carpark to the Tulum ruins, since it is evident that a piddling hike over the flat, sandy terrain for ten minutes might present too great an exertion for the harried explorer of that which has already been seen.
As the venerable Red Sea Smuggler Henry de Monfried wrote in what seems like a magical era – 1973 – "the journey itself is now a thing of the past, for man, as the price of his slavery to time, has conquered space. Time, that unrelenting master, not only scorns all that is done without him, but alone gives meaning and validity to the voyage."
We must generally concur with this lament, save for the stated necessity of rhapsodizing one's ramble along the well-trodden path, to the beatific extremity of its ends.
Don't forget to pack a good book.
Published or Updated on: July 1, 1999