Photo Gallery: To market, to market: treasure hunting in Mexico City's flea markets
Some time ago I was exploring the Mercado de Antiguëdades de Cuauhtemoc in downtown Mexico City with my brother-in-law and an entrepreneurial young Mexican named Carlos Villasena, press officer for the Philippine Embassy in Mexico – who was at that time just breaking into the antiques game, teaching himself to spot a bargain in the flea markets of the capital. At one of the stalls, we came across a toy robot, Mexican-made, modeled after young Will Robinson's comically neurotic mechanical chum in the 1960s TV series Lost in Space. It was labelled "MAQ."
My brother-in-law decided he must have that robot.
The asking price was 1,200 pesos.
After some haggling, he got the price down to 900 pesos. It still seemed like a pretty hefty outlay to me. But my brother-in-law was determined to have that memento of a fond childhood TV memory, and he bought it. Carlos shrugged, noting that while it looked good, it was made in Mexico, and the real money lay in Japanese-made toy robots from the 1950s and '60s. Who could tell when this thing was made anyway?
As Carlos would later find out (along, probably, with the equally clueless seller), MAQ (for La Máquina or 'The Machine') was made in 1973 by the Lilly Ledy company of Mexico. It's a rarity and, when one of them occasionally turns up on eBay, sells for up to $2,000 – depending on condition. And if packaged in its original box, it will launch itself in price past Alpha Centauri.
The moral to this tale? Treasures can be unearthed from the weekend flea markets in downtown D.F., since a number of the sellers themselves might not know the true value of an antique. But get hunting, because these guys are wising up fast, thanks to the Internet, eBay, and a handful of foreign dealers who make it their business to play early bird digging up the worm.
Carlos wised up. He now runs an operation with his partner, Raul Torres, at Mercado Cuauhtemoc every Saturday, and together they host possibly the largest stall of its type on Sundays at the sprawling Mercado La Lagunilla near the Centro Historico – the most famous tianguis (flea market) in Mexico.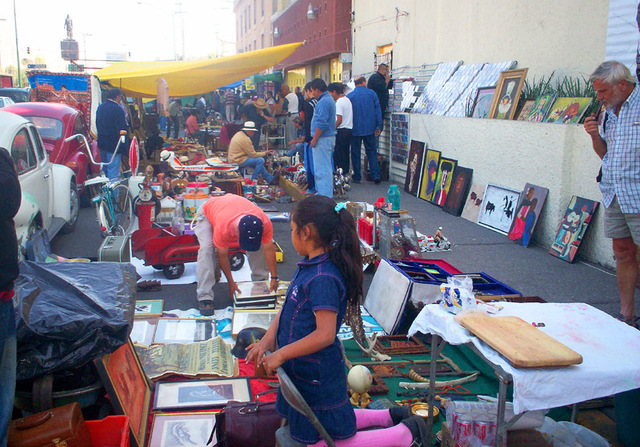 Hot Wheeling and Dealing
Carlos started out with a focus primarily on diecast toy cars (1960s and '70s Matchbox and Hot Wheels models being the most sought after). From there, he moved onto Japanese-made toy robots and large scale cars (made of tinplate, battery-powered or wind-ups, the most popular brand being Modern Toys – the Masudaya label of toy makers, with origins spanning back to the 1700s).
"My Dad used to take me to all the different flea markets in Mexico City since I was a kid," Carlos says. "Five years ago, someone I knew offered me a collection of 50 Matchbox cars for 500 pesos. A few days later a friend told me about this parque del juguete (the toy market in Cuauhtemoc) so I went there to have a look and saw that (examples of) my small cars were selling for 150 pesos each. I decided to sell mine and I asked my contact to call me every time he found Matchbox cars. Soon more people heard that I was buying toys so they started to offer me more toys, miniatures and collectibles. I bought catalogues and researched the Internet for more information."
In toy robot circles, the rarest specimens are known as the 'Gang of Five.' Produced in limited numbers by Masudaya from the 1950s, they came to comprise Radicon (Radio Control) Robot, Giant Sonic Robot, Target Robot, Machine Man, and Lavender Robot. A collector in Mexico City is known to possess three of them. Carlos once sold just the front and part of the mechanism of Radicon Robot – highly desirable for being the first of the legendary line, released in June 1956 and the subject of a Popular Mechanics cover story – for $600.
Carlos knew he was hooked. "The rest is history," he grins.
Carlos and Raul have since expanded their repertoire to include turn of the century (20th, that is) Mexican religious artifacts, old paintings and vintage frames, Olympics paraphernalia (they recently sold one of the torches used in the 1968 Mexico City Olympics), and books in English from rare '50s pulp titles to modern American and European classics (perfect for collectors or any traveler tired of shelling out a small fortune at Sanborns for a forgettable airport paperback). They also offer old postcards, photographs, dolls, money boxes, furniture, records (78s through to 45s) and just about anything else that predates the disposable, mass-produced, plastic, made in China tag-time that we've all been living in for the past 30 years.
Made in Mexico
Along with many extraordinary antiques from all over the world, the case of La Maquina robots has shown that collectors from abroad have become increasingly fascinated by toys that were produced in Mexico, often under license to foreign manufacturers. Lilly Ledy produced the Lost in Space MAQ under license from the U.S. company Remco. Collectors with the 1966 Remco model want to complete their collection with the MAQ – which has the additional features of moveable arms, a larger and wider body base, red lighting rotation in the collar head section – and it speaks Spanish. So it goes that many other Mexican-produced toys are desirable to collectors.
"Mexican Hot Wheels are quite rare, since they were only made for two years back in the early seventies," Carlos says. "There are some (Mexican-produced) models with different colors than the ones made in the U.S. and Hong Kong, such as the cocoa (chocolate) version or the mustard color version instead of yellow. The only known example of a model in plastic blister pack (or carded) sold for more than $5,000."
The same goes for records. The Musart label of Mexico produced interesting variants on famous overseas releases, often with flamboyant cover art. Psychedelic bands from the sixties and traditional earners like The Beatles and The Beach Boys are going to carry that weight and have fun, fun, fun. Pink Floyd and his Orchestra, anyone? You don't need no education to know that's a rarity.
The flea markets of Mexico City represent the very source of this sort of collecting.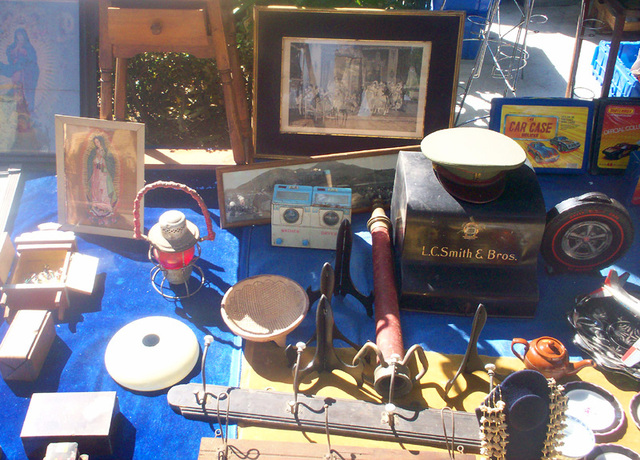 Walking through History
Despite the education Carlos and many of his fellow dealers have picked up courtesy of the Internet and specialty books on collecting, the bargains are still out there at Mexico City's flea markets – from the dealers themselves. Why? Because they are in the business of selling, not sitting on them week after week holding out for the really big bucks. No one is dealing in fantasies here – not the dealers, nor should you, the buyer. You won't pick up a Matsuyuma robot for 50 pesos, but you won't shell out 20,000 pesos for it, either – as you very likely will have to on eBay. You might outlay 2,000 pesos or more pesos and then sell it yourself on the Internet for maybe twice that, or hold onto it for another ten years. As antiques experts have noted, collectible toys have a strong tendency to rise in value, and represent an alternative investment to stocks and shares. Depending on your collecting interest, the same holds true for everything that is available at the markets.
As far as La Lagunilla is concerned, now is a very good time to be checking out what's available. Trade has been hard hit this year by the policies of Mexico City mayor, Marcelo Ebrard – not the most polite name on La Lagunilla lips at present, and not likely to be for some time. The mayor has ordered roads surrounding Centro Historico closed to traffic on Sundays – the only day La Lagunilla operates, and right through its operating hours. Those who find a way to get in are free to use Centro's avenues for the pleasure of "exercise." On any Sunday, the visitor can view scores of policemen lounging around blockades, while one of them takes his turn redirecting traffic with a pointed finger or somnolent jerk of the head – a breathtaking waste of resources for the "benefit" of those cuidadanos who would deign to breath fresher air.
"According to (Mayor Ebrarde), the streets belong to all Mexicans or at least those who own a pair of rollerskates or a bicycle and so they should all go to the main avenue (Reforma) instead of the countless parks and forests we have," Carlos says. "So (vehicular access) is closed to where we have most of the monuments, museums (on the one day they're generally free to the public), and the most important flea market in Mexico, that goes back centuries. But what do you expect from a mayor who decides to demolish World Heritage-listed buildings to relocate street vendors?"
Thanks to Mayor Ebrard's decree, business is down for some La Lagunilla sellers by as much as 60 percent. While some famous faces such as venerated actor Jose Carlos Ruiz and famed intellectual Carlos Monsivias still make it their business to regularly attend La Lagunilla and sate their appetite for collectibles, for many well-heeled Mexican collectors it's just too much of an inconvenience to travel in by Metro – or, perhaps, learn how to rollerskate – so numbers are down at the market, and more antiques are available, at cheaper prices. For foreign visitors already ensconced in city hotels, a leisurely stroll sans traffic ringing in their ears may spell an antiques bargain in the offing – without the crowds.
Despite administrative obstacles, Carlos and his fellow dealers aren't going anywhere. As noted, these markets are historic – antiques in and of themselves – and form part of a tradition that will outlast the varying edicts of local governance. For Carlos, the buzz of the hunt and thrill of the sale form a heady elixir.
"It's the fun, the people, the collectors, the culture," he says. "Everything's here in Mexico, somewhere, waiting to be found."
Some Famous Mexico City Antiques Markets
Mercado La Lagunilla (Sundays: Corner Reforma and Bocanegra Street)
Mercado de Antiguedades de Cuauhtemoc (Saturdays & Sundays: Cuauhtemoc Avenue and Colima Street, Col. Roma)
Mercado de Alvaro Obregon in Col. Roma (Saturdays: Alvaro Obregon Avenue, Col. Roma)
Plaza del Angel in Zona Rosa (Saturdays & Sundays: Hamburgo and Amberes Street, La Zona Rosa)
Anthony would like to hear from Mexico-based readers who have old toys (especially robots) they are OK in parting company with. Contact him by email.
Published or Updated on: June 1, 2008