Photo Gallery: Down and Delirious in Mexico City
Mexican-American author Daniel Hernandez has hit a fresh nail on an old head by exploring different youth cultures in Mexico City. Youth is a favored subject for a modern mass media obsessed with this demographic, and one would think the market was pretty well saturated by this point. Moving rapidly from an emerging subculture in the 1950s (Rebel without a Cause) to an established subculture in the 1960s and '70s (hippies, rock music), youth may now be said to represent the culture. Yet to his credit, Hernandez has tapped a previously unexplored vein with his travel memoir, Down and Delirious in Mexico City (The Aztec Metropolis in the Twenty-First Century) published by Scribner. The result is an exhilarating ride through the city and its unique "tribes."
Some of those urban tribes include the rise of the emos and hipsters, along with the variegated Bohemians that frequent the Chopo weekend market (Tianguis Cultural del Chopo). There is also an analysis of the fashion scene (and some of the wild, dissolute characters that augment its flavors of decadence and stimulation); the genesis and belligerent survival of the punk movement; the trendy yet questionable resurrection of the temazcal or sweat bath phenomena among New Age yuppies; and the destructive appeal of drug use for some, as an equation of fun.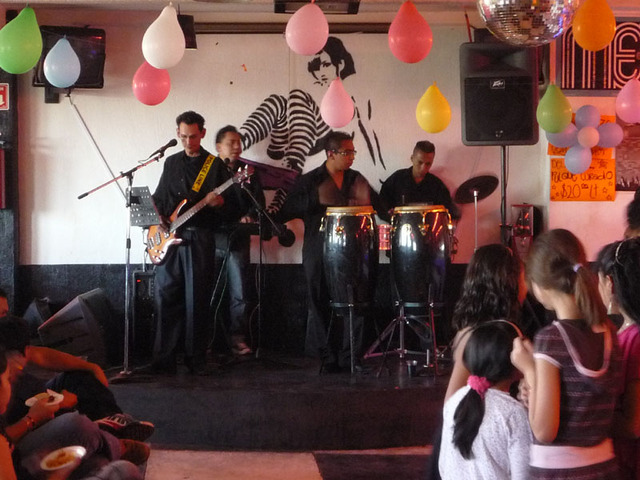 Hard social realities are not swept under the rug as Hernandez tackles the impact of narcos, kidnapping and increased violence on the collective mindset of the city and subsequent behavior of its inhabitants. Then there's the Wet Season….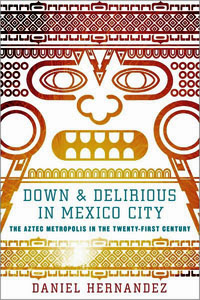 In researching his subject (an extremely difficult one by anyone's standards), Hernandez has scoured the length and breadth of the gigantic city over several intense years beginning ostensibly in 2007 — from Ecatepec to Santa Fé, Neza to UNAM, Tacubaya to Tepito — and most spots in between.
Originally from San Diego and having now made his home in the D.F., Hernandez previously worked as a reporter for both the Los Angeles Times and LA Weekly; his journalism has also appeared in The New York Times and The Guardian, among other prestigious publications, and he has won several journalism awards. He currently works as a freelance writer while forging a reputation as a respected cultural authority on the local scene. I recently posed a few questions to Daniel regarding Down and Delirious and some of the issues the book raises.
Question: Down and Delirious is probably less of a "travel book" than a personal journey of self-discovery. Are there any writers in this vein that inspire you or did you try to formulate your own interpretation of the genre?
Answer: I was inspired by a bunch of writers but I think in the end I just wanted to write the book that I had to locate inside me, the book that would emerge through the process I undertook. I knew it would have to contain an element of self-discovery running through it in order to tie it all together, but I also wanted to give the people who appear in the book breathing room and respect by not overwhelming them with my own story. It was a tricky balance to reach for.
I would say I was inspired overall by Ruben Martinez, Joan Didion, Hunter S. Thompson, to name a few; just a lot of good, involving, long-form journalism. I read fiction by (Roberto) Bolaño and (Alvaro) Mutis, Mexico City writers from elsewhere in Latin America; that helped. Oh, and this one book my editor sent me, Stasiland, by Anna Funder. She's an Australian who wrote about the lives of people in East Berlin after the fall of the wall. Very strong.
Question: Has the local fashion scene recovered from the excesses of the 00s or is it "business as usual?" Are D.F. designers ripped off by international copycats?
Answer: It's probably business as usual. There was only a slight amount of soul-searching after the death of (fashion designer) Quetzal, for instance, or recently after the death of photographer Cesar Arellano, who also appears in the book. But overall, Mexico City breeds a certain quality to partying that is high-stakes and one big adrenaline rush, night after night. I like to imagine that that's the case no matter the era or the scene but in particular, in fashion, it's serious business. And yes, I do think that some local designers are sometimes copied by international heavyweights, but also, I think a lot of times, local designers are being "influenced" by major labels as well. It's a back-and-forth, and I don't think there's any use nitpicking over who came over what first. Like a lot of other things in the world today, fashion is over-saturated.
Question: Why did Mexico's "emo battles'" attract such international attention?
Answer: I honestly still don't know. There was probably some element of "exoticizing" to it. Meaning, the international world has this impression of Mexico as a laid-back, rural rancho-like place, "Mexican Time" and all that, but the emo riots contradicted that view, and offered a window to a modern Mexican society that is urban and complex and strange and violent. After the drug war, the emo wars were the story of the decade, no?
Question: Does the close family unit help or hinder a broader sense of "community?"
Answer: It can be both, as I write in the book's epilogue. The family unit is analogous to the community sense that permeates everyday life among strangers in the big city. However, it can also be alienating if you exist outside the unit.
Question: Do you think politicians will ever seriously address the (lack of) rule of law and endemic poverty?
Answer: These are areas that are richer and deeper than any journalist, or even any general-interest type book, can address. But to answer your question, no, I don't think the politicians will ever truly, genuinely address poverty and crime. They're part of the problem themselves.
Question: Despite all the drawbacks of living here, the Immigration Department is daily packed to the rafters with foreigners of every stripe. Why is this so?
Answer: Compared to many other countries, including many peer countries in Latin America, Mexico is rich, prosperous, and full of opportunity. Despite its many problems, there are so many intangibles that make life here so good; you know what we're talking about if you're a foreigner making roots here.
Published or Updated on: January 7, 2012