Photo Gallery: Exploring Jaltemba Bay in Mexico: A vacation destination on the Nayarit Riviera
Jaltemba Bay is a quaint, friendly and welcoming vacation destination comprised of four charismatic beach towns on Mexico's Pacific Coast. It's located on Mexico's Riviera Nayarit; just a little off the beaten path, but worlds away from the movie star glamour of other Nayarit beach towns like Punta Mita, where Lady Gaga was recently spotted surfing.
Jaltemba Bay has been a popular holiday spot and a snowbird escape with folks in the know for the past ten years. And no wonder. The area is distinguished by its picturesque sandy beaches, breathtaking tropical vistas, and ocean waters that are perfect for swimming. The tropical climes are ideal during the months of November through May, when visitors can expect to enjoy balmy, sunny days and pleasantly cool evenings.
Vacationers enjoy a wide range of affordably priced accommodations and dining options, the relaxed pace of small town living, and an abundance of activities to participate in. This beach destination is safe, and chock full of friendly locals who go out of their way to make folks feel welcome. Jaltemba Bay is conveniently located, just an hour's drive north of the Puerto Vallarta airport. One cannot really ask for much more in a beach vacation destination!
The four beach towns each have a distinct personality and unique charm and from south to north are; Los Ayala, Rincon de Guayabitos, La Peñita de Jaltemba and La Colonia.
Los Ayala is the smallest of the four towns, and boasts one of Pacific Mexico's best swimming beaches. The kilometer-long sandy beach is idyllic, with crystal clear blue-green waters, a gradually sloping shore, and the requisite number of swaying palm trees. This quaint Mexican beach town is framed beautifully, by the lush, green jungle-clad Sierra Vallejo Mountains and the surrounding scenery is breathtaking. Rincon de Guayabitos is the quintessential resort town, with a long sandy three kilometer beach, perfect for walking, swimming, and water sports. Guayabitos is a one of a kind beach town; reminiscent of Puerto Vallarta forty years ago, offering vacationers a large variety of hotels, restaurants and activities all conveniently located, on or near the beach.
La Peñita de Jaltemba is a real working Mexican town which serves as the hub of Jaltemba Bay, providing for the needs of the entire community. The star attraction in La Peñita is its' weekly market, the tianguis, which is the largest and most diverse open air market on the coast of the Riviera Nayarit. However, La Peñita's real charm is the eclectic mix of locals, expats, and tourists, its fine dining establishments and taco stands, a fine art gallery just around the block from the beach where fishermen unload the catch of the day, and the fact that it is not uncommon to see a local washing his horse on the town street.
La Colonia is a suburban Mexican beach town, and notable for its location on the southern point of an unspoiled, still to be developed five-mile-long beach. The beach is incredible and will delight beach enthusiasts and nature lovers. The beach at La Colonia is named El Playon, and it is also the site of a sanctuary for endangered sea turtles.
Once you have chosen your vacation destination, you will want to know a little about what is available in to do in town and your options for outdoor adventures! So here are the top rated activities in the area. There are many others, too numerous to list. So just come on down and ask a local or your fellow vacationers what is up!
Top Activities in Jaltemba Bay
1. Whale watching
Humpback whales are abundant in Jaltemba Bay from December through March. These magnificent mammals can be up to sixteen meters long and weigh as much as eighteen tons. Join a whale watching tour and enjoy watching the acrobatics of these magnificent creatures. Bring you camera to catch a shot of a humpback whale breaching and smacking the ocean waters with its powerful tail. Dolphins are also plentiful during this time of year.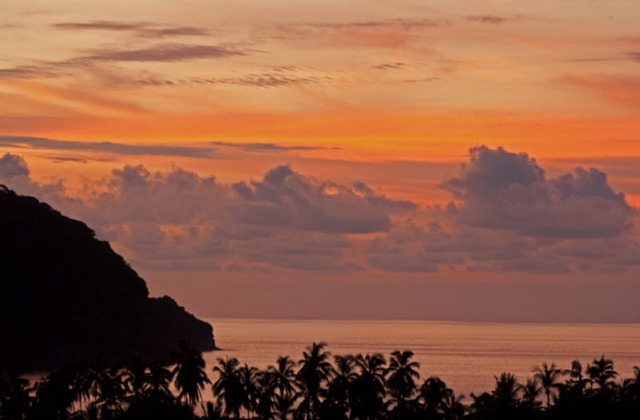 2. Be a part of helping to save the endangered Nayarit sea turtle
Sea turtles return the beaches in this area every year to build nests, and lay their eggs. It's an extraordinary experience to be part of helping the little hatchlings make a safe journey from the beach to the sea. The prime months are late summer through December.
3. Shopping the tiangus in La Peñita
From December through March, this is the place to shop for multi-coloured hand-woven baskets and the fine handmade beaded work of the Huichols, Mexican blankets, rugs and bedspreads, copperware from Michoacan, unique leather jewelry, pottery and ceramics, fresh fruit right off the local farmers' trucks, baked goods, and a wide assortment of delectable nuts and dried fruit.
This is also where you will experience the authentic Mexican market, where the locals shop for everyday essentials. Walk the full length of the market, which extends for several blocks and you will discover a world of herbal medicines, plastic ware, colorful lingerie, dyed baby chicks, CDs and videos that are too inexpensive to be legal, and spare parts for absolutely everything.
4. Shop for hammocks and folk art at Hamaca Maya
You will find Hamaca Maya in La Peñita just a half block off the town plaza with its market. This colourful, fanciful shop is well stocked with authentic hand-woven Mayan hammocks, Talavera tiles, hand blown glass and whimsical folk art. Take your time, to meet the proprietor of the shop, Hala Hazzi, who is one of the warmest and most personable folks in Jaltemba Bay. If fact, meeting Hala in person qualifies as one of the top things to do in Jaltemba Bay!
5. Visit the art gallery and enjoy a dinner show at Xaltemba Restaurant & Galeria
The Xaltemba Gallery features local artists and the works are always colourful and thought-provoking. Afterwards, stay to enjoy dinner and a show. Xaltemba is one of the area's finest and most popular dining spots. Everyone dines here and the entertainment is always superlative.
6. Horseback ride or hike the back country of Jaltemba Bay
Along the way, you will encounter stunning vistas of the very diverse local terrain, incredible flora and fauna, secluded beaches, rivers and waterfalls, storybook scenes of daily life, and you'll also enjoy an adventure that you will remember for a lifetime. A definite must for bird watchers and beach enthusiasts!
7. Tour Jaltemba Bay by boat
Rent a kayak and paddle the entire coast line of Jaltemba Bay and have fun discovering the beaches along the coast or paddle to the island in the middle of the bay. The less actively inclined should opt to tour the Jaltemba Bay area on a glass bottom boat or on one of the local party boats. The party cruise is a very affordable and efficient way to see all the beaches in the Jaltemba Bay area, including Playa Freiderita (Also known as Playa del Beso which translates to The Kissing Beach), Playa Frideritas, Playa Los Ayala, Rincon de Guayabitos, La Peñita and El Playon of La Colonia.
8. Stroll the beaches & ride the collective
Walk the beaches of Los Ayala and Guayabitos. If you are out at low tide, it is possible to walk to the beach in La Peñita by crossing over the estuary. Or reverse the direction of your walk — either way is fun. The walk will take you about an hour and a half, at a leisurely pace. For the return trip, hop on one of the collectives and make a point to stop in the pueblo of La Colonia. While in La Colonia, visit the turtle sanctuary and shop for leather sandals. Enjoy the ride back to your accommodations, and practice your Spanish along the way by chatting with the warm, friendly locals.
9. Check out cart dining
The local taco stands in Jaltemba Bay serve up hearty burritos, tacos, quesadillas, burgers, hot dogs and Mexican-style burgers. Deliciously prepared, many are stuffed with beef, pork and fish dressed with a myriad of exotic salsas. These carts serve tasty, inexpensive meals and are so clean that the staff will often don a plastic bag (Mexican white glove), before taking your money or giving change!
10. Make a difference by volunteering
Jaltemba Bay Animal Rescue (affectionately known as JBAR) helps animals in Jaltemba area by promoting health, education; foster care and hosting free spay and neuter clinics. It is not uncommon for more than 200 stray cats and dogs to be treated at each clinic, and the entire effort is organized and run by volunteers from the Jaltemba Bay Area, and an international team of veterinarians from Canada, Mexico and the USA.
11. Build recycling baskets
Join the local folks one Saturday for a couple of hours to weave recycling baskets out of wire. The baskets are used to collect plastic and it truly is a great way to meet the local folks and come away with a truly memorable vacation experience! This project is the initiative of Amigos de Jaltemba to provide a clean, healthy environment.
12. Attend a fundraising event
The must-do events are usually of the fund-raising variety and include the Jaltemba Bay Fashion Show, the Dessert Buffet and Dance, Los Ayala's Mexican fiestas, the Margarita Challenge, horseshoe and golf tournaments and the not-to-be-missed Annual Los Amigos Fiesta, which is held on the grounds of the estate of Thomas Bartlett. One generous philanthropist recently remarked that this fiesta was one of the best that he had attended in many years. This is high praise for a small Mexican area!
Jaltemba Bay is the perfect holiday retreat for travelers who love to explore and seek out new places that are just a little off the beaten path. Jaltemba Bay offers something for everyone, and is perfectly suited for singles, couples, families, retirees and young folks. Something for everyone! Definitely worth exploring!
Published or Updated on: February 20, 2012