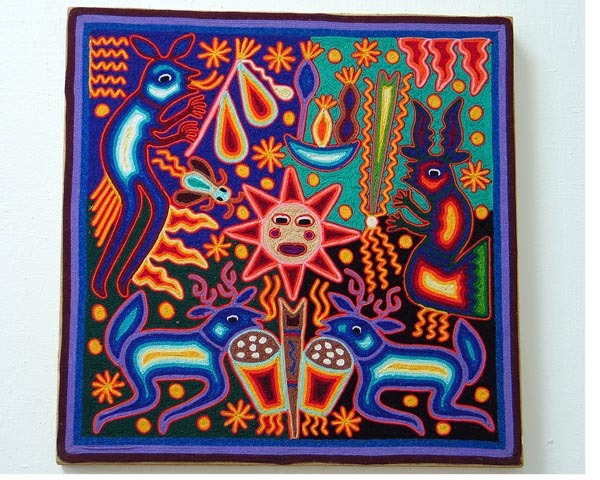 This months cover features an example of Huichol yarn painting, Cuadros Estambrados, a transformational art form to the artists and shamans of the Huichol people, who use it to depict their myths, sacred totems, and stories.
This particular example sprung from the imagination of Justyn Vallori, a local artist and psychic who says she was drawn to this traditional art even before moving to Lakeside some five years ago.
Unable to pursue the discipline in the US, where she says that the yarn and other basic materials are unavailable, Justyn studied briefly with Huichol artesan, Francisco Loza, who supplied her with the basic techniques that she employs in the pursuit of her craft.
The paintings are done on a base of wood, which is first smeared with cera campeche, a mixture of bees' wax and resin, which the Huichol apply with the heat and pressure of their hands. Justyn admits that she lacked the manual strength to do it this way, but found that by heating the mixture on the stove she could apply it easily with a brush.
When the cera has returned to room temperature, the images can then be created by pressing individual pieces of yarn directly onto the tacky surface with a pointed, wooden dowel.
The yarn used is called cristal, and comes in a variety of brilliant shades to kindle the artist's imagination.
Unlike painting with oils or watercolors which blend, in yarn painting the art is in the shape and juxtaposition of solid colors, which give the finished product its resplendent and distinctive appeal.
Apart from having an eye for color, the artist must also be meticulous. The technique is demanding; a piece such as the one on the cover can take a month to complete, creating and altering it one strand at a time.
Inspiration for these cuadros traditionally comes in a dream or trance. The intent of the artist is to transport us into an altered state of consciousness. The work is designed to transform, to communicate on a powerful subconcious level for the instruction and evolution of viewers; art as a sacred medium for change.
Growing up in Kingston, New York, a small farming and factory community near Woodstock, Justyn found early on that art was a powerful healer and liberator. She practiced and studied most disciplines from dance to costume design and loves to share the process with others.
For this reason and some Mayan heritage on her father's side, Justyn has always been drawn to indigenous art forms and practices her yarn painting with a view to connecting with the earth and an earlier heritage. She says that having the finished works in her home has a profound and salutory effect on her state of being.
Though she's only been at it for a short time and does not intend to sell her work, which she believes should be the strict jurisdiction of the Huichol, Justyn felt inspired to convey how the process of this ancient art has changed her life; communicating, both verbally and visually through Cuadros Estambrados is a necessary part of sharing this growth.
This article appears courtesy of the Chapala Review, a monthly Newspaper published in Ajijic, Jalisco, Mexico. The focus is the Lake Chapala area. The goal is to provide quality information about the area, its stories, events, history, culture and people.
Published or Updated on: January 7, 2007