Photo Gallery: Baja California Sur side trip: Mision San Javier
The biggest attraction on my most recent Baja to-do list was a visit to Mission San Francisco Javier De Vigge-Biundo, or simply, San Javier. Located via a 2.5 hr drive from Loreto, BCS, this mission is well worth the trip. Founded in 1699, this mission is the best-preserved in Baja. I was surprised to find it still in use today. Nestled in an oasis deep in the Sierra De La Giganta, a small community of 300, live, work and worship with very little consciousness of the outside world.
This trip began after arriving at La Paz airport. We weren't in town more than twenty minutes in our no-frills VW rental when I believe heat-stroke over came my driving partner. He turned down a one-way street. We were spotted and stopped and the local police asked for and accepted $60 USD to let is continue about our business. Live and learn, next time I will go to the Estacion de Policia. I learned later you should ask to be taken to the station to pay any fines. We soon found our hotel and planned our morning departure "up the road".
After a five hour drive to Loreto; we finally located a humble hotel to call home for the next two days. A charming village on the Sea of Cortez, Loreto is ready to hit one of those most want to see lists. After much research about the mission, we soon learned from the locals that the road conditions were unpredictable, could be treacherous, and "four-wheel drive is highly recommended."
The first thing I thought about was the clearance on the $50 a-day bargain we were driving! I didn't know what Jim was thinking, but I had my mind already made up. It's worth the risk. Who cared if I wound up stranded in the middle of the nowhere, in a foreign country, and with no cell phone? Would a phone even matter? A hearty Mexican meal and a good night's rest for the trip were soon on the agenda.
After breakfast we tried to get some last minute advice from our hotel clerk. He didn't know much about the mission, or the road in and we decided that it was best to quit wasting our time and go. Sometimes I don't even know what's around the corner but at least I try and find out. We checked the map, and were soon turning off the highway at the San Javier sign. The pavement ended approximately 10 km inland and the road was a little bumpy but overall very manageable. My thoughts turned to proving the four-wheel drive theory as not true! I can't remember who was driving but I came back to reality when I felt the sudden jolt.
We soon found our modest VW crawling at 5 kph. We were now navigating the washboard surface and eroded ruts created from seasonal rains. Did I say ruts? The ditches looked like they had been carved by some angry desert-machine — certain payback for a life sentence in this God-forsaken land. Scraping bottom several times, we were lucky to never have become stuck or break anything. Soon we were up over the first of many mountain ridges and the journey changed for the better. So it became, the road giveth and the road taketh away. Up, down, up, down, we became tolerant, in a hurry, of the road from hell. I will heed my research with a little more salt next time. As calculated, we should almost be there.
Using the crude, infrequent mileage markers and a topographical map that didn't deserve the title, we finally arrived at a beautiful oasis. This had to be it, I thought. We have been in this crawling machine for over two hours and had ventured past the point of returning. As I peered through the palms and abundant flora, I spotted the mission steeple! We proceeded through the village as the locals gawked at us. As their curious glances returned back to their business, I soon felt welcomed and relieved to have arrived.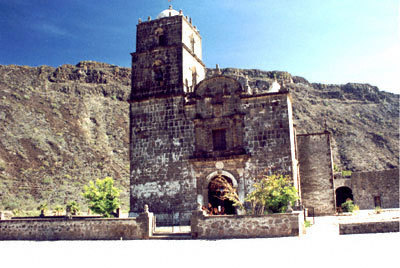 The mission was awe-inspiring, it seemed to loom everywhere you walked. A caretaker approached me as I entered the massive stone church. I concluded from his gestures that I was not allowed to take any pictures.
I looked around and witnessed a piece of history. Imagining what these walls had seen in the last 300 years, I made my way back outside to look for perfect angles to take some pictures….
The habitants here have a great knowledge of self-survival. Since the journey to civilization is long and intensive, I imagine they find reasons not to leave unless absolutely necessary. As we observed the local landscape crew water some newly planted palms, I noted that the water being used had obviously served its original purpose. I figured everything is recycled here – a lesson for the rest of the world to heed. Because of living in Arizona for many years, I appreciate the use of water and respect it's conservation in the desert.
As we poked around the village, me taking pictures and Jim finding a taco stand, I couldn't help but notice the peacefulness this place offered. It was time to sit down with a cold soda and take it all in. Driving out the palm-lined road we witnessed man's attempt to conquer nature and embellish the surroundings. I thought of how lucky those trees are to have caretakers and so wished for their continued survival. Their dependence on the man who planted them here would prove their fate.
The journey back was less uneventful, however fulfilling. We stopped for pictures of some wild burros and had fun trying to get them to do an Eh-Haw for the camera. We also stopped at another place of worship — a small mission or church that had some architectural significance. A local gentleman came out and to our delight, spoke some English. We chatted about nothing important and were soon back on our way.
Once back in Loreto, we enjoyed a well deserved dinner of camarones, almejas, frijoles burracho and a few national drinks.
I would recommend this as an unforgettable side trip.
If I did it again however, it would be in a vehicle with four wheel drive. The car was adequate, held up with no problems and we are proof it could be done.
Besides, the way back is always shorter!
How to get there
To get to the town of San Javier, where the church is located take the junction to the dirt road of 37 km which is 7 km south of Loreto, in kilometer 118 on the Transpeninsular Highway or by plane to the International airport of Loreto.
Origen
The site was originally inhabited by the Cochimíes, who named the place Viggé Biaundó. Jesuit Father Francisco María Píccolo visited the place on May 11, 1699. He started the construction of a chapel in October of the same year and Father Juan María de Salvatierra dedicated it to All Saints the 1st of November. Father Juan de Ugarte, one of the most esteemed missionaries of the conquest, took charge of the mission in 1701. He introduced cattle breeding, big and small species, developed agriculture and taught the locals to thread and knit wool, not only for themselves, but also for the missionary project in general. The construction of the Church of San Francisco Javier was begun in 1744 by Father Miguel del Barco and was finished in 1759.
Description
The church, considered one of the most beautiful and well preserved of the Californias, was built with stone taken from quarry from the bed of the brook of Santo Domingo 20 km southeast of San Javier. Its original baroque appearance has been well preserved. Its interior has: a golden altarpiece with five oleos, brought from Mexico City in thirty two boxes; two statues: one of San Francisco Javier and another one of Our Lady of Guadalupe; and a crucifix, all of these are from the 18th century. It has three bells, two of them are dated 1761 and the other, 1803. There is a monument to that time at the end of the street that leads to the church. It is known as "the Cross of Calvary". From there hundreds of pilgrims who visit the patron saint walk sometimes on their knees.
Activities
A visit to the Church of San Francisco Javier. Festivities of the Patron Saint from the 1st to the 3rd of December. A visit to the olive orchards planted by the Jesuits. On the way to the church, a stopover visit to Las Parras Ranch, which has a more than two-hundred-year-old chapel.
Recommendations
No commercial photography nor video without INAH's prior permission (Instituto Nacional de Antropología e Historia). In any case, the use of flash is prohibited inside the church.
Published or Updated on: January 1, 2001