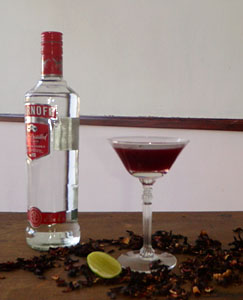 This drink packs the usual martini punch, but seems deceivingly innocent with its gorgeous red color and sweet-tart flavor.
The basic proportion for making the agua is a cup of dried flowers to a quart of water. About six tablespoons of sugar per quart will provide enough sweetness without overwhelming the refreshingly tart taste of jamaica. It can be made on the stovetop or, in warm weather, left to steep like sun tea.
Ingredients
1 ½ ounces agua de jamaica
1 ½ ounces gin or vodka
1 ½ ounces fresh lime juice
½ ounce simple syrup
Place all ingredients in a shaker with ice. Shake and strain into martini glasses. Garnish with a thin lime slice if desired. Makes 1 cocktail.
Link to source article
Mexican roselle hibiscus: Cooking with jamaica
Published or Updated on: April 21, 2010