Photo Gallery: Climbing volcanoes in Mexico
Think of warm sunshine and beautiful beaches. People who explore Mexico more deeply learn about colonial cities, handicrafts, and history. Mexico also has an incredible range of geography, from desert to tropical jungle and, yes, snow-covered mountains. The third highest mountain in North America is a few hours from the airport in Mexico City.
Climbers from the US and Canada looking for a new experience, and more altitude than they can find in the lower 48 states, can fly to Mexico City, and set a personal altitude record on the Mexican Volcanoes. This is a good warm-up trip for an attempt on a 20,000 ft peak in Alaska or South America. As a climber and a long-time fan of Mexico, here is my advice on climbing the Mexican volcanoes.
The peaks
There are three major glaciated Mexican Volcanoes:
Pico de Orizaba (Citlateptl) 5700m 18,700ft
Popocatepetl 5452m 17,887ft
Iztaccihuatl 5286m 17,342ft
Popocatepetl started erupting in December 1994, and thousands of people were evacuated from the area. These evacuations are now over. Popocatepl has been closed to climbing since that time, and will probably remain closed for years. I spoke to someone who climbed Izta in January 1996, and he indicated that Popo and the hut were both closed. Five climbers were found dead on Popo May 2nd 1996. They had gone up to film an eruption. Reports of the cause of their death vary. There was a surprise eruption Oct. 28, 1996, and additional explosions on November 26th, and in late December.
I believe that Iztaccihuatl is still open for climbing, although the lodge at Tlamacas is probably closed, as it is right at the foot of Popo. The lodge was fancy when it was built in 1978, but it was run down in 1994 when I was there, although it did have running cold water. I have heard that the Paso de Cortez hut, between Izta and Popo, is open, and has a caretaker. If Popo blows its top, I would not want to be on Izta, but I wouldn't want to be in the cities of Puebla or Amecameca either.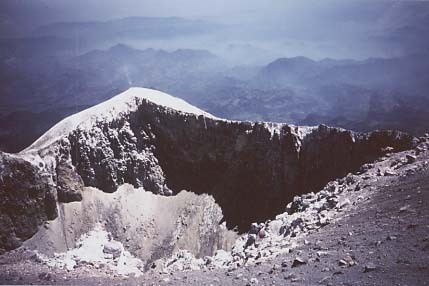 There are huts on Izta, several hours hike from the road. One could take a taxi to the roadhead, hike to the hut, and then climb Izta the next day. These huts are rudimentary and small. The hut at almost 16,000 feet has a great view, but beware of potentially fatal altitude sickness.
Pico de Orizaba is about 100 miles away, and hence unaffected by eruptions of Popo. A unique hazard of Orizaba is traversing the rim to the summit. When we did it, it was a dry trail, about one foot wide, with a steep slope on either side. If you trip or slip, you could end up in the crater or down the side of the volcano. Since you are probably tired and short of oxygen, a potentially fatal error is possible. Use your ice axe, and stay alert.
All of these peaks are worth doing, although Izta is my favorite, and the only one I would do again. It has a fascinating ridge route from the Paso de Cortez, a surprise around every hump!
General information
The most popular climbing season is around Christmas, with November to March being the dry season. I have climbed in February and March. Orizaba is the most remote, and Popo historically the most popular, especially for Mexicans.
Leaving your gear in the huts without caretakers is probably not a good idea. The Tlamacas lodge has lockers, but bring your own padlocks. Other options include hiring someone to watch gear, leaving someone to watch gear, or creatively hiding gear above the hut.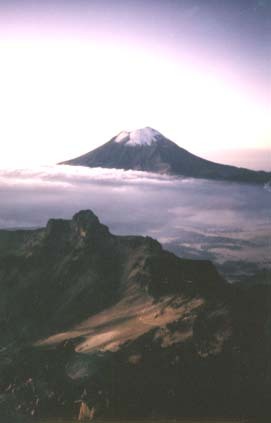 If you are interested in tourism while you acclimatize to altitude, I recommend Mexico City or Puebla. Mexico City is at 7,200 ft, and Puebla is at 7,000 ft. Mexico City is the largest and most polluted city in the world. Its museums are excellent, and the pyramids of Teotihuacan are only a short bus ride away. As in any large city, beware of crime. Puebla is a smaller city, more relaxing and slower-paced, and famous for its Talavera pottery. After climbing Orizaba, we enjoyed two relaxing days in Puebla, eating good food and watching the world go by from a sidewalk cafe. Shopping is always available in Mexico, from ceramics to serapes. Pick up any guidebook for information on things to do in Puebla or Mexico City.
Amecameca is the small village at the foot of Popo and Izta, 7500 ft above sea level. The hotel at the southeast corner of the central square is adequate. Amecameca is a nice enough place, but not much to do except walk around and visit the market. If you want to see incredible stonecarving, the 16th-century open chapel at Tlalmanalco is only a few miles from Amecameca. If your Spanish is good, the guard will explain the religious significance of every part of the carving.
Other information sources
The standard guidebook in English is by R.J.Secor, Mexico's Volcanoes, A climbing guide. This is published by the Mountaineers, Seattle Washington. I have the first edition, dated 1981, but there is a second edition, published in 1993. My book shows the European agent as Cordee Publishing, 3a DeMontfort St., Leicester England.
Any of these peaks can be climbed with a guidebook without a map, but if you want a topo map, I know of a couple of sources. The Map Centre in San Diego, California, 619 291-3830, or the government map office at the Mexico City airport. There is no guarantee that either source will have the map you want in stock, but it is worth checking. For Orizaba, ask for Coscomatepec E14B46; San Salvador El Seco E14B45 shows the approach to the hut. For Popo and Izta, ask for Huejotzingo, E14B42.
Safety
All of these mountains are major glaciated peaks. I believe that a minimum skill set for these peaks includes self-arrest skills, glacier travel experience, and crevasse rescue practice. If you and the other members of your party do not have this kind of experience, you should sign up with a professional guide; there are many guide services going to the Mexican volcanoes.
All members of the group should have crampons, ice axe, and rope, and know how to use them. Climbing is inherently a dangerous sport, and my experience is that climbing on snow is significantly more dangerous than climbing on rock.
Altitude sickness is a significant hazard. Allow several days for acclimatization in Puebla or Amecameca or Mexico City. The general rule is climb high and sleep low. Plan to take a day hike to 14,000 feet or more before you sleep in one of the huts, to give your body a chance to acclimatize. Read about altitude sickness before you go; if someone shows signs of altitude sickness, get them down quickly. Some of the symptoms include severe headaches and a high resting respiration rate.
Of course, do not climb Popo if it is still erupting; even when it is not erupting, the sulfur fumes can be bad; a friend of mine had a severe asthma attack on Popo, and had to be assisted down off the peak.
Avalanches may be a hazard. A few years ago, a party of three was killed by an avalanche on Orizaba.
Transportation
Basic Spanish is helpful in arranging transportation. Buy your bus ticket at the window in the station. First class bus tickets are for a particular bus/time, and include checked bags (though you have to carry them to the bus), and reserved seats. Buses run about every 15 minutes on the routes listed below.
To get to Izta & Popo: Take a taxi from the Mexico City airport to the TAPO bus station. Take the first class bus from the TAPO bus station in Mexico City, (near the airport) to Amecameca. Take a taxi from Amecameca. Expect to pay $15-20 US for the taxi ride to Paso de Cortez or Tlamacas. The bus will cost less than $5 US. ADO is one of the first class bus lines. Figure a two hour bus ride and a one hour taxi ride. If the hut at Tlamacas is open, it will probably not be necessary to make arrangements in advance to go down, as there is enough traffic to make it fairly easy to find a ride.
To get to Pico de Orizaba: Take a taxi from the Mexico City airport to the TAPO bus station. Take the first class bus from the TAPO station to Puebla. Take the second class bus from Puebla to Tlachichuca. Each bus ride is about 2 hours, and will cost less than $5 US. From Tlac hire a pickup truck, probably $100 US round trip for the group. Señor Joaquin Conchola was our driver. Traffic is scarce, so arrange in advance to be picked up. A less expensive alternative may be to take a taxi from Tlachichuca to the village of San Miguel Zoapan or Miguel Hidalgo, and walk the last four or five miles to the hut. This hike could help with acclimatization. The hut is crude, but it keeps the wind out.
Enjoy your trip, and climb safely!
Published or Updated on: July 1, 1997