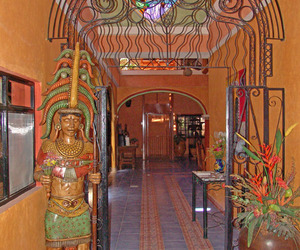 In Mexico, it is said you never know what's behind the walls. Typical of Spanish architecture, most homes have high walls around them, affording privacy and sanctuary. It is often impossible to tell if it is a small house or a grand estate behind the walls. This is true of the Casa del Sol Bed & Breakfast Inn in the heart of Ajijic — a 16th century village on Mexico's Lake Chapala, just one hour south of the major metropolis of Guadalajara.
Facing onto a quiet residential street only two blocks from the village plaza, Casa del Sol appears to be a moderately sized home. But once beyond the door, you step into a grand two-story entrance hall with a hand-built barrel roof illuminated by a cupola. A friendly statue of the Corn God, protector of Mexico's staple food, greets guests.
The entance hall, or zaguán leads to the large Hacienda Room with its many Spanish arches and columns. You realize you've found something special indeed — a magnificently decorated boutique inn, dressed in Talavera tile and warm colors. Yet despite the Colonial Mexican style, Casa del Sol offers all the modern comforts and conveniences you desire.
A special touch awaits around every corner, each delightful discovery adding to the sensory pleasure of being surrounded by beauty and comfort.
In fact, Casa del Sol unfolds as you enter. The gracious inn boasts ten spacious guest suites, all with king or queen-size beds. Three of them feature two queen beds for guests traveling with family or friends. Some rooms have balconies and others fireplaces; each suite has its own beautiful color scheme and the private baths are covered with hand-crafted Talavera-tiles. There are suites on two stories; those on the ground floor are handicap accessible.
Transformation
Prior to 2006, the inn was a private residence. Cathy Roberts bought the property and completely renovated it. "Comfort was a top priority," she says. "I invested in top quality mattresses and box springs so guests can get a good night's sleep. Bed linens have a high thread count, and I bought lots of pillows. Your may never want to get up! All the water throughout the inn is purified for safety. We installed a pressure system for strong showers as well as two large tanks to be sure there is always hot water flowing to the rooms. Every room has a ceiling fan as well as a floor fan," she continues. "Our climate is temperate all year long, so there is no need for heat or air conditioning. In fact, National Geographic Magazine calls it one of the best climates in the world.
"Each room has a large TV, and I keep DVDs and movies available upon request. I also keep a library with a bookcase full of reading material for guests. These days, it seems everyone has cell phones and laptops, so we installed extra easy-to-reach outlets to recharge them. Wireless internet is free, as are phone calls throughout Mexico and to the U.S. and Canada," Roberts says with quiet pride. There is even a guest kitchen with refrigerator and microwave and a large table where guests can sit and eat.
In 2009, Casa del Sol added two casitas — full apartments with kitchen, dining area, living room, bedroom, bath, etc. — on the property. They are quite spacious with the same colorful décor as the rest of the inn, and may be rented by the night, week or month.
At the back of the property, bright bougainvillea climbs the walls of a garden courtyard. Tropical flowers bloom with abandon around the solar-heated swimming pool. Tables with parasols invite guests to read a book, relax after a swim, or chat with other guests. Two rooftop terraces offer incredible views of the village, lake and mountains. Called miradores in Spanish, both have covered areas for shade as well spaces in the sun.
Something unusual for a B&B, Casa del Sol has a full service bar next to the pool for an icy beer, delicious margarita, soft drink or lemonade. "I host a happy hour here each day when guests can talk about their experiences. Some of them come down to explore the Lake Chapala area as a place to live, and I'm more than happy to share my own knowledge and experience," Roberts says.
Speaking of food, breakfast at Casa del Sol is not to be missed. A full breakfast is served Monday through Saturday and guests can make their choice from a menu. In addition to coffee and tea, fresh fruit, yogurt, fresh-squeezed juices and home-made muffins, the menu offers eggs as you like them, a variety of ingredients to add into custom-made scrambles or omelettes, pancakes, side orders of potatoes and toast, and a full range of breakfast meat options. In addition, the chef prepares a creative breakfast special each day. On Sunday, guests enjoy a deluxe continental breakfast.
Lots to do
Ajijic is popular throughout the year with activities for every taste and lifestyle. Annual events such as the Chili Cookoff and the Feria Maestros del Arte vie with seasonal English language theater and concerts.
To satisfy a shopping urge, guests can walk a few blocks to the village tianguis (street market) any Wednesday of the year. Numerous shops, boutiques and galleries are nestled along the town's cobblestone streets. In fact, Ajijic boasts a thriving artist's community with original works of fine art, custom designed jewelry and handicrafts. A wide range of excellent restaurants are also situated within easy level walking distance from Casa del Sol.
Hiking paths and horse trails lead into the mountains, others run along the shore. The Ajijic pier is a favorite spot at sunset, with refreshments available while the sun dips behind the beautiful mountains along the lake horizon.<
Farther afield, day trips take visitors to the artisan towns of Tlaquepaque and Tonala, to Guadalajara with its beautiful architecture and many museums, or to the town of Tequila with its agave fields and distilleries. The unique circular pyramids of Guachimontones beckon archeology buffs.
Guadalajara has six universities with three medical schools and many people combine a Mexico vacation with top quality medical and dental care at an affordable price. In the village itself, massages, facials and relaxing treatments can be arranged, and there are hot mineral springs nearby.
Roberts and her staff can orient you and help you organize trips and appointments. "Before moving to Mexico, I worked as a professional event planner. Here, I put that expertise to work for my guests. I'm happy to schedule a destination wedding, a family reunion, a yoga retreat, or any other event you would like set in beautiful Ajijic village and Casa del Sol Inn," she says.
Room rates range from $80 to $100 USD per night, depending on the room and time of year, and include breakfast and all taxes. Discounts are available for stays of two weeks or longer.
Click here for more information on one of the best accommodations in the Lake Chapala, Ajijic area, or call toll free from the U.S. and Canada at 1-866-403-9275; within Mexico or from other countries, dial 376-766-0050.