Photo Gallery: Punta Raza, Nayarit: where the jungle meets the sea
Punta Raza is an incredibly beautiful and pristine beach in a spectacular setting. Its two miles of unspoiled beach are a prime example of the incredible beauty of Nayarit beaches where the jungle meets the sea. Punta Raza is set amid the Vallejo Mountains with its tropical foliage, mahogany trees, waterfalls, and estuaries filled with birds. The beach is a nesting site for turtles in the late summer and fall. Its strong surf and undertow make it is best for walking.
Punta Raza is located about twenty minutes north of Lo de Macros, and is accessed from the small town of El Monteon, ten minutes north of Lo de Marcos, and five minutes south of Los Ayala. The road leading to the beach is of the Indian Joe type, so it is best to visit in the dry season, and four wheel drive is recommended.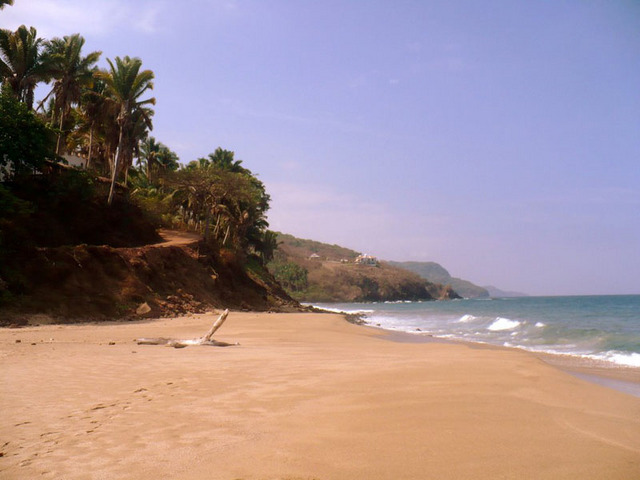 One can also hike to Punta Raza, over the hill through dense tropical vegetation directly from Los Ayala. The hike is gorgeous and only moderately strenuous, as the route is up- and downhill, and takes you through verdant tropical rain forest populated with the odd wild cow. There are lots of insects, so wear repellent. The hike takes about one and a half hours each way at a moderate pace. Be sure to bring along a good supply of water and perhaps a few snacks as there are no services on the long stretch of untamed beach.
Punta Raza is slated for major development and is soon to be the home of a golf course, hotel and condominium development. Come visit while there is still time to enjoy the pristine beauty of the beach, while your footprints are still the only ones on the sand.
Published or Updated on: September 26, 2009