During the month of December . . .
December 1, 1810
José María Mercado, a priest supporting Father Hidalgo's call for independence from Spain, attacks the Pacific coast port of San Blas, capturing it in a few hours.
2, 1546
Hernán Cortés, leader of the Spanish Conquest of Mexico, dies in Spain. His body is subsequently brought back to Mexico and laid to rest in Mexico City.

3 1533
The name Guadalajara is officially adopted for the new settlement formerly called the town "of the Holy Spirit in New Galicia". The name Guadalajara was in honor of the birthplace (in Spain) of Nuño de Guzmán, the city's founder.
U.S. CONGRESS TO FRANCE: WITHDRAW!
5, 1866
The U.S. Congress asks France to withdraw her troops from Mexican soil.
5, 1953
Jorgé Negrete (born 1911), ranchero singing idol and movie star, dies in Los Angeles, California. Negrete was a founder of the Movie Actors' Union.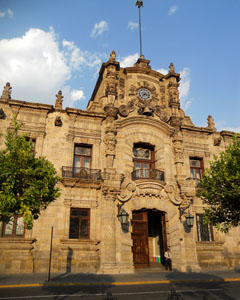 6, 1810
In the city of Guadalajara, Father Miguel Hidalgo, "the Father of Mexican Independence", decrees the abolition of slavery and of the tribute system. This predates by many years similar decrees in the U.S. and Britain.
6, 1865
Although asked by Emperor Napoleon III of France to recognize Maximilian's government in Mexico, the U.S. government refuses, claiming that the French, by invading Mexico, have attacked a government they "profoundly respect".
7, 1877
Talks are held between Guatemala and Mexico in an effort to settle a long-standing border dispute.

8, 1714
The town of Guanajuato is elevated to city status. Guanajuato, an important silver-mining center during colonial times, is now a lovely tourist city; its annual international Cervantino arts festival attracts culture-lovers from all over the world.
BIRTH OF A GREAT MURALIST
8, 1886
Diego Rivera is born in Guanajuato. Rivera becomes one of the country's most prolific artists, famous for his colorful murals, which adorn several Mexico City buildings including the National Palace.
11, 1881
The principal streets of Mexico City get street-lighting for the first time. 12, 1794 The liberal theologian Servando Teresa de Mier gives an irreligious sermon about the Virgin of Guadalupe for which he is arrested and sentenced to 10 years exile in Spain.
12, 1881
Tomás Rogers and Ignacio Alas are awarded the concession to build and operate a railroad across the Altar Desert between Sonora and Baja California.
12, 1884
Nayarit finally achieves separation from Jalisco and the right to be an independent state.
14, 1887
President Porfirio Díaz issues a decree by which the peninsula of Baja California is divided into two territories.
14, 1906
Unrest and strikes begin among the textile workers of Puebla, Tlaxcala and the Orizaba region of Veracruz. The unrest eventually results in the landmark Río Blanco strike of January 7, 1907.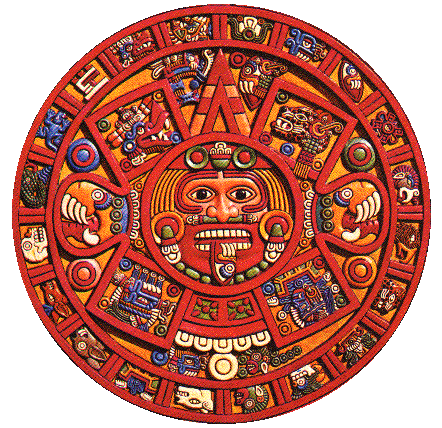 17, 1790
The original "Aztec calendar", a massive basalt slab weighing 25 tons and carved with elaborate symbols, is unearthed in downtown Mexico City. Representations of the calendar are widely used today on souvenir items.
17, 1885
The decree is signed establishing the School for Primary School Teachers, which later becomes the National Teachers' School. The school opens February 24, 1887.
17, 1963
The U.S. Congress finally agrees definitive restitution to Mexico for the 333 hectares of territory known as El Chamizal.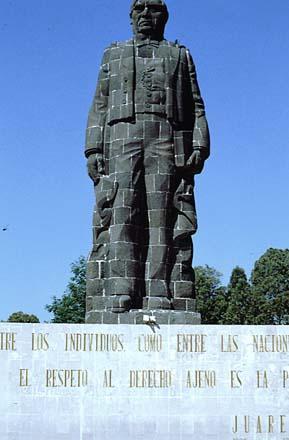 18, 1865
President Juárez establishes his government in Paso del Norte (known today as El Paso) in the state of Chihuahua. He leaves the city the following June.
18, 1866
French troops begin to board ships in Veracruz to return home, greatly reducing the strength of support for Maximilian.

19, 1833
Antonio Caso is born in Mexico City. Caso, a distinguished philosopher, sociologist and literary figure, becomes Director of the National University. He dies in March 1946.
FORTUNE HUNTER EXPLORES THE WEST
20, 1529
Seeking fame, Nuño Beltrán de Guzmán takes a leave of absence from the first Governing Council of New Spain and sets off to conquer the west. His explorations carry him through the states of Michoacán, Jalisco and Nayarit to as far north as the Yaqui River.
20, 1827
The government of President Guadalupe Victoria orders the expulsion of all Spaniards from the country. The order is never carried out, but many Spaniards, complete with their wealth, decide to leave anyway.
20, 1918
One of the leaders of the Cananea Strike of 1906, Lázaro Gutiérrez de Lara, is executed in Sáric, Sonora. He was a journalist, poet and lawyer.
21, 1720
For their own protection, convoys of merchant ships, leaving Veracruz for Spain, are accompanied by fleets of warships as far as the Canary Islands. Once there, other fleets escort them to Spain.
21, 1828
The city of Valladolid, capital of the state of Michoacán, changes its name to Morelia, in honor of José María Morelos, born there in 1765.
21, 1954
Francisco Castillo Nájera, an outstanding military doctor, writer, poet and diplomat, dies in Mexico City. He founded the Mexican Society of Biology and the Franco-Mexican Medical Society and represented Mexico at numerous international conferences.
22, 1815
José María Morelos, hero of the independence movement, is executed by Royalist forces in San Cristóbal Ecatepec on the outskirts of Mexico City. In the words of Napoleon III, "With a general like Morelos, Mexico could have conquered the world".
22, 1975
The Consumer Protection Law, establishing the Federal Consumer Protection Agency, is published in the Diario Oficial (Oficial Gazette).
23, 1888
Heraclio Bernal dies in Cosalá, Sinaloa. Born in Durango, Bernal fought in defence of miners' rights, prior to starting a new career as a mine assailant! In 1880, Bernal temporarily gained control of the plaza of Mazatlán. By 1887, a substantial price had been put on his head by the Sinaloa state governor.
24, 1816
Manuel Tolsa, architect responsible for numerous outstanding buildings including the Mining Palace in Mexico City, and the Cabañas Institute in Guadalajara, dies in Mexico City. Tolsa's equestrian statue (El Caballito) of Charles IV is one of Mexico's finest monuments.
25, 1888
Artemio de Valle-Arizpe is born in Saltillo, Coahuila. A lawyer, diplomat, linguist and historian, he becomes the official chronicler of Mexico City, where he dies in 1961.

29, 1859
Venustiano Carranza is born in Cuatro Ciénegas, Coahuila. Carranza becomes President in 1914 and promotes the new constitution which takes effect in 1917.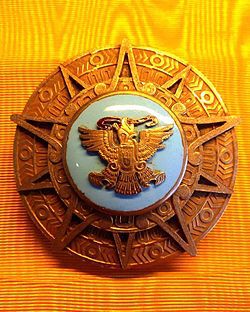 AWARD FOR FOREIGNERS
29, 1933
The government creates the Order of the Aztec Eagle, the highest award given to foreigners who have performed exceptional service for Mexico.

30, 1853
The Mutual Society of Mexican Writers and Publishers is founded in Mexico City to promote book publishing.
RED SHIRTS MASSACRE CHURCH-GOERS
30, 1934
Seventy-five anticlerics known as the "Red Shirts" open fire on people leaving a mass in Coyoacán, an upmarket district in Mexico City. The Red Shirts are believed to be following orders from the federal Agriculture Minister, Tomás Garrido Canabal.
31, 1899
Silvestre Revueltas, the distinguished violinist and composer is born in Santiago Papasquiaro, Durango. Revueltas composes symphonies, ballets, songs and theatrical compositions. He dies in Mexico City in 1940.
31, 1900
The general census reveals that the nation's population totals 13,545,462. In December, 2001, it was about 101,000,000.
31, 1951
The northern part of Baja California, declared a territory in 1888, is elevated to the category of state.
The main source for this series is Efemérides Mexicanas by Noé Solchaga Zamudio and Luisa A. Solchaga Peña, published in two volumes by Editorial Avante, Mexico City, 1983.
Published or Updated on: May 24, 2020