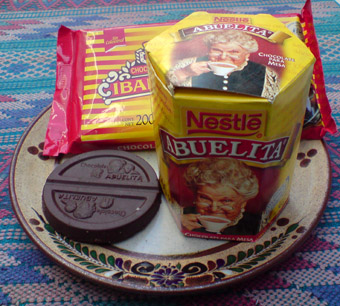 The distinctively flavored Mexican chocolate has a grainier texture than other chocolates, so don't skip the step using a sieve. I prefer the Mayordomo brand made in Oaxaca, but any of the popular brands, such as Ibarra or Abuelita, work well.
Ingredients
12 ounces Mexican chocolate, coarsely chopped
3 ¾ cups half and half
3 eggs
¼ teaspoon salt
½ teaspoon vanilla extract
Bring chocolate and half and half to a boil in a saucepan over medium heat, stirring constantly with a wooden spoon. When the mixture comes to a boil, remove from heat.
Beat eggs and salt together in a bowl; add chocolate mixture, stirring constantly.
Return mixture to the saucepan and cook over medium heat, stirring constantly, for 5 minutes or until the mixture reaches a temperature of 175 F degrees (80° C).
Remove from heat, add salt and vanilla extract. Pour through sieve, cool, and freeze in an ice cream maker according to manufacturer's directions.
Freeze at least 1 hour before serving. Makes 1 quart.
Link to Source Article:
Mexican frozen treats: Helados, nieves and paletas
Published or Updated on: August 9, 2009