Interactive Map of Tabasco, Mexico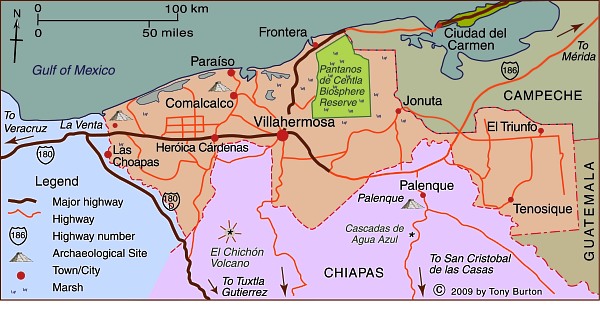 The small, low-lying state of Tabasco has a land area of 24,731 km2 (9,549 sq mi) and a population (2015) of 2.4 million. Its economy is based on oil, services and agriculture, especially bananas.
The state of Tabasco receives an average rainfall three times higher than Mexico's national average rainfall, and accounts for 38% of the country's freshwater. The state is regularly affected by severe flooding because it is where Grijalva River joins the Usumacinta River. Each of the two rivers starts in Guatemala and flows about 750 km (465 mi) through Chiapas before they unite in Tabasco about 25 km from the Gulf of Mexico. The flow of the combined Grijalva–Usumacinta River is about twice that of the Missouri River in the USA.
Much of the state of Tabasco is a wide coastal plain of sediments brought by these two major rivers which converge in the Pantanos de Centla wetlands.
Published or Updated on:
May 14, 2009
by Tony Burton