Photo Gallery: In Morelos, Cuernavaca springs eternal
"Slightly to the right and below them, below the gigantic red evening,
whose reflection bled away in the deserted swimming pools scattered
everywhere like so many mirages, lay the peace and sweetness of the
town. It seemed peaceful enough from where they were sitting."

-Malcolm Lowry, Under the Volcano
In the purest sense of things, not too much has changed since the ill-fated British writer Lowry penned this description of Cuernavaca, the capital of Morelos – where he lived and wrote much of his masterpiece Under the Volcano during the late 1930s, and where he was a drunken fixture at most of the rundown cantinas in town.
From any elevated position at pinky dusk, one may view, if anything, many more swimming pools – although the tranquility in which the vista seems immersed belies a bustling metropolis inexorably expanding across the dramatic barrancas and ridge-cut valleys through which its numerous dwellings precariously dip in and out.
The famed City of Eternal Spring's population has swelled by a considerable few hundred thousand souls since the 1985 Mexico City Earthquake, when hordes of well-heeled capitalinos moved en masse to be out of harm's way before the "next" catastrophe, whatever it may entail, should strike the Distrito Federal. They brought a few smaller catastrophes with them to Cuernavaca: increased pollution and environmental problems; more noise, crime and overall added stress.
Be that as it may, the city's unfailing charm and the glorious weather keep it as popular as ever – a favorite weekend destination for both D.F. residents and foreign tourists; and for what it offers, Cuernavaca can provide an ideal weekend – or a relatively idyllic week. For many foreigners, also, Cuernavaca is called home, and groups such as the Cuernavaca Newcomers Club offer get-togethers and helpful advice for those new to the city -providing sound information on everything from how to buy a house to how to deal with a scorpion bite (it must be conceded that these nasty little creatures thrive in abundance in Cuernavaca).
Located 85 kilometers south of Mexico City, it's an hour's drive on Highway 95D's autopista to Cuernavaca. At an altitude of 1,542 meters, its warm, year-round weather inspired the epithet "City of Eternal Spring" from famed German naturalist Baron Alejandro von Humboldt in the 19th century. Although keep in mind that from August to October, there can be some spectacular electrical storms that positively sheath the low heavens with Old Testament melodrama. The city can be a real boon for storm lovers during this season.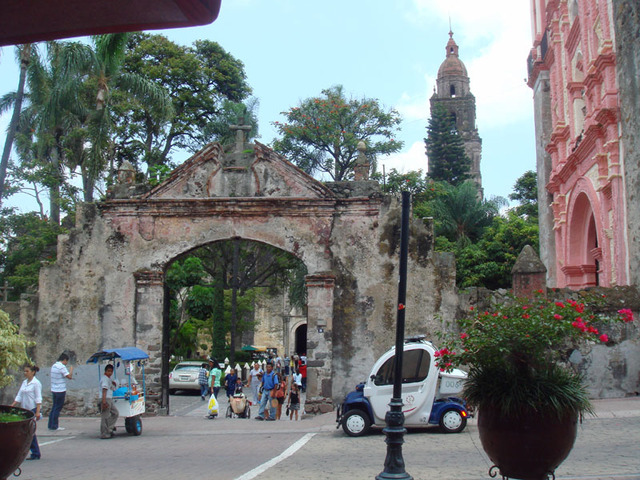 Crowds flock to Cuernavaca's Cathedral at lunch time. © Anthony Wright, 2009
Tlahuica Indians originally founded Cuernavaca. In 1521, Hernán Cortés and his Conquistadors turned up and took over with typical exuberance but the Tlahuica, fiercely loyal to the Aztec empire, did not give in without a fight. Ultimately the Spanish invaders burned the city to the ground and destroyed the local pyramid. From the smoldering remains of the destruction, Cortés built two of what were to metamorphose in the future as Cuernavaca's main tourist attractions: the Palacio de Cortés (now a history museum) and the Catedral de la Asunción.
The Cathedral, constructed by Cortés to double as a fortress, with cannons mounted above buttresses, provides a predominant focus to the city and is surrounded by restaurants and markets. Not far from the Cathedral is the Jardín Borda – a palatial mansion and garden estate built by Taxco silver magnate José de la Borda in the 18th century. It was later used by Emperor Maximilian and Empress Carlota as their summer residence – before his reign over the Republic came to an abrupt end and he was shot by firing squad, and she sent into exile and madness.
The visitor will find Cuernavaca's history corresponding to those attractions he or she may encounter within close proximity of the Zócalo (also called the Plaza de Armas or Constitución). It is always teeming with people and activity, pumping the heart blood of this lively state capital. Tours of the city can also be arranged from here. Attractions surrounding the Zócalo include Cortés' Palace, the popular arts and crafts market, along with numerous boutiques, galleries and restaurants (including, inevitably, a McDonalds and Burger King: the two fast food eateries evoking a regrettably garish contrast to the colonial architecture). Down the hill, however, is one of the most beautiful Sanborns restaurants in Mexico, its outdoor dining area immersed in luxuriant flora.
Other places of nearby interest include the Museo Casa Robert Brady on Netzahualcoyotl 4, the former residence of a journeyman U.S. artist from Iowa born in 1928 who lived in Venice for five years (where he befriended Peggy Guggenheim) before settling in Cuernavaca in 1960. He bequeathed his home and collection of 1,300 pieces of mostly Mexican art to the public upon his death in 1986. They include works by Diego Rivera, Frida Kahlo, Miguel Covarrubias and Paul Klee. The house constitutes a time capsule to Brady's obsessions. He transformed the onetime Franciscan meteorological observatory (Casa de la Torre) into a celebration of art and an affirmation of color. Like his mentor Guggenheim in Venice, Brady is buried in the garden with his dogs.
Some way out of the center but easily within reach is the Museo Muros (Avenida Vicente Guerrero 205, Colonia Lomas de Selva), which exhibits the contemporary art collection of Jacques and Natasha Gelman. Jacques, a Russian émigré, made a fortune as the producer of hit comedies by legendary Mexican comic Mario Morenos (Cantinflas), and channeled the profits into the acquisition of art with a missionary zeal that was to consume half a century. Works by Rivera, Kahlo, David Alfaro Siquieros, Francisco Toledo, Rufino Tamayo, Cisco Jimenez, Gerardo Suter and Juan Soriano are among the works that form the bill of fare.
If you've read Under the Volcano, you'll perhaps have wondered why the writer calls the city Cuauhnahuac. It's actually Cuernavaca's original Tlahuica name, meaning, "Place at the Edge of the Forest." The haze of modernity may have increased, but one can still detect the fragrance of the forest here and on a clear morning, the views of the distant volcano Popocatepetl are as impressive as ever.
Published or Updated on: April 17, 2009