Photo Gallery: Season of the Sacred: Rediscovering Christmas in Mexico
I took one look around the tiny, dingy room I had rented and began questioning my sanity. It was December 2 and I was in San Miguel de Allende, Mexico, after a tiring 24-hour bus ride one thousand miles south of the border. During an earlier October visit, I had rented the cheap second-floor room on a whim. There was no running water, no stove nor refrigerator, nothing but an antique iron twin bed. No chairs, no table, only one dim lightbulb in a dangling chandelier. The room was reached by two sets of rickety, narrow iron stairs from outside.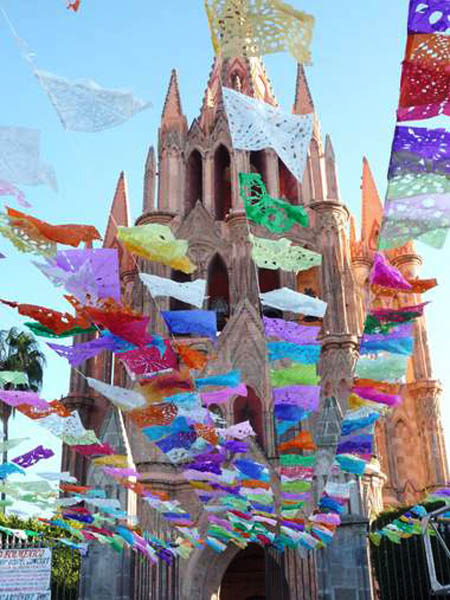 I would be sharing the bath with Arturo, a flamenco player who rented the adjacent room. "He is a Mexican musician," Nicholas, the landlord told me. "You will have to share the propane with him to heat water for showers. Do you know how to light the tank?" I had no idea of what he was talking about.
The house boasted a prime location, two and one-half blocks from the laurel-tree-studded plaza, or Jardin and the gothic-inspired Parroquia, Church of St. Michael the Archangel.
Now in his 80s, Nicholas had reportedly been acquainted with famed Mexican artist Diego Rivera — who, as the story went, put his hands on Nicholas' shoulders and declared, "You are going to be a monster of a painter." Later I discovered Cuellar was an Otomi, an indigenous tribe native to the nearby Guanajuato area.
I was here for a specific reason. For years I had wanted to experience the holiday season as sacred and meaningful, to have it slowly and deliciously spread out over weeks, not be a one-day Christmas blow-out.
During the previous year, my long-distance holiday visit to family members had fizzled in series of dramatic crises. Tears flowed. Nerves were frayed. The air was supercharged with harsh criticisms and foul words. The turkey didn't get done on time. Adult stepchildren floated in, grabbed a plate of food and bolted it down before spacing out in front of the television. Mountains of ribbon and ripped paper clogged wiser sensibilities. The day disintegrated in a disastrous war of ill-will.
During pre-dawn hours of the following morning, a shopping frenzy was launched for "on sale" items. I told my son-in-law, "I'm sorry, but I don't plan to be around next year. Anything you receive from me will fit into an envelope."
Even though violence had continued to surge in some parts of Mexico, San Miguel, with its reputation for colorful pageantry, extravagant religious and secular celebrations, appeared to be a relatively peaceful oasis. I knew spending the winter months in San Miguel would be a unique opportunity to immerse myself in meaningful holiday festivities, music, rituals, art and food, and maybe forge new friendships.
A reported 12,000 expats, mostly retirees, reside in the San Miguel area. Numbers fluctuate in the fall with the arrival of North American snowbirds.
With a proliferation of art and Spanish-language schools, San Miguel has traditionally drawn artists and students since the early 1950s, when American ex-servicemen began arriving to study on the GI Bill. In the 1960s, the town became a popular destination for counterculture figures such Ken Kesey and the Merry Pranksters. Beat writer Neal Cassady lived there briefly, dying on a lonesome stretch of railroad tracks after a night of partying.
"I can't install an electric outlet in the room for you," Nicholas patiently explained to me as if I were a little child. "If I do, then you'll have to pay the electric bill."
With a dying laptop battery, I began morning walks up narrow, clean-swept cobblestone streets, past the Parroquia and Jardin, headed for Starbucks. The relatively new coffeeshop occupied a former historic residence, complete with plant-filled courtyard and splashing fountain. Once there I plugged in, propped an empty coffee cup in front of me, got online, and emailed friends and family.
Scarlet poinsettias suddenly appeared everywhere. In the Jardin, gardeners massed row upon row into raised beds. Strings of tiny white lights draped from tree to tree gave the area a fairyland look in the dusky evenings. Groups of mariachis hovered while tourists milled about.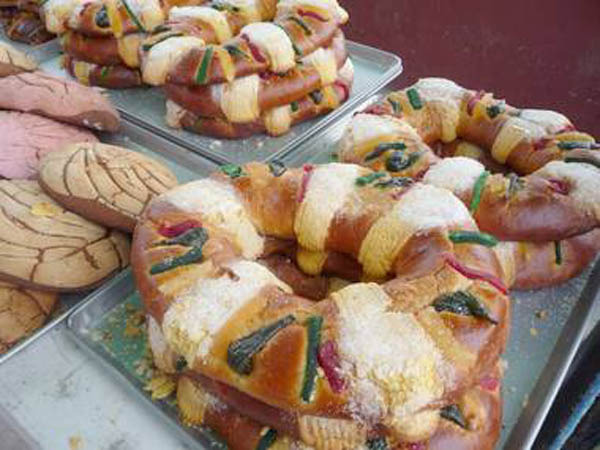 Architecturally ornate churches dotting the area delivered round-the-clock pealing of bells with tones ranging from melodic to clanging. The constant chiming gave a musical rhythm to days and nights, marking hours, announcing masses, weddings or special celebrations. Along with bells there were fireworks, tons of explosives unleashed — skyrockets booming at 4 a.m. Sometimes I felt as though I was living in the Magic Kingdom.
One evening, while attending an art gallery open house, I met Stefano, a charming, older Italian who fancied himself an art critic. We sat in the dark on an open window's thick ledge, sipping Chilean wine and munching canapés. Across the way, a luminescent Parroquia dominated the evening sky while an orchestra played a long medley of Beatles music. Stefano leaned over. "This is almost perfection," he said. "Almost."
To me, it felt almost sacred.
"Let's meet tomorrow after breakfast," he suggested. "We can visit the Allende Museum since there's no charge on Sundays." I knew my idea of Sunday breakfast differed from his. I preferred eating from local street vendors near the Plaza Civica who sold freshly steamed red or green tamales and cups of hot atole con arroz, a masa-based drink made with cinnamon, vanilla and rice. Stefano preferred sipping a cup of thick espresso with a freshly baked roll from the local bakery.
The Casa Museo de Don Ignacio Allende y Unzaga, a two-story 18th century baroque colonial house adjacent to La Parroquia, was Allende's birthplace. Filled with archaeological artifacts and historical documents, the museum related the story of the town's founding in 1542 by Franciscan monk Fray Juan de San Miguel. The town developed into an important stop along the Spanish silver trade route. In the early 1800s, Allende, a military general, was a leader in the war for independence against Spain. Captured in battle and beheaded, he became a national hero. In 1826, the town was renamed San Miguel de Allende in his honor.
As we left the museum, a noisy parade was underway. We were caught up in a crowd of spectators watching whirling, chanting Aztec dancers wearing elaborate headdresses of various plumages. Loud booming drums, rattles of shells and seeds, leather shields, fierce face paint, potent copal incense smoke, all testified to an ancient tradition.
"Scratch a Christian, find a pagan," Stefano said, paraphrasing a well-known quote. "The Spanish may have destroyed their temples and deities, but they couldn't get rid of the dances and rituals. Did you know they're dancing today to honor the Virgin of Guadalupe? It's almost her feast day."
Weaving up the street was a rose-flanked statue of Our Lady of Guadalupe atop a wooden stand borne by four stalwart men, headed for a special mass inside La Parroquia. Devotees of all ages, arms filled with flowers, followed.
The Virgin of Guadalupe has been called "Mother of the Mexican People," "Empress of the Americas" and "Queen of Mexico." This was her season of homage based on a supernatural appearance to Aztec peasant Juan Diego in December 1531.
While the Virgin of Guadalupe's official feast day is December 12, masses, pilgrimages and processions were held during the week leading up to the day.
Early Monday morning, Stefano and I walked to Mercado Ignacio Ramirez near the Plaza Civica, a covered indoor permanent market built in 1970. Outside, in a rocky grotto filled with votive candles, plants and flowers, hung a large image of the Virgin. Gathered around were mariachis who serenaded her with devotion.
The following day, we caught a bus up the hill to the weekly Tianguis del Martes, or Tuesday market, where mariachis performed in front of a makeshift shrine overflowing with fruit and vegetable offerings and draped in Mexican flags. "She is our Mother," reverently whispered the gilded-sombrero-wearing bass player in English, "and she is with child."
After the Virgin's festivities ended, nine nights of posadas began. In San Miguel neighborhood children traveled in processions from house to house, singing carols, searching for room for Mary and Joseph.
Earlier at Starbucks, I had met Camilla, a Canadian anthropologist, who told me the posadas tradition was transplanted from Spain via the Catholic Church: "Don't forget, it also coincided with the Aztecs' nine-day Fiestas of the Sun, which celebrated the virgin birth of the sun god, Huitzilopchtli."
In my room, I placed a small plastic nacimiento, or nativity scene on a yard-sale table, purchased candles, stuck a dozen pink roses from the mercado into an empty yogurt carton, and set a flaming poinsettia plant in the non-operative sink. Suddenly, my shabby room took on a holiday glow.
Families with laughing children gathered in the Jardin, excitedly crowding around a live nativity scene of sheep, goats and donkeys munching hay or hunkered down next to statues of a kneeling Mary, hovering Joseph, several angels and an empty manger. Church altars featured a rotund, very pregnant Mary bending over an infant-less creche. The air was filled with an expectancy that had nothing to do with Frosty the Snowman, Santa Claus or getting presents out of department store layaway. It was as if everyone was collectively holding their breath.
A chilly Christmas Day dawned with infant Jesus suddenly appearing in mangers everywhere. Extended families geared up for massive celebrations and feasting. ¡Feliz Navidad! was the greeting on the streets.
Kings and Candlemas
In Mexico, the holidays continue long after Americans have packed away the trees and tinsel.
January descended on San Miguel de Allende with an elongated, celebratory flourish and mild weather. Residues of Christmas galas lingered. New Year's Eve revelers carried on partying, gathering in Harry's Bar to discuss juicy tidbits, For children, the most exciting festivity was still ahead — the arrival of The Three Kings and gifts.
Los Tres Reyes, the Three Kings, arrive on horseback at the Nativity scene in the Jardin, bringing gifts to the infant Jesus.
After my morning trek to Starbucks, I would sit in the Jardin on a clammy iron bench, soaking up thin sunshine and chatting with strangers.
Multi-colored confetti mingled with dried flower petals outside La Parroquia, where back-to-back Saturday weddings were scheduled.
In the Jardin, vacationing children chased flocks of pigeons or harassed farm animals still confined within the Nativity scene, awaiting the arrival of The Three Kings.
"We need to go shopping for rosca de reyes," Camilla told me. "Most kids are still waiting to receive their gifts. Although the tradition is being replaced by Santa Claus in some areas, many of them still believe it is the Three Kings who bring their presents on the night of January fifth."
The Three Kings Day, celebrated on January 6 and also known as Epiphany, is the culmination of the 12 days of Christmas. It commemorates the journey of three wise men from the East who followed a brilliant star to find the infant Jesus. Tradition records they may have been magicians or astrologers who came bearing precious gifts of gold, frankincense and myrrh.
We walked down cobblestone streets to the nearest bakery where roscas, sweet bread dough formed into wreath-shapes, were being sold. Studded with strips of candied fruit before being baked, the circular breads have a tiny figurine of baby Jesus hidden inside.
"You know, when you slice and serve it on January sixth, whoever gets the piece with the baby Jesus has to throw a sweet tamale party on February second, which is Candlemas," said Camilla. "Maybe we could have a little party over at my casita."
Camilla had recently rented a little house up across the street from Nicholas' house, part of a 250-year-old former hacienda made famous by author Tony Cohan. In his 2001 book, On Mexican Time: A New Life in San Miguel, he extolled the charms of San Miguel, inspiring others to move there, purchase and rehabilitate dilapidated, historic dwellings. Cohen's hacienda was on the verge of collapse when he and his artist wife bought the property in the 1980s.
The front door to Camilla's casita was typical of most local residences. Crafted from iron-like mesquite wood and anchored by antique iron hinges, it gave no hint of what lay behind it, serving only as an entry through the hacienda's thick brick walls." For weeks I had walked up and down the hill, constantly passing by the hacienda's formidable walls with never a hint of the lushness and beauty inside. There had been no way to tell.
Decked out in gilded turbans and swaggering cloaks, wearing false beards and wigs, the Three Kings paraded up the streets on horseback. They were followed by an entourage of young angels in draped white bed sheets, wearing tinsel crowns. When the trio reached the Jardin, they dismounted and reverently knelt in front of the Nativity tableau, offering prayers and gifts to the infant in the manger. Then they remounted and galloped off, tossing candy to spectators as they left.
Camilla and I included Stefano in our Three Kings Day party since by now the three of us, from three different countries, were acquainted. Camilla had whipped Mexican hot chocolate into a frothy beverage, liberally lacing drinks with Kahlua.
Stefano came with a copy of Cohen's book for Camilla. She had never read it. "I really didn't like the book," Stefano told her. "I thought it overly romantic. Not an insight into the real San Miguel."
We sliced the rosca and Stefano got the piece of bread with the baby Jesus doll. Camilla laughed. She told him, "Now you are obligated to throw the tamale party on Candlemas, which is February second."
"If I'm still here," he replied. "I've only paid my rent for January." He inscribed the book with a flourish and handed it to Camilla. "This will be something to remember me by."
Then the weather turned ugly — cold and wet. Without any heat in my room, I was in good company; most homes and stores had none, also. People relied on either propane space heaters or fireplaces, but most of us just wore several extra layers of clothing to keep warm. It wasn't freezing but it was damp and depressing. Snow occasionally dusted the higher mountains. Huge black storm clouds rolled through. Daily deluges flooded sidewalks, poured off hills and roared down roadways. Pack burros were gently herded along streets, going door-to-door, loaded with mesquite firewood for sale.
"Starbucks is the only warm place in all of San Miguel," a visitor said one morning, sipping his black coffee as I struggled out of my red plastic rain poncho. "This rain is unusual. Not normal for here this time of year."
Like a breath of an early spring, Candlemas and warmer weather arrived on February 2. Midway between winter solstice and spring equinox, the holiday celebrates the "Feast of the Purification of the Blessed Virgin," 40 days after Christmas.
"Candlelaria" was how locals referred to the week-long, gigantic flower and plant sale held in Parque Juarez down the hill from La Parroquia. Masses of blossoming plants, fragrant herbs and small trees transformed the park into a landscaper's dream. An explosion of spring colors, tantalizing scents and lush greenery felt like a sure cure for the winter blahs.
Suddenly, like a migratory bird, I knew it was almost time to return north, to go home to New Mexico. So, later on in February, I did.
The experience of living in the small room in San Miguel de Allende was memorable and unforgettable. And I found what I had been looking for: a sacred season spread out over months, savored slowly and leisurely like a delectable holiday banquet, a sensual feast for eyes and heart in a time when I was hungry to be reminded of the divine dimensions of life.
Published or Updated on: December 19, 2012