Your cab deposits you outside the arched entrance to the pastel stucco hotel, and as you pass through its main portal, you are transported to another dimension, another time, to a village in Spain perhaps, or to a romantic hacienda or convent of the colonial era.
You pinch yourself, thinking this unusually attractive place cannot possibly be real, but you're dead wrong. For you've entered the Hotel Santa Fe in Puerto Escondido, Oaxaca, the brainchild of proprietor Robin Cleaver and a plucky group of investors from Palo Alto, California.
A fanciful confection of peaked rooflines, towers, arches, meandering tiled steps and azulejos (tiled wall plaques), the hotel is perched above a rocky outcropping at the end of Zicatela Beach, home to the Mexican Pipeline and one of the ten best surfing beaches in the world.
Often likened to a Romeo and Juliet stage set, the hotel boasts 61 guest rooms, most with air conditioning and many with wrought-iron balconies. Appointments in the spacious rooms include tiles from Puebla, colorful handwoven bedspreads and traditional Mexican furniture. Two of the rooms are suites and there are two pools set among verdant tropical grounds. Eight additional "bungalow" condo units with kitchens in two colonial-style buildings adjacent to the hotel round out the picture.
If anything of importance is to transpire in laidback Puerto Escondido, it's more than likely to happen at Hotel Santa Fe. For romances have blossomed in this most romantic of hotels and heads of state have dined in its popular vegetarian restaurant. As a family we've vacationed here many times, and the notion of returning is never far from our minds. A typical day here may begin with a trek down Zikatela Beach, where the surfers have been out since early morning. Then it's back to the hotel's relaxing thatched restaurant overlooking Zikatela for a breakfast of fresh fruit, granola or huevos rancheros. The rest of the day is spent exploring the beaches, bartering for handicrafts on Marinero Beach, the town beach, or taking a water taxi to little Puerto Angelito Bay for snorkeling. Or maybe just lolling about beside a hotel pool.
If you're inclined toward adventure, you won't mind getting up early for an Ecotour to lovely Manialtepec or Chacahua lagoons. And if you have a yen to really get away from it all, you'll sign up for an overnight tour to Posada Nopala in Santos Reyes Nopala, Paul Cleaver's small hotel 1-1/2 hours away amidst the pine forests and coffee plantations of the Sierra Madre mountains. Paul is the former manager of the Santa Fe.
One hour's drive to the south of Puerto Escondido is the even more laidback Puerto Angel resort. Huatulco, the new megaresort, is two hours away. Many people combine a visit to Puerto Escondido ("Puerto" to the locals) with a trip to the colonial city of Oaxaca, reached via the Miahuatlan-Pochutla road over the Sierra Madre mountains or via a short air taxi flight.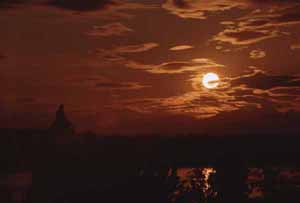 The clientele at the Santa Fe has always been a happy international mix–during our most recent visit we met an Italian professor and his wife, a family from Paris and a San Francisco literary agent. Seafood, lasagna and crispy veggie tostadas are specialties of the restaurant and the hotel hosts festive dinners at Christmas and New Year's Eve. At New Year's guests are entertained by a brilliant fireworks display over the bay.
For a change of pace one can venture across Marinero Beach to the funky town that straddles the bay. Puerto boasts an excellent bakery, several restaurants including a vegetarian eatery, tee-shirt and surf shops, a bank, farmacia, church and several small-scale hotels. We particularly enjoyed the cliffside Paraiso Escondido, tastefully turned out in abundant tilework, nichos and pre-Columbian statuary.
Mexicana Airlines now offers several flights a week to the resort from Mexico City. Aeromorelos and Aerovega airlines make the flight from Oaxaca City. In addition to the Oaxaca City approaches, Puerto Escondido is a six-hour drive south from Acapulco on Hwy 200.
For information, you can email the hotel at [email protected].
www.hotelsantafe.com.mx
Phone:011 52 958-20170, fax: 958-20260. Toll Free in Mexico: 01-800-27057. Address: Hotel Santa Fe, Calle del Morro, Box 96, Puerto Escondido, Oax., Mex. For information on the Santos Reyes Nopala Tours, contact Paul Cleaver at 958-21179 or 21664.
(Gale Randall, a frequent traveler to Mexico, is a resident of Palo Alto, California. Oaxaca is a "must see" for any person living in Mexico, and for persons interested in the culture of Mexico.)
Published or Updated on: July 1, 1998