Available from Amazon Books: Paperback
MexConnect is reader-supported. Purchases made via links on our site may, at no cost to you, earn us an affiliate commission.
Learn more.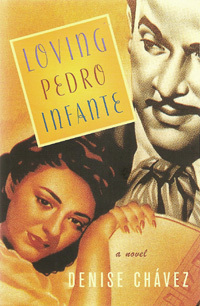 "What can I tell you about Pedro Infante? If you're a Mejicana or Mejicano and don't know who he is, you should be tied to a hot stove with yucca rope and beaten with sharp dry corn husks as you stand in a vat of soggy fideos. If your racial and cultural ethnicity is Other, then it's about time you learned about the most famous of Mexican singers and actors."
Teresina, "La Tere," a thirty-something teacher's aid at Cabritoville Elementary School, is the narrator of Loving Pedro Infante, and she tells us a lot about Pedro Infante. She and her comadre, her best buddy "Irma La Wirma," organize their thoughts and their lives around Pedro Infante and his films. Although Mexico's biggest movie star in the 1940s and 1950s died before they were born (he was only forty years old in 1957 when his plane went down in the Yucatán), nevertheless it is Pedro they long for to make their lives meaningful (as do the eleven other members of their fan club, the Pedro Infante Club de Admiradores Norteamerican #256); when Pedro "does something cute on-screen" it "makes us all sticky and hot like the popcorn with butter that we're holding even though we know he's been dead for years."
In the old movie house, El Colón (where "we're all children in the darkness"), Tere whispers to her comadre Irma, "'But, mujer, just look at the man! I don't care how many years he's been dead. I still want to taste him.'"
In her fashion, Tere analyses her own fascination with Pedro Infante: "He's the man we want our men to be. And he's the man we imagine ourselves to be if we are men. The man we want our daughters to have loved. Pedro's the beautiful part of our dreaming. And his looks still have the power to make my woman's blood heat up like sizzling manteca on an old but faithful sartén." [butter sizzling in an old skillet]
In the world of Cabritoville and its real men, both Tere and Irma succeed easily at sexual conquests. Indeed, the gossips say Tere is the type who is "always 'de parranda,' looking for a good time anytime, anywhere, and with anyone." In school she sometimes won the award for "Most Likely Not to Become a Nun." Her more intellectual friend Irma, "La Comadre," has "a beautiful bust. I should know. I've seen it unsheathed. The men are always coming on to her, but when she opens her mouth, most of them run away. She's more intelligent than most of the population of Cabritoville, El Paso, and Juárez combined."
Their excursions into the world of real men – although Tere and Irma both succeed easily in developing sexual liaisons – often leave them temporarily satisfied but still longing for the Pedro of the Silver Screen. More down-to-earth now, Tere remembers that after her divorce, and in her early thirties, she started out again, "doe-eyed" and "moon-faced" and "full of expectation." But most of the men she found were "lazy-boned, half-cooked meat on a spit…. Some were good, some were bad, some were good and bad and some were just BAAAADDDD, meaning Good."
Her real family, though, "are the members of the Pedro Infante Club de Admiradores Norteamericano #256. And the characters of Pedro's movies, whom Irma and I know as well as or better than we do our own kin." Indeed, they "keep the name and descriptions of all the characters of Pedro's sixty-three movies, some of them shorts, with a synopsis of each movie listed in a red notebook."
Irma's response to Pedro's movies is often thoughtful: "'You can learn so much about Mejicano culture, class structure, the relationships between men and women, women and women, men and men, as well as intergenerational patterns of collaterality in Pedro's movies.'" Tere's response is slightly different: "Just watching him on the screen makes my little sopaipilla start throbbing…."
When Tere does finally fall in love it is with Lucío Valadez, a successful insurance man, married, with a daughter Tere adores, and with at least one other lady on the side. To understand what she needs from Lucío, Tere thinks about what Pedro Infante film fits the situation: "'What I'm trying to say, Irma, is that all I've ever wanted from Lucío is the kind of loyalty that Carlotta showed Juan Zepeda in the face of danger in Las Mujeres de Mi General.'"
Friday nights, when they are not in a mood to look for men at La Tempestad, Tere and Irma hold Pedro-athons. Putting on their "most comfortable baggy clothing," they settle into the largest room in Irma's house, called "the Pedro room:" "We can watch two or three Pedro movies in a row as we eat and talk about men." Certain movies match certain moods: "Just before our periods, for example, we always watch either one of two double features: Nosotros los Pobres and Ustedes los Ricos or Un Rincón Cerca del Cielo and Ahora soy Rico, two back-to-back tearjerkers that turn up the volume on the menstrual blues. If we need to laugh, we watch El Inocente.
Denise Chávez's book Loving Pedro Infante is filled with so many laughs that I wanted to call up some old lovers in the middle of the night and tickle their lonely (at least I can hope) bones with a few of the hundreds of funny passages.
But then sitting here in southern Mexico and feeling a bit lonely myself, I started imagining a long drive north to the border, to Cabritoville, their dusty little town near El Paso. There I would easily locate the lusty Tere and her intellectual but equally delectable (and busty) buddy Irma. That night we would begin our own Pedro-thon, and I would curl up with the two of them – all of us wearing nothing but our extra-large T-shirts – and we would watch two or three Pedro movies in a row "until we fall asleep exhausted on Irma's huge mega-lounger in the Pedro room."
Published or Updated on: July 1, 2008