Photo gallery: Mexican painter Gabriela Epstein: color, form and energy
What started as a hobby for painter Gabriela Epstein has grown into an essential part of her existence. "It's everything to me," she says, describing art as her profession and source of income, but also as something instinctual that serves as a form of therapy and channel of expression for her.
Epstein started down the creative path when she was just a child, capturing the likeness of everyone around her with the art supplies that she would receive as Christmas and birthday presents. "I would draw my siblings, my friends, my teachers – everyone," recalls the 43-year-old painter.

When it came time to enroll in college, the young artist decided to study graphic design. She attended the Universidad Iberoamericana in her birthplace of Mexico City, but eventually left school to get married. With the wedding came a move to the state of Chiapas, where Epstein soon realized that there was little demand for her talents in graphic design. By this time, however, she had noticed that the paintings she produced in her free time were attracting an ever-widening circle of admirers. Given the circumstances, Epstein gave up her pursuit of graphic design work and dedicated her energy to a career in painting. "I was getting a lot of good responses – people wanting to buy what I was doing, giving positive responses and critiques – so I took it up as a profession," she says.
Peace amid Green Fields
Chiapas played a fundamental role in Epstein's development as a professional artist. Here, she was free from the distractions that had characterized her life as an urban dweller. "Mexico City is a huge, crowded, chaotic place," the artist explains. "On the contrary, Chiapas is calm, silent, soothing." In such a serene environment, Epstein could dedicate herself more fully to her creative endeavors. "I was completed devoted to my family and my art," she recalls. And while small-town life gave her the peace of mind to realize her artistic visions, it also gave her the confidence to transition from a part-time hobbyist to a full-fledged professional.
Epstein spent eleven years on a coffee plantation there, during which time its fertile landscape seeped into her subconscious and left an indelible impression on her artistic imagination. It was here, for example, that color became a pivotal force in her paintings. To this day, Epstein's entire creative process begins with choosing the colors that inform her artwork. And although the artist has left her former sanctuary behind and returned to Mexico City, she finds inspiration anew during her visits to Chiapas. "It's a place surrounded by nature, so it's no coincidence that whenever I paint there, my work has green as the main color," Epstein notes.
Known for its lush rainforests, crystalline waterfalls and breathtaking mountain scenery, Chiapas elicited a heightened sense of reality in Epstein, which may be why she devoted herself to figurative art at the start of her professional career. "In figurative, I like the challenge in imitating realness – copying light and shadows to allow volume, color and expression," she notes.
As her career evolved, however, she found herself drawn to abstract painting, which is where her attention is presently focused. "I didn't switch from one to another for a particular reason," Epstein says of her crossover from figurative to abstract art. "It was just part of my transition and growth as an artist." Embracing an abstract style has tested the painter's skills in a new manner, as she says the challenge now lies in "achieving an effect or a reaction with minimal elements."
The Creative Process
Epstein creates each painting in four phases; a process she attributes to the drying time necessary for the multiple layers inherent in her mixed-media pieces. She employs an array of materials in each creation, ranging from acrylics to pastels, and one painting can take anywhere between four days and two weeks to finish. First, she decides upon the colors she will incorporate into the piece, applying the tones that will serve as a base and then adding a complimentary shade for contrast. She then creates texture by using brushes and palette knives to etch details into the base. Next, she shapes the composition by painting the geometric forms that are synonymous with her signature style. And lastly, she evokes the illusion of light through her finishing touches.
"By combining color, contrast, composition and light, I give my work my own style," Epstein notes.
Aside from the geometric shapes that pervade much of Epstein's recent paintings, her unique style is also characterized by her affinity for diptychs and triptychs. "It gives the work a composition of its own," the artist explains of her penchant for painting on two or three separate panels instead of a single canvas.
Despite the abstract nature of Epstein's work, each painting is infused with a particular energy that springs from the artist's own experiences. For example, one of her favorite pieces from her body of work is Difusión (Diffusion), which she painted shortly after her father's death. "I think it carries in its shapes and composition a lot of what I was feeling at the moment," the painter says.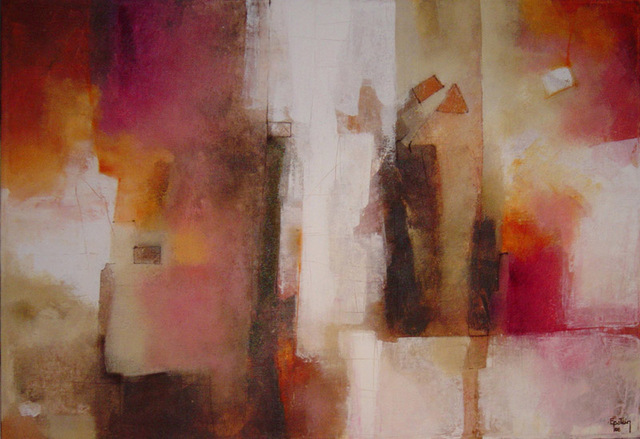 Reaching Out
Many are eager to emulate Epstein's distinctive style, as evidenced by the students who flock to the workshops she holds in her studio. The classes began a decade ago, with just a few pupils in attendance. "It started with a couple of friends of mine who were interested in learning to paint, and who liked what I did," Epstein says. "Now I have more than 40 students." She enjoys passing on her knowledge – much of it autodidactic – to her pupils, but insists the most enjoyable aspect of her classes is the wisdom that she soaks up from the students themselves.
As Epstein looks towards the future, her intent is to continue to grow as an artist and gain recognition in the international arena. She has already exhibited in various high-profile places across Mexico, including San Miguel de Allende, Querétaro and Mexico City. And earlier this year, Epstein reached out to new horizons when she participated in a group show at the Agora Gallery in Manhattan. "New York is a city I've always admired for the importance art plays in it, as well as the mixture of cultures," the painter notes. "Showing my art there was a huge achievement."
Epstein hopes that her paintings will open people's eyes to the rich diversity that characterizes Mexico's contemporary art world, which is so often thought of only in the context of past movements like Muralism. "I wish art could be known and appreciated in my style or in many others in which a lot of Mexican artists excel, not only the most popular," the painter says. "I like to believe my art can be a representation of my country for others to see… the link between cultures."
Published or Updated on: September 1, 2008