Guadalajara is the capital of Jalisco and the "Pearl of the West." Founded in 1542, Mexico's second largest city is a bustling metropolis with a colonial heart and a provincial soul. Guadalajara is a center of learning with six universities, two culinary institutes, a renowned philharmonic orchestra and a thriving art scene.
Mexico hotels in Guadalajara range from comfortable hostels to Gran Turismo category with every creature comfort. The city's vast array of restaurants and eateries offer world class dining along with traditional regional fare. Nightlife is varied and colorful.
Industry thrives and for years, clothing and shoe manufacturing have made Guadalajara a mecca for shoppers. The towns of Tonala and Tlaquepaque are famed for their handicrafts.
The city's mild year-round climate lends itself to outdoor activities like golf and tennis.
Hospitals with state of the art technology provide quality health care.
Fiestas and festivals throughout the year attract locals and visitors alike. Marathons in February and October, a fashion fair in July, the International Mariachi Festival in August and the traditional Fiestas de Octubre (Octoberfest) vie with the International Book Fair — the largest in Latin America, May's Cultural Festival, and the International Film Festival sponsored by the University of Guadalajara.
The city includes the municipalities of Tlaquepaque, Tonala, Zapopan and Tlajomulco.
This is just a sampling of all Guadalajara has to offer, plus observations by residents and visitors.
Maps
Gastronomy
Shopping
Culture
History
Music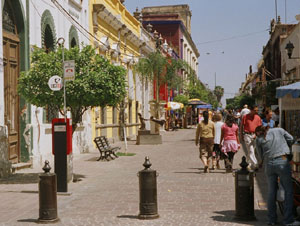 Some personal and historical views
Books
Published or Updated on: September 1, 2011