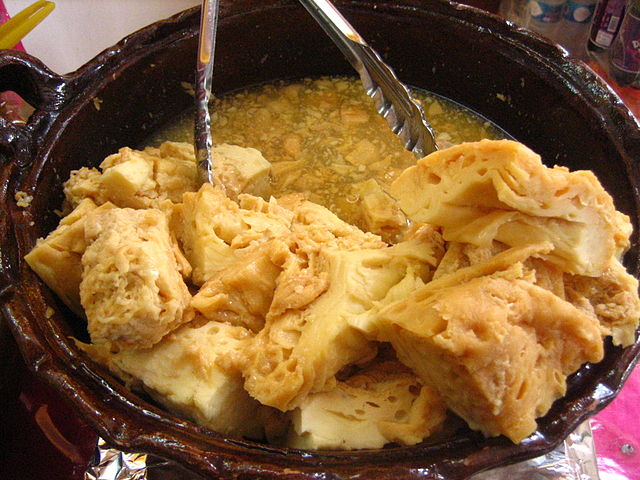 This dessert is so popular in Mexico that it comes in cans, but nothing beats home made.
Chongo is the Spanish word for a chignon, which the curds resemble when they separate from the whey. This dessert should be prepared in an earthenware pot such as a Mexican clay cazuela.
Ingredients:
2 quarts raw milk (goat or cow's milk, but not homogenized)
4 egg yolks
2 rennet tablets or 5-6 drops liquid rennet
4 cinnamon sticks
1 pound sugar

Beat the egg yolks and milk together in the pot. Dissolve the rennet tablet in a little water and add to the egg yolk-milk mixture. Place this over a stove burner pilot, stirring from time to time, until the milk curdles.
When the milk has curdled, make a cross-shaped cut in the contents of the pot and insert pieces of cinnamon stick into the cut. Pour the sugar over all and let stand until the sugar has been absorbed.
Cook over low flame for 2-3 hours, or until the curds and syrup have separated and the syrup is golden brown. Curds should be removed from syrup as they form and set aside in a bowl. When all curds have been removed, continue cooking syrup until thick. Allow syrup to cool.
Spoon curds into dessert bowls and pour syrup over curds.
Serves 6-8.
Source Article: The Cuisine of Michoacán: Mexican Soul Food
Published or Updated on: January 1, 2001