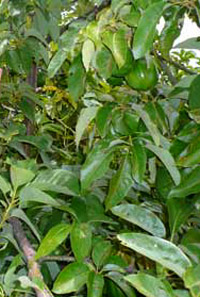 Traveling through the Sierra Mixteca, which we have done many times on our drives from Puebla to Oaxaca, I am always reminded of the story of "stone soup:" a meal is prepared starting with just a stone in a pot of water, which becomes a tasty supper after all the people of a village have contributed something. Although some version of this tale is told in many cultures, it seems particularly relevant to the Mixteca region, where a terrain of rough peaks, rocky soil and little water make even sustenance farming difficult. Still, this region is starkly beautiful, has an enormous wealth of rare botanical species, especially cacti, and is the oldest known center of corn cultivation.
A drive through the Mixteca Poblana along Puebla's Carretera Interserrana — Intermountain Highway — leads through biosphere reserves that include forests of giant organ cactus. (Although the Mixteca includes northwestern Oaxaca and eastern Guerrero, the Mixteca Poblana is a distinct cultural and gastronomic entity.) This region of Puebla starts in Atlixco, which is considered either part of central Puebla or the gateway to the Mixteca, depending upon which guidebook you read, and goes south toward the Oaxaca border. After so many residents left for jobs in northern Mexico or the U.S., the state has begun channeling funds into the promotion of tourism, not the least of which is culinary tourism.
For generations, the people of the Mixteca Poblana have been creating a regional cuisine out of what seems to be nothing. Skilled foragers, they have used edible flowers, wild herbs, insects and small wild game in their cooking, and successfully raised goats, one of the few animals that thrives in this environment. One of the characteristic dishes of this region is mole de caderas, a goat and vegetable mole that is especially popular during la matanza, the annual October slaughter of the goats. (For more on this event, see A yearly culinary ritual: La matanza.)
A signature ingredient in this and several other specialties of the area is the avocado leaf, which has a subtle, anise-like flavor that combines well with so many of the herbs and spices found in Mexican cooking. The route from Atlixco south to Acatlán de Osorio is promoted by the Secretary of Tourism as the ruta del aguacate, the "avocado route." A delicious way to start out on the avocado route is by having pollo atlixquense — Atlixco style chicken — marinated, grilled and served with an avocado leaf sauce. Other specialties of this small city known for its plant nurseries are artisanal cheese and the cured beef called cecina.

Southwest of Atlixco is Huaquechula, as well known for its Día de los Muertos celebration as it is for its Gothic style monastery, which could easily serve as the setting for a vampire movie, complete with murals of black-hooded flagellants and medieval Spanish iconography. If the convent beckons the art history buff, Huaquechula's famous dark mole calls out to the foodie, and during the three-day Muertos celebration, visitors to the town are invited into family homes to eat and to see the unique altars. One year we ate mole at the home of the mayor, who was providing meals for all who came to town, in honor of his mother, who had died that year. Other homes offer fruit aguas and sweet rolls or pan de muertos.
Heading south, a refreshing stop is one of the many balnearios around Izucar de Matamoros. These large, spring-fed pools are usually surrounded by green spaces perfect for picnicking. Buy the local tamales de frijol negro — black bean tamales — and take them to the balnearios for lunch. The village of Chietla, considered part of the municipality of Izucar, has thermal and alkaline baths. This is getting into barbacoa country, and you'll find either goat or lamb barbacoa, both seasoned with avocado leaves. Heading south, this will probably be one of the last places where you'll see this much water, especially during the October-May dry season.
The drive south to Acatlan de Osorio is one of the most stunning I've seen in many years of travel throughout Mexico. The road narrows to one lane in parts as it winds its way through thick stands of giant columnar cacti. These were among the first plants used by humans when this region was first settled 10,000 years ago. Twenty species of columnar cacti are currently being cultivated for edible fruit, either in the wild or in home gardens. Characteristics such as size, pulp color and flavor, peel thickness and thorniness are taken into consideration, whether cultivation takes place in the wild or elsewhere. Preserves and jellies, as well as fruit aguas, are made with the local cactus fruits.
Acatlán is another place where Day of the Dead celebrations, including the dance called "the death of the tiger," are among the most vivid in the state. Food is an integral part of Muertos, a mostly festive occasion in Acatlán and, besides the ubiquitous mole, there are some corn dishes not found in other regions. Chilate de maíz, a corn porridge, is flavored with ginger and allspice and served with sweet bread. Chunks of corn on the cob or kernels of corn are often found in guisados, or stews, along with squash and beans. And elopozole is a pozole (hominy stew) made with fresh corn, rather than the usual dried kernels.
Candied fruit, including cactus fruit, is a popular sweet, as is the milk candy called jamoncillo, and palanquetas, bars of amaranth or pumpkin seeds. Many of these villages also specialize in sweet bread, especially the seasonal pan de muertos.
In Acatlán and nearby villages, herb and fruit liquors are made with the cane alcohol called aguardiente, with nanche (loquat) being one of the most popular. Chocolate and atole (a corn drink) are the traditional non-alcoholic drinks.
Traveling through this area and sampling the food is a lesson in culinary creativity and demonstrates the ability of chiles, herbs and spices to flavor even the humblest of ingredients. Future articles will discuss other travel routes and recipes from this region. Meanwhile, here are some of my favorite dishes from the "avocado route."
Published or Updated on: October 16, 2009