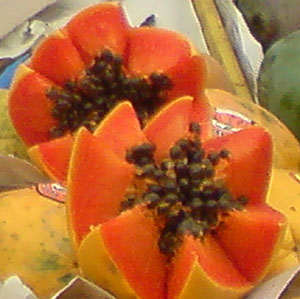 This tangy dressing is perfect for a salad of mixed greens. The recipe was adapted from one by Vicky Cowell, who writes an interesting and informative food column for the Herald Mexico, Mexico's English language newspaper.
Ingredients:
2 teaspoons sugar
½ teaspoon salt
½ teaspoon dry mustard
4 large scallions, coarsely chopped
1/3 cup white wine vinegar
2/3 cup olive oil
1 tablespoon fresh papaya seeds

Blend together the first five ingredients in a food processor or blender. Slowly add the olive oil, blending until emulsified. Add the papaya seeds, blending until they are crushed. Serve over mixed green salad.
Makes 1 cup.
Link to Source Article
Cooking with seeds: Semillas en la cocina
Published or Updated on: March 1, 2005