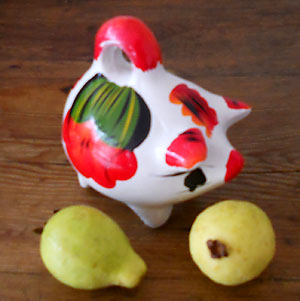 Mexican pork tenderloins with guavas: Escalopas de cerdo con guayabas
The Mexicans, like the Chinese, have created some wonderful dishes combining pork with fruit. Pork tenderloins with guavas is an example of the inventiveness of nouvelle Mexican cuisine. Escalopas de cerdo con guayabas have the same sweet-and-sour tanginess of many oriental dishes. The seeds of the guava are concentrated in the center, and may be removed with a small spoon or an implement designed for making melon balls. The guavas will then resemble small bowls.
Ingredients
4 pork tenderloin scallops
salt and pepper to taste
2 cups water
1 cup sugar
1 pound guavas, peeled, cut in half and seeded
2 tablespoons cider vinegar
2 tablespoons vegetable oil

Salt and pepper the tenderloin pieces; set aside.
Combine the water and sugar in a small saucepan and cook, stirring, until a syrup is formed.
Add the guava halves and cook, stirring gently so as not to break them, until soft but not falling apart.
Reserve half the guavas and place the other half in a blender with all the syrup and the vinegar; liquify until smooth.
Return the guava puree to the saucepan and cook until it has reduced a bit.
Heat the oil in a large saucepan and brown the tenderloin scallops on both sides.
Drain any remaining oil, pour the guava puree over the tenderloin scallops and cook until the meat is done.
Serve the scallops with some sauce over each, accompanied by the reserved guava halves.
Serves 4.
Link to source articles
Published or Updated on: August 1, 2000