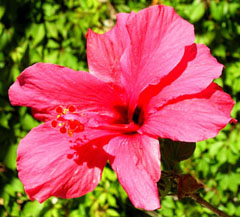 Dried hibiscus flowers, known in Mexico as jamaica (pronounced "ha-ma-ike-ah", rather than like the name of the Carribbean island country) have long been available in health food stores in the U.S. for making a tea that is high in vitamin C. With the advent of interest in south-of-the-border cuisine, hibiscus flowers are now sold in bulk in most large supermarkets. This drink is particularly good for people who have a tendency, temporary or otherwise, toward water retention: it is a mild and completely natural diuretic. I drink a lot of it, so I use sugar substitute in this recipe.
Ingredients:
2 cups dried hibiscus flowers
8 cups water
3/4 cup sugar or equivalent amount of sugar substitute

Rinse and drain the hibiscus flowers in a colander.
Put them in a saucepan with 4 cups of the water and the sugar.
Stir and bring to a slow boil, lower heat and simmer, covered, for 15 minutes.
The flowers will have lost their color into the water, which will be a deep red color. Let the liquid cool, then strain it into a pitcher.
Discard the flowers.
Add the rest of the water and stir.
Chill thoroughly before serving.
Link to source articles
Published or Updated on: January 1, 2006