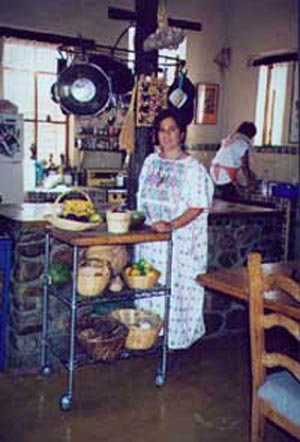 In more than five years as an expatriate living in Oaxaca, I have forgotten much, learned a little, and been more amazed than bored. One of the things I think I have learned is that for most of us here in Paradise, what we get out of it depends a lot on what we bring with us.
I'm not referring to material goods here, although some of those certainly help to make life easier and more familiar. It is skills, attitudes, and expectations (or lack thereof) to which I refer. As I tried to show in one of my earliest articles, "Three Blind Mice", if you have nothing going for you "up there", you aren't likely to get much together down here.
Today, I am celebrating the current success of a good friend who was already a success when she came here. Her name is Susana Trilling, who was a chef, restaurateur, and world traveler before she arrived. Now, she is all those, plus a teacher, author, and television personality, when she is not raising her two boys and helping her husband on their farm outside Oaxaca. But most importantly, she hasn't just carved out a new career for herself, she has done it in such a way that Oaxaca itself is richer for her having done so.
Bringing a "hands on" learning philosophy with her (she says that most of what she learned about cooking came from apprenticing herself to someone), an empathy and respect for the culture of others, and a willingness to work hard for little immediate reward, stood her in good stead when she moved into a small, poor village area about 30 minutes outside the city. While helping her husband, a Dutchman, build their farmhouse and plant crops, Susana began to put her culinary skills to work, first teaching local matrons to cook "international", and later teaching foreigners to cook "Oaxaqueño". In the process, she haunted the huge Centro de Abastos market in town, as well as the nearby regional market in Etla, the "county seat" of her village.
Developing personal relationships with the people who sell chilis, cheeses, fruits, vegetables, and the hundreds of ingredients that are used in Oaxacan cooking at its best, was invaluable for the new cook on the block, and along the way Susana developed a course on Oaxacan cooking that includes market visits, where the ingredients for the day's meal are purchased. Thus, the student develops an appreciation not only for the cuisine, but also for the process of hunting and gathering that all of us face almost every day as we wander from chili stall to cheese stall to chicken seller, and so on; and gets to see the local color along the way.
When Susana contracted, last year, to do a "cooking show" with PBS affiliate WMHT in Schenectady New York, and with Ballantine Publishing Group to write a cookbook, she knew that a plain"cookbook" presentation was not what was in her heart. She wanted these projects to reflect the diversity and the richness of her adopted state; to demonstrate and to preserve the traditions and methods of daily life in Oaxaca.
The results – book and tv program – are called " Seasons of My Heart " (named after her cooking school here in Oaxaca), and feature narrated segments showing local folks from all over the state in their workshops (a maker of a special wooden tool for frothing hot chocolate; a grinder of cacao and spices preparing the squares), their kitchens (a local woman grinding corn by hand; a man making the famous Oaxacan string cheese), their market stalls (a seller of palm leaves used to wrap tamales; a seller of matates (the grinding stones), as well as Susana preparing delicious Oaxacan dishes. The two projects complement each other, with the book going into more detail about the recipes, and the program providing a more visual panorama, while each contains elements of the other.
The contribution Susana has made to preserving and promoting her adopted culture has been recognized by the Mexican government, who are sending her on tours to faraway countries to promote the riches of Oaxaca. She is sharing with her community, so that everyone is a little better off. That is unique, and should be recognized.
To make sure that your local PBS affiliate carries "Seasons of My Heart", write or call the Program Manager, with the following details: it is an American Public Television program, fed through Satellite GE-3, Transponder 511, beginning from 11:00 to 11:30 in the morning on Saturday, September 4, 1999.
You can order the book, at about $25, either from the address provided at the end of the program, or from your local book store.
Buen provecho (eat well).
Published or Updated on: August 1, 1999