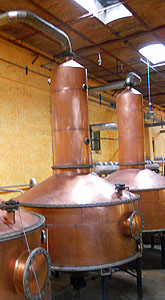 I know what you're thinking:
"Tequila prices have been rising for years, but 225,000 dollars for a bottle is ridiculous!"
"Are we talking about a regular-sized bottle, or a supersized jumbo-jet full of liquor?"
It may be ridiculous, but it is nonetheless true. The tequila company Tequila Ley .925 issued a press release in July 2006 proudly announcing the introduction of three different presentations of "Tequila Ley .925, Pasion Azteca, Gold and Platinum".
The tequila itself is exclusive, a premium quality 100% blue agave tequila, aged for 6 years. The bottles it comes in are even more special. The company has won several awards previously for its unorthodox designs. This time, each bottle is shaped like a barbed sea shell and engraved by Mexican artist Alejandro Gomez Oropeza.
If you're satisfied with a silver and gold-covered bottle, it costs just 25,000 dollars. But who could resist the gold and platinum bottle, a steal at only 150,000 dollars? Looking to buy a special something for someone really special? Then consider the platinum and gold bottle, rumored to be worth every cent of its 225,000 dollars. Where else can you get two kilos (4.4 pounds) of platinum and gold? This presentation is virtually guaranteed to become a collector's item. Only 33 of these bottles were made. Should one ever actually be opened, a single shot of this tequila would be worth around 6,000 dollars!
For the penny-pinching, Ley .925 also has other, less exotic tequila for sale. For instance, its limited edition "Grand Reserve Pasion Azteca" retails for a mere 3,500 dollars a bottle. Incidentally, the company takes its unusual name (Ley .925) from the Ley .925 stamped as the Mexican equivalent of a hallmark on all genuine silver articles. Quite why it should have become the name of an exclusive tequila producer is neither here nor there.
Ley .925 has succeeded in establishing what is widely believed to be a new record for the most expensive bottle of liquor ever. Indeed, it is now awaiting formal recognition as such from Guinness World Records. Previously, the most expensive bottle of spirits (according to Guinness) was for a 50 year old bottle of Glenfiddich single malt whiskey, sold in Milan in 1992 for 84,280 dollars.
As an aside, there are numerous other Guinness records related to Mexico, and some of them are almost equally strange. (Details can be found here and here).
Returning to the main story, no sooner had the ink dried on the Ley .925 press release than it was announced that the Tequila region had finally been accorded coveted World Heritage Status by UNESCO (United Nations Educational, Scientific and Cultural Organization). The World Heritage zone covers a 34,658-hectare zone west of Guadalajara, including the town of Tequila and the villages of Amatitán and El Arenal. It also incorporates Tequila volcano and the fascinating ruins of Guachimontón, the work of the Teuchitlán culture, dating back to 200 A.D. These many and varied attractions form the basis of Chapter 10 of my book Western Mexico: A Traveller's Treasury .
Mexico has more World Heritage sites than any other country in the Americas. World Heritage status will be a boost to the initiatives to develop the tourism potential of the area. Hopefully, it will also mean more funds will be channeled into preserving the remaining old buildings and historic tequila installations. Some tequila producers, such as Tequila Herradura, have already led the way. Herradura's lovingly maintained San José del Refugio hacienda, in Amatitán, has been a place of pilgrimage for all true tequila lovers for years, a place where visitors can tour what is essentially a working museum.
It is very unlikely that I will get the opportunity to sample Ley .925 tequila any time soon, so do not expect any taste review in a future column. Meanwhile, given the rising price of tequila, I just hope my bottle of premium reposada tequila lasts a while longer; at least its purchase did not require a second mortgage on the house.
Other articles about tequila worth sampling:
Worthwhile Book:
A Drink Named Tequila by José María Murià and Ricardo Sánchez (Editorial Agata, 1996). A pictorial history of tequila (in English), with an introductory essay by Jalisco's most distinguished historian, available from Sombrero Books.
Copyright 2006 by Tony Burton. All rights reserved.
Published or Updated on: August 1, 2006