In the current edition of Guinness, the Mexican responsible for most records is Sergio Rodriguez Villarreal from the northern state of Nuevo León. He specializes in creating giant Christmas figures and holds five records at the moment for the "biggest" ornaments which are (respectively) an angel, silver bauble, bell, candle and wreath.
Rodriguez first designs the oversize ornaments and then calls on some forty friends and relatives to help him construct them, using a variety of materials including thick wire, fiberglass, mirrors, metal and bottles of beer. Please note that the beer bottles are for construction purposes only, and not for sustaining the flagging spirits of his hard-worked helpers.
The records for the largest Christmas candle ornament, which was 3.9 meters (12.75 feet) tall and 3.1 meters (10.15 feet) wide, and for the largest wreath, which measured 5.45 meters (17.88 feet) in diameter, date back to 1997. The candle was made from 1,789 pieces of flat glass mirrors and 1,164 bottles. The wreath required 5,983 disposable plastic cups.
Rodriguez's three other records all date from 2000. His version of the traditional Christmas angel was made from 2,946 glass beer bottles, still full of beer, and rose 5.57 meters (18.25 feet) above the ground. His silver bauble was made from sheets of metal and measured 2.75 meters (9 feet) in height and 2.2 meters (7.15 feet) in diameter. Finally (at least for now), his fifth record, the world's largest ever bell ornament, requiring no fewer than 4,854 glass bottles, measured 5.5 meters (18 feet) in height, with a base diameter of 3.85 meters (12 feet).
And what inspires Rodriguez to design and fashion these huge ornaments, far too large for the average family Christmas tree? Well, according to the book, he was inspired to become a multiple record holder by… "the creative spirit of Christmas"!
Rodriguez may be in a class of his own as regards the size of Christmas ornaments, but he is far from being the person who has broken most Guinness records. That distinction belongs to Ashrita Furman from the U.S. His exploits might not merit a mention here in this "Did You Know?" about Mexico column if it weren't for the fact that he set the current record for the most hopscotch games in 24 hours by completing an astonishing 434 games in 24 hours during a brief stay at the Westin Regina Hotel in Cancún in January 1998. Fittingly, Ashrita was born on Mexican Independence Day (September 16) back in 1954. Since 1979, he has broken about 60 different records, most of them involving feats of stamina and endurance.
Stamina is also the key ingredient in two other Guinness records connected to Mexico. The men's record for the longest distance ever run in one hour is 21.101 kilometers (13.111 miles), set by Mexican Arturo Barrios in France in 1991. Barrios has had a distinguished career as a distance runner. And, if running isn't your idea of fun, how about swimming? Believe it or not, a 23 year-old Australian marathon swimmer, Susie Maroney, successfully swam from Mexico to Cuba without flippers, a distance of about 200 kilometers (125 miles) in 1998. The swim took her 38 hours and 33 minutes and, in distance terms, is the longest-ever ocean swim. Maroney, by the way, also holds the record for the fastest-ever double crossing of the English Channel.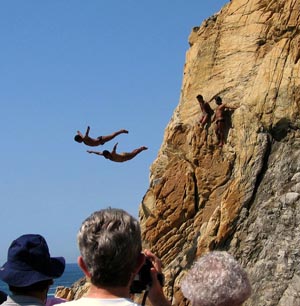 Having touched on swimming, it seems natural to turn next to diving, and the cliffs at La Quebrada in Acapulco, from where, on a daily basis, young men plunge headfirst into the ocean in a spectacle that draws gasps from the assembled tourists and onlookers. These divers are performing the world's highest regularly-performed headfirst dive – from a height of 35 meters (115 feet). The dive is said to be equivalent to jumping off a 12-story building in a vertical free fall. Perhaps the most remarkable thing about these divers is that they not only have to judge their height accurately, and time their dive to match the pattern of waves, but they must also enter the water 8.22 meters (27 feet) out (measured horizontally) from their take-off point. No wonder they pray earnestly for a few minutes at a small shrine on the cliff prior to launching themselves into the air.
So, next time you see young Mexicans playing in the street, just remember – you could be watching the early training of the next Guinness record-holder in some unlikely-sounding category!
Published or Updated on: March 14, 2008 by Tony Burton © 2008