In 1887, Eulogio Gregorio Clemente Gillow y Zavalza (1841-1922) was appointed Bishop of Antequera (Oaxaca). Four years later, he became the first Archbishop of Antequera. Named after a town in Spain, Antequera is the Catholic archdiocese of Mexico which includes the city of Oaxaca.
Archbishop Gillow had a somewhat curious background. He was the only child of Thomas Gillow and his second wife. Thomas Gillow (1797-1877), born in Liverpool, England, arrived in Mexico in 1819, when the country was in the throes of the War of Independence (1810-21).
Thomas Gillow became a very fashionable jeweler and member of Mexico City society. His first wife was Soledad Gutierrez de Rivero Martínez de Pinillos, the Marchioness of Selva Nevada, a widow who had inherited a large country estate near the city of Puebla. She already had one daughter, Mara Zavalza y Gutierrez, and a son. Following his marriage, Gillow dedicated himself to running the family estate.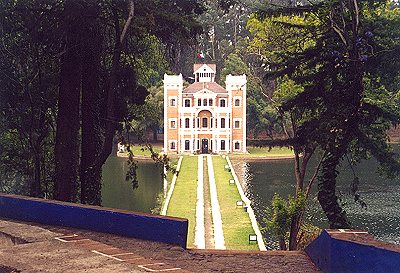 Following his wife's death, Thomas Gillow married Mara Zavalza (? -1861). This may have been at least partly in order to end problems connected to the inheritance of the estate following the death of the marchioness' first husband. This marriage was never formally sanctioned by the church. Soon afterwards, Thomas and Mara became the proud parents of Eulogio Gillow, who would later become the first Archbishop of Antequera.
Miraculous Birth
A wonderful anecdote about Mara is related in the prologue to Mexico; A Land of Volcanoes by Joseph Schlarman. In February 1841, about a month prior to giving birth to Eulogio, the Marchioness of Selva Nevada collapses without warning and is taken for dead. Her body, complete with jewels, is placed in a coffin, and taken to the Santa Brígida Church in Mexico City. During the night, the sacristan and another individual resolved to steal the jewels. Imagine their surprise when, as they tried to prize a ring off her finger, she awoke. She was so startled by finding herself in a coffin, and so fearful that her assailants might kill her, that she offered them a substantial reward and total secrecy. The following month, Eulogio was born – a miraculous entry into the world, if ever there was one!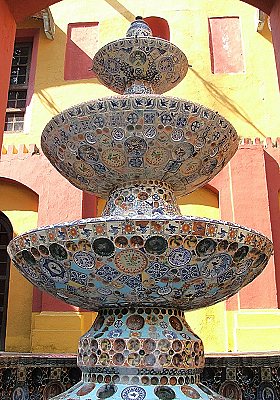 When Eulogio was nine years old, cholera broke out in Puebla. He was rushed to the neighboring city of Tlaxcala, which mercifully escaped the epidemic. The following year, in 1851, the first World Fair was being held in London. Thomas Gillow decided to take his son to see the fair and then remain in England to begin his education. After two years private coaching, Eulogio entered Stonyhurst College, a famous Catholic private school.
He continued his education in Europe, with periods of study in Rome, until his return to Mexico, aged 24, in 1865; astonishingly he had not seen his father for fourteen years! Sadly, his mother died at sea in 1861 while en route to Europe to visit her son. His mother's death led to renewed inheritance problems, and eventually the estate was divided, with Thomas Gillow getting only the San Antonio hacienda, in Chiautla (sometimes known as Chautla).
On Thomas' death in 1877, the hacienda passed to his son Eulogio. The archbishop later built an imitation English castle (1898), complete with drawbridge, artificial lakes, and formal, symmetrical gardens, as part of his plans to open an agricultural college. Some of the buildings, including the "castle" still stand, and the ex-hacienda's grounds have been restored in the last decade as a fishing resort, stocked with rainbow trout.
Eulogio Gillow was strongly favored in ecclesiastical and political circles, and was a particularly close friend of President Díaz. In 1881, he presided over the marriage of Díaz, then 51 years old and a widower, to Carmelita Romero Rubio, his English teacher, who was barely 17 years old at the time. Gillow later praised the fact that Carmelita brought a more refined and cultured air to Díaz, introducing him to the proper manners of polite society.
The Marvels of Modern Technology
Gillow had many interests and was especially active in promoting the introduction of modern technology. On his estate, which specialized in wheat and maguey production, he introduced electricity in 1903 by building Latin America's first hydro-power plant. His father had introduced the first metal plough, importing it from England, but it had worn so quickly that he later helped a Mr. Marshall establish an iron foundry in Puebla. Marshall went on to make a considerable fortune out of the manufacture and repair of farm and textile equipment.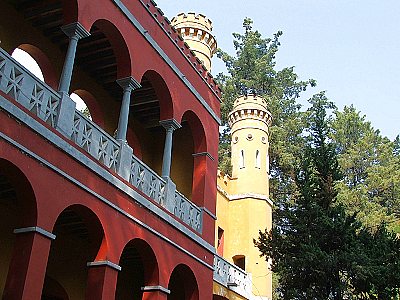 Eulogio acquired all kinds of machinery including a state-of-the-art threshing machine which had won a gold medal in the Philadelphia exhibition of 1876. Another anecdote from the prologue to Mexico; A Land of Volcanoes relates that many people turned out to see the machine when it was first put into operation on the hacienda. Unfortunately, it didn't work very well, and was soon abandoned to rust in a shed. Some years later, the manufacturer of this machine happened to be in a visiting group of tourists. Dismayed that it was not in use, he offered to adjust it to ensure that it worked properly. Despite his best efforts, he never did get it to work as intended – because the grain produced in Mexico was coarser than that grown north of the border. Monsignor Gillow offered to donate the machine to the Smithsonian Institute, but only on condition that it be exhibited with a large sign saying, "This machine, awarded a gold medal in the Philadelphia exhibition, proved to be entirely useless in Mexico."
As a friend of Díaz, Gillow was an enthusiastic participant in innumerable exhibitions and development projects. He was particularly quick to recognize the potential of the railway to transform rural Mexico, improving communications to a point where an era of profitable agriculture might beckon. When Gillow was appointed Bishop of Antequera, President Díaz is said to have commented that "Now, Monsignor Gillow won't leave me in peace until we have a railway to Oaxaca." Gillow's response was, "Well, Mr President, all hands on deck, when do we begin?" The railway from Mexico City to Oaxaca, via Tehuacán, was soon built.
Gillow's hacienda was expropriated in 1914 during the Mexican Revolution, and Gillow left Mexico for the U.S., eventually settling in Los Angeles. Welcomed back to Mexico in 1921, Gillow returned by train and negotiated the return of a small fraction (150 hectares) of his land, which was duly returned to him the following year, shortly before his death. The ex-hacienda now belongs to the State of Puebla.
Miraculous Re-Birth
Archbishop Gillow restored temples, chapels and churches, established schools, set up asylums, and was definitely one of the "good guys", even if he was a close friend of Díaz. Without his efforts, the city of Oaxaca would be but a pale shadow of what it is today. Almost single-handedly, he pushed and prodded until he gained control one way or another over the fate of many important religious buildings.
The Santo Domingo convent was only one of the numerous religious buildings in the city to be saved and restored as a result of this Archbishop's extraordinary efforts. The Santo Domingo convent dates back to the 17th century. During the 18th century, it acquired a large collection of works of art, but was repeatedly damaged during the following century, when it was occupied by troops for long periods. In 1869, the destruction of fourteen altarpieces was authorized by state governor Felix Díaz. Looting and neglect combined to cause the loss of countless objects of religious devotion.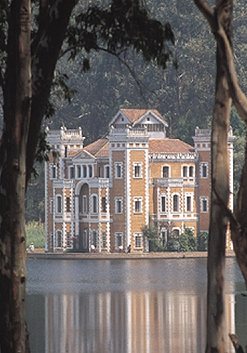 In the 1890s, Archbishop Gillow negotiated the recovery of the temple from Porfirio Díaz's troops. He then began the long process of restoring the temple to its former glory. Today, this is the jewel in the crown of all Oaxaca's religious architecture – a miraculous re-birth if ever there was one!
How to Get To Gillow's former hacienda:
The ex-hacienda of San Antonio Chautla, is a short distance north of the Mexico-Puebla highway. The entrance road is about 12 kilometers from Puebla, 4 kilometers from the town of San Martín Texmelucan. The ex-hacienda is open Friday to Wednesday, 9:00 to 4:30, and modest entrance fees are charged, varying with the activity (camping, fishing, boating). The website is https://www.amatzcalli.com/cha.htm
Note: This article is an early draft of Chapter 22 of the author's Mexican Kaleidoscope: myths, mysteries and mystique (Sombrero Books, 2016).
Sources
Juan Antonio García Villa (2004) "Dos anécdotas". Mexico City: El Financiero, 8 October 2004.
José Antonio Serafín Sodi "Máximo" (1978) Tu Ya no Soplas. Editorial Gráficos Oaxaca. A detailed Biography of Gillow, from this work, with several images, is reproduced at https://www.galeon.com/sanlucaselgrande/Biografia/ChautlaEx.htm
Schlarman, Joseph (1951) Mexico; A land of Volcanoes. Bruce Publishing Company.
Text © Copyright 2007 by Tony Burton. All rights reserved.
Photos in public domain unless otherwise credited.
Published or Updated on: March 14, 2008