A Perfect Day in San Miguel
Yesterday was rather hot for San Miguel de Allende — about 29°-30°C, but there was a nice breeze and, of course, no humidity.
We have a different restaurant for our main meal each day of the week. On Saturdays we always go to one of our favorites close to our house.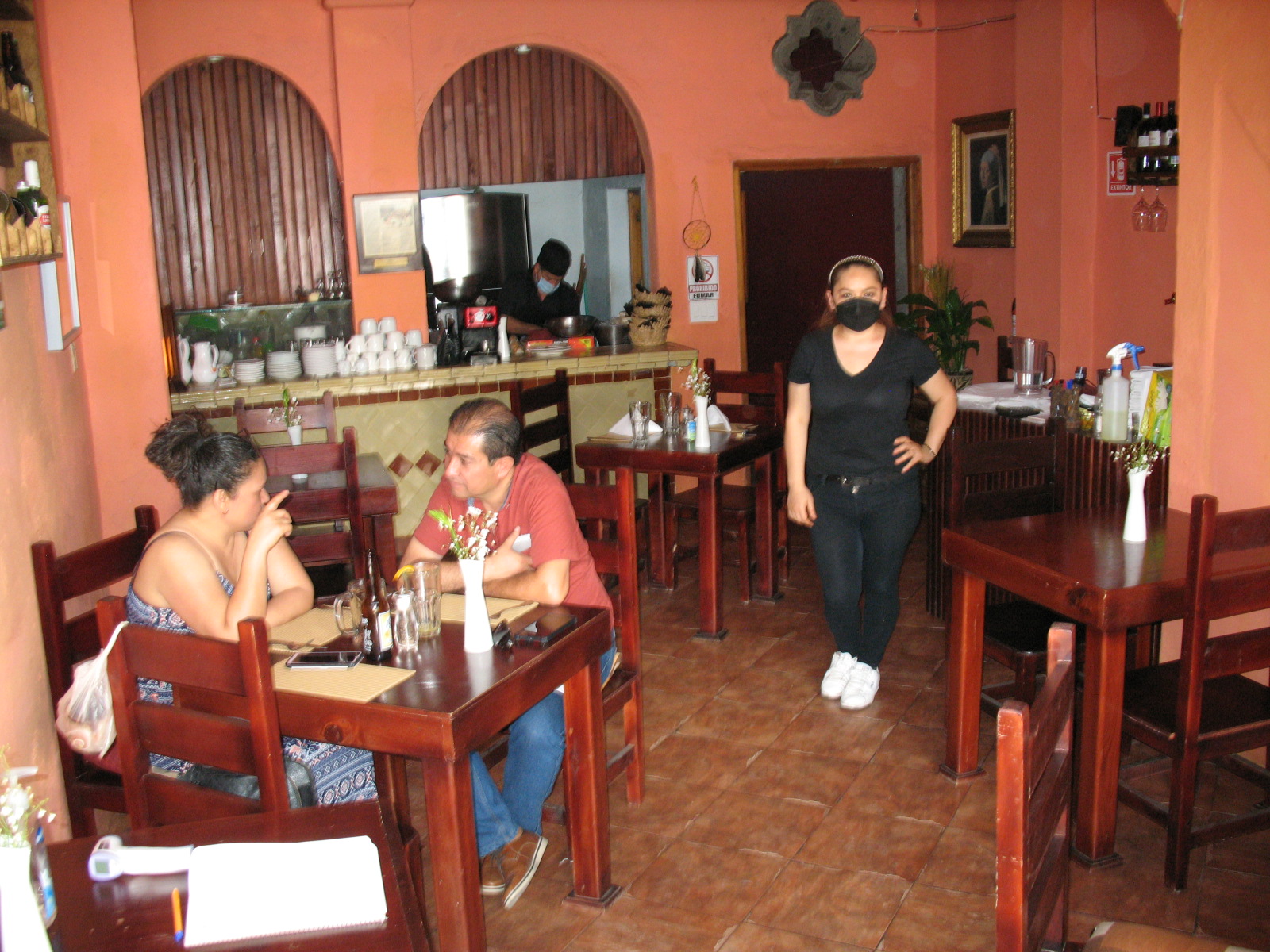 We always sit at our favorite table at the front window, by the plants, looking out onto the street. We get lots of fresh air by that window, even though the restaurant is not outdoors — as are all our other favorites in this time of COVID. There is an artisan's market just a few doors down and lots of people stroll by the restaurant after visiting the market. We love to watch the action on the street! Sometimes we see friends who stop for a chat. We especially appreciate it when the corn-on-the-cob vendor comes by, screaming the Mexican word for corn, "elote", in his wonderful voice. He somehow manages to sound like an opera singer.
The food is great at our Saturday restaurant. After our delicious salads, I had the risotto with chicken and mushrooms while Merv had white fish in a citric sauce. For dessert we always have the most fantastic chocolate cake, with nuts and chunks of chocolate in it. Chocolate is wonderful in Mexico because that's where it originated.
When we walked into the restaurant yesterday, we were disappointed to see that our favorite table had a reserved sign on it. When the waitress and the cook, who is also the owner, saw the look of disappointment on our faces, they both said at the same time that the table was reserved for us. How nice! I guess they've caught onto the fact that we always go there on Saturdays at the same time. We are creatures of habit.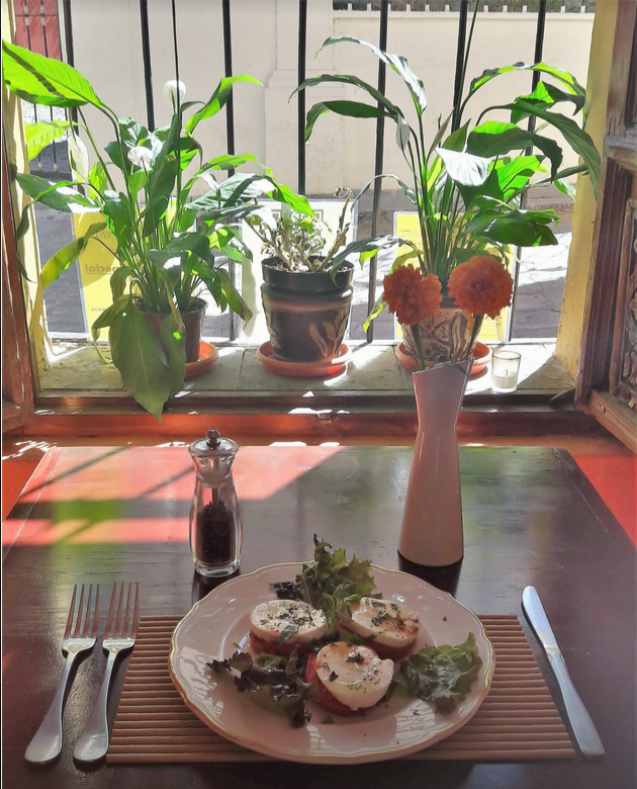 There was another table with a nice-looking Mexican couple sitting there. We had already greeted them because it is the custom in San Miguel to say "¡Hola! ¡Buenas tardes!" (Hello! Good afternoon!) to everyone when you enter a room. We ordered our food and then started talking to the couple at the other table. It turned out that they are now living in San Miguel, but are originally from Mexico City.
The woman was obviously Mexican from her accent, and I was pleased when she complimented me on my Spanish. That's when we told them that we were from Canada. But the man had a slightly different accent when he spoke Spanish. I asked him where he was from originally and he told us that he had been born in Switzerland and his first language was German. After we told them that Merv was Canadian, but that he had been born in Wales, we realized that we were truly an international foursome!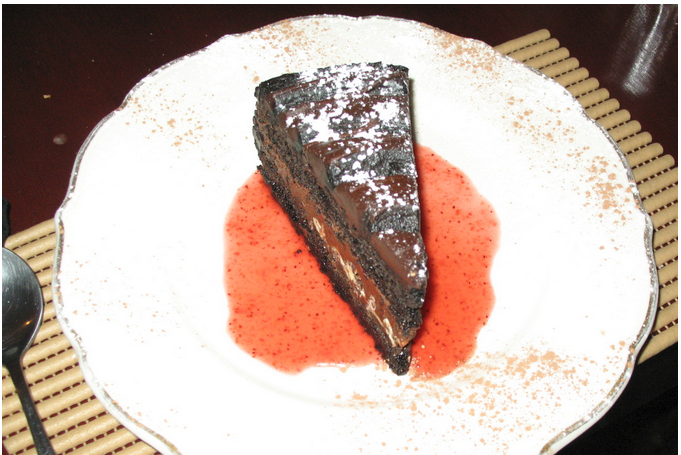 Our new friend mentioned that he spoke French, English, Spanish, and Greek, as well as German. He had lived in all those countries. His wife asked me if I could read Spanish and when I replied, "Yes", she told us that her friend had just published a book on the history of Mexico and I should definitely read it.
At that point I had to tell her that I had just published my first book a year ago. They asked what my book was about. When I told them that it was about my travels around the world as a language lover in search of more languages, the man asked if he could buy it on Amazon. I told him that he could indeed buy it on Amazon, but it just so happened that Merv had a copy in his backpack. Our friend was so happy that we had a copy with us that he bought it right then. A few minutes later they left, after arranging to meet us there next week. What a pleasant afternoon!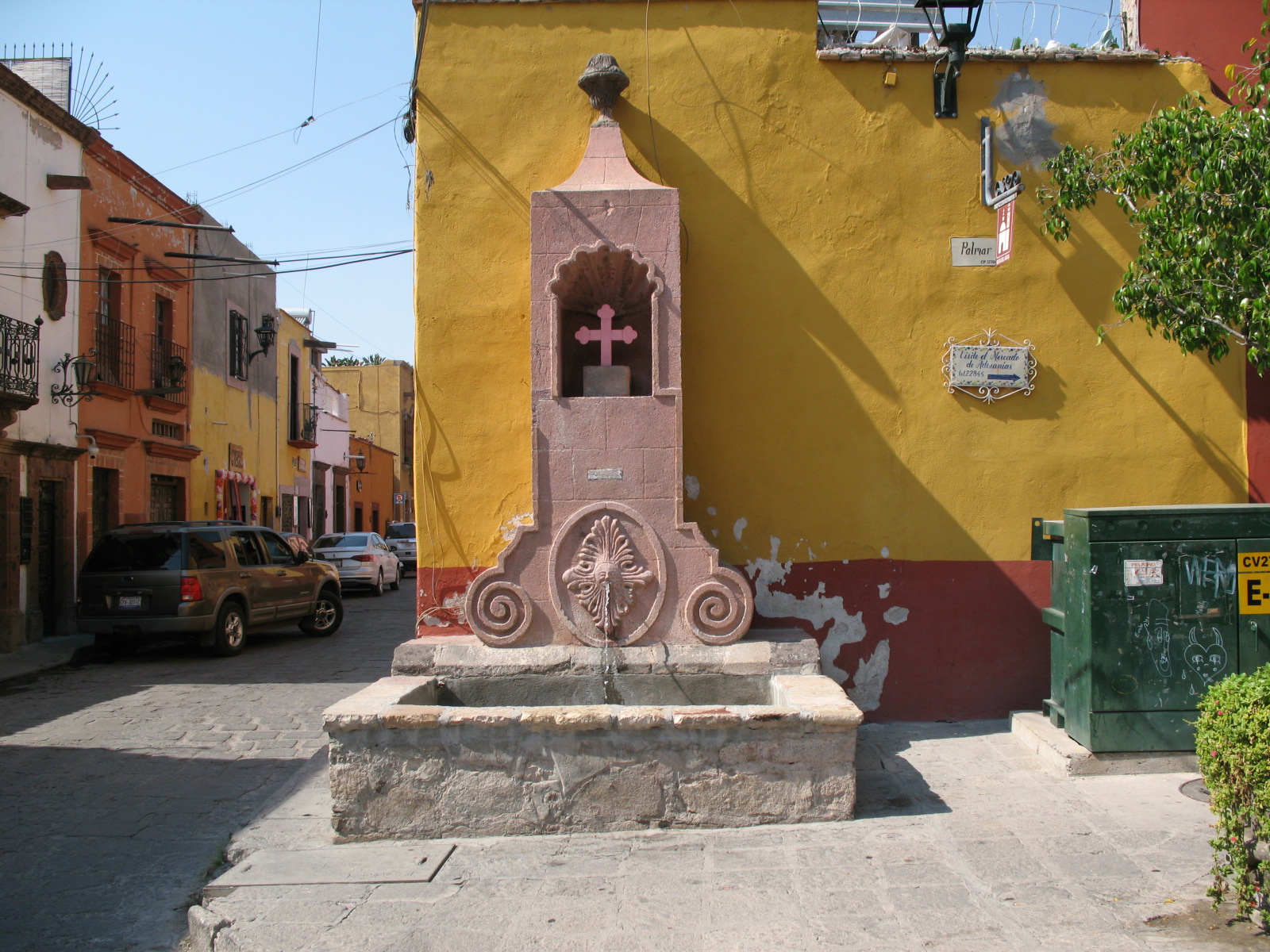 When we finished our meal, we made our way back home. We live only three blocks from that restaurant and we always stop about halfway, on a street corner where there is a beautiful fountain. Sitting on the edge of the fountain is fun because there are always lots of pedestrian and vehicular traffic which makes for good people-watching.
Since COVID the Jardín in the main square has been closed and we miss our people-watching from there. We spoke for a while to a group of people who are usually hanging around the fountain. One of them is a Mexican guy from Texas who is an interesting character. The sweet lady who has a corner store there is usually sitting on a bench beside the fountain and we greeted her too.
After an hour or so of watching the world go by, we headed home. We appreciated the fact that by then it had cooled off and our house was nice and cool. That's another wonderful thing about living in San Miguel, in the desert highlands. It always cools off at night. It went down to 12°C last night, perfect for sleeping.
Pat Hall is the author of Speak To Me: Travels and Exploits of a Language Lover, an account of her adventures traveling and pursuing her passion for languages, available on Amazon.
Published or Updated on: April 22, 2021 by Pat Hall © 2021