As far as I can tell, there is only one campground guide for Mexico, and this is it. Luckily, it is a good one, recently revised in 2001.
I have seen one other book on camping in Mexico, but it did not have information on specific campgrounds. We used this book for a recent RV trip and found it useful and accurate.
The first chapter is a general introduction to camping in Mexico, and includes several suggested tour routes.
The second chapter is called "Details" and gets into the nuts and bolts of Mexico RV travel, including topics such as children, laundry and fuel.
The third chapter discusses crossing the border.
Since we usually fly to Mexico, this was a particularly valuable chapter for us. The authors discuss the procedure, but also discuss each border crossing in detail, including maps. I used this chapter to select a border crossing away from a large city, for simplicity.
The remaining chapters are divided by region of Mexico, and include a chapter on Belize.
The information about each campground is very detailed, and tells you much more than any US campground guide that I have seen. They provide a map, GPS location, and directions to help you find the campground. They discuss the management, bathrooms and other facilities, suitability for big rigs, how bumpy the access road is, and a lot of other information. They also discuss the power situation in detail, as some Mexican campgrounds have inadequate electrical wiring, which may not support air conditioning.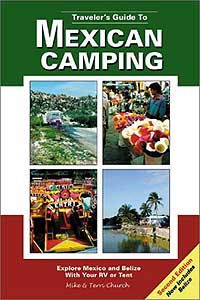 The second edition came out in 2001, and has many improvements over the first edition, which I had purchased previously. It includes user feedback and more campgrounds. Perhaps the biggest improvement is the index map, which points to the correct page to find the campgrounds for various cities.
To keep the book current, they use their website to publish updates and feedback from readers, so you can get updated information before the next edition comes out. For our trip, we stayed in a campground that was mentioned in the book, but was not yet open when the book was written. The website included information from a reader who stayed there, so we had confidence that it would be open.
The authors publish other camping guides, including one focused on Mexico's Baja.
All told, it is a very good camping guide, and more than worth the money if you are planning to camp in Mexico.
Traveler's Guide to Mexican Camping: Explore Mexico and Belize with your RV and Tent
Authors: Mike and Terry Church. Available through: Rolling Homes Press and Amazon.com
Review by Richard Ferguson. © 2004 Richard Ferguson
Published or Updated on: December 7, 2007